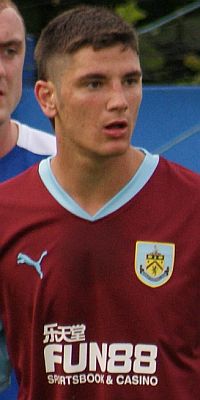 Defender Stephen Edwards
Following Chester City's demise during last season it has left the North West Conference of the league with an odd number of clubs, and Burnley are the first team to be without a game in the opening day fixtures.
Preston won it last year with Rochdale in second place, and they are both expected to do well again this coming season. North End get start with a home game against Carlisle while Rochdale travel to Blackpool to kick off their season.
Burnley's season, when it does get underway in eight days time, starts with no less than eight home games before Gawthorpe becomes unavailable in October due to improvements. Most of those games kick off on Saturday morning's at 11:00 a.m. although the second of them, against Blackpool, will be played on Friday 27
th
August with a 2:00 p.m. kick off.
The lads are back from Portugal and ready for the new season, but before we kick off we'd like to send second year apprentice James Taylor our best wishes. James has been ruled out until November with ruptured ankle ligaments.
This week's fixtures (all tomorrow morning):
Accrington v Bury
Blackpool v Rochdale
Oldham v Morecambe
Preston v Carlisle
Shrewsbury v Macclesfield
Stockport v Walsall
Wigan v Port Vale
Wrexham v Tranmere