Strong team for reserve homecoming
By Tony Scholes
Updated Monday, 6th September 2010
Views: 10
Reserve games last season against Manchester City, Liverpool and Manchester United were played at Turf Moor but this season we are back home on a permanent basis for the first time in almost six years.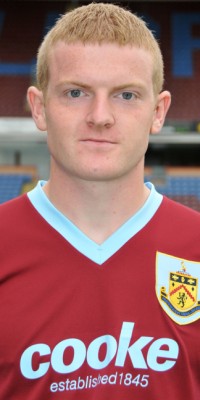 Brian Easton - expected to play
The move to Accrington came early in 2005 with the Turf Moor pitch in a terrible state. The New Year's Day game against Leicester should never have started but was abandoned after just a few minutes and the week after the FA Cup tie against
Liverpool
was called off.
That prompted a move for the reserves, and now, looking back, it is hard to believe that the last full season played at Turf Moor was the 2003/04 season, a season when Luke Chadwick was the leading scorer with four goals.
The problems at Accrington last season meant we played only one home game there before March and the club were keen to resolve that situation. Initially they revealed that some games would be played at Burnley and some at Accrington, later confirming that the first three would be at Accrington with the rest at Turf Moor.
It didn't start well and the first game against Oldham had to be switched, allowing it to be an Oldham home game, because Accrington were again having problems with the pitch, and so the club then confirmed that ALL home games would be exactly where they should be, at home.
So now, home at last, we entertain our former hosts Accrington tomorrow night and Burnley are expected to name a strong team. Lee Grant, Richard Eckersley, Brian Easton, Kevin McDonald and Jay Rodriguez are all expected to play whilst both David Edgar and Michael Duff could feature in part of the game.
We started the season with a 6-0 win in that game against Oldham, played at Stalybridge some three weeks ago, but the second game, against
Morecambe
, was called off because of their involvement in the Lancashire Senior Cup.
Now, for the first time in this league since December 2004, Turf Moor stages a game. It kicks off tomorrow at 7:00 p.m. Admission is free to season ticket holders, otherwise £4 for adults and £2 for concessions.
This Week's Fixtures
Tuesday 7
th
September
Burnley v Accrington
Bury
v Macclesfield (at Radcliffe Borough)
Wednesday 8th September
Preston v Morecambe (at Bamber Bridge)
Tranmere v Shrewsbury (at Cammel Laird)
Wrexham
v Oldham (at Airbus UK)
Interact with us