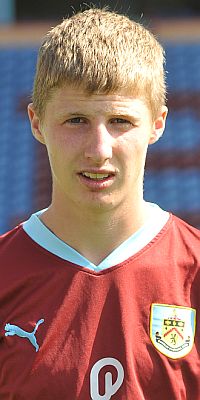 Ross Wilson scored in the win against Oldham
Burnley took advantage of leaders Blackpool not being in action and our 4-1 win at Oldham took us to within a point of the Seasiders, but they do currently have two games in hand.
It's been an excellent run by the young Clarets. As well as two cup wins we've now secured 16 points from the last six games to lift us in the table.
Port Vale and Wigan were the two other winners in that top six. Both were at home, beating Macclesfield and Shrewsbury respectively. Oldham were the only losers and Rochdale gained a point from a draw at Preston.
We're also the highest scorers in the league too with 30 goals from 10 games although Blackpool are the side with the best defensive record.
Lower down the table, Wrexham won for the first time against Stockport and the three points have lifted them four places from bottom place. That bottom place is now Tranmere's although they are below Carlisle only on alphabetical order with both teams having identical goal records both for and against.
There are just four games this coming weekend and ours at Rochdale gives us a chance to rectify every game that hasn't been won. Both Blackpool and Oldham beat us earlier in the season; we've beaten both on the last two weekends. Rochdale and Bury have previously held us to draws but we've since beaten Bury.
Rochdale will be a difficult game but given our recent form it is certainly a game we can go and win. Who knows, if Accy can do us a favour we could even be top this time next week.
The latest results and the next fixtures are shown below along with Burnley's goalscorers this season.
Last Week's Results
Saturday 6
th
November
Bury 1 Morecambe 1
Oldham 1 Burnley 4
Port Vale 4 Macclesfield 2
Preston 0 Rochdale 0
Stockport 1 Wrexham 2
Walsall 4 Tranmere 0
Wigan 3 Shrewsbury 1
Postponed
Accrington v Carlisle
This Week's Fixtures
Saturday 13
th
November
Accrington v Blackpool
Bury v Oldham
Carlisle v Morecambe
Rochdale v Burnley
Burnley Goalscorers (League and Cup)
12: Joe McKee
8: Joe Jackson
5: Tommy Taylor
3: Ross Wilson
2: Shay McCartan, Curtis Woods
1: Tom Anderson, Steven Hewitt, Ed Williams, Ben Woodhead