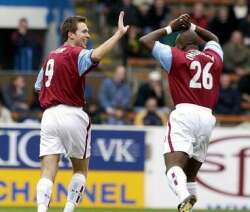 Reasons to be cheerful?
Over 14,000 home fans turned up for their own 'little drop of Claret' at Turf Moor on Saturday and left feeling frustrated yet again at Burnley's failure to win a home match. By the time Preston visit in a couple of weeks it will be 3 months and 2 days since we have won at home in the league and that is a long time for any set of fans to have to wait.
The reason to be cheerful though is that, with 10 games left, the Clarets are still sitting pretty in the play off places a position we would have all readily accepted back in August.
It is a pity therefore that the afternoon ended up with a degree of bitterness between the parties as it had all started off so well. Stan had picked the team and formation that I suspect most supporters wanted to see and the Clarets started very brightly and for once took the lead in a home match.
Glen Little swung over a corner to Gareth Taylor on the penalty spot who got in a pretty decent downward header towards goal. Norwich looked to have more than enough players there to deal with it but with Robbie Blake causing confusion the ball appeared to brush off a defender in front of Paul Crichton and this slight deflection was enough to take it past him and through the legs of Nedergaard on the line.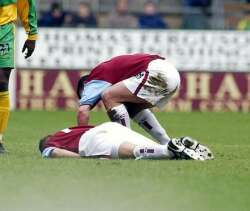 Paul Weller is first to the unconscious Glen
That was after 6 minutes but only 4 minutes later Glen Little went crashing to the ground after challenging Norwich left back Kenton whose flying boot seemed to catch Glen in the back of the head. He was unconscious before he hit the ground and these can be potentially life threatening situations so it was good to see him receive immediate assistance from the Norwich physio who sprinted from the bench at a faster speed than most of the players managed all afternoon. After a long delay which led to 9 minutes of first half stoppage time Glen was stretchered off and whisked away to Burnley General Hospital where he remained overnight for observation though he thankfully appears to be OK apart from a sore head.
After that the first half was played out in a rather subdued atmosphere with few chances of real note. The one that did come fell to Canaries substitute Marc Libbra approaching half time. He tried to lay the ball off in the box but a ricochet saw the ball land at his feet again in front of goal and Beresford did extremely well to turn away his snap shot with Lee Briscoe also doing well in clearing up the loose ball.
1-0 at half time and playing against a Norwich side with very poor away form you would have thought that the Clarets could win with some ease but it all went horribly wrong.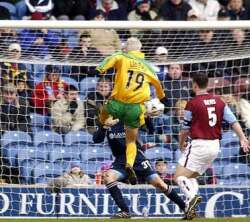 Marlon and Davis watch Libbra score
From the off Norwich came at us but the central defensive pairing of Davis and Gnohere looked to be capable of holding them at bay until after 55 minutes it was mix up time again. Poor positioning by Briscoe allowed his opposing full back far too much time and space to advance and place over a cross into the 6 yard box where Davis waited in vain for Beresford to come for it allowing Libbra to nip in and volley home. It was another soft goal which either Davis or Beresford could have dealt with but there was precious little sign of communication between them.
Stan's response was another perplexing substitution. Ian Moore had come on for Little and had played OK on the right of midfield despite the fact that Maylett was the more obvious choice to come on. Stan had decided to withdraw the tiring Robbie Blake and put Ian Moore back up front so instead of bringing on Maylett now he chose Gordon Armstrong. It didn't make any sense to me and the Clarets lost any sign of pattern or shape.
It got that bad that I was wondering if the ball would come through the match unscathed so intent did we seem to be on hitting it high long and hard to little effect. Taylor had won everything in the air in the first half but he started to struggle and the ball just kept coming back at us with Libbra being a constant threat. Steve Davis showed what we had been missing on a couple of occasions by coming around and covering to make vital clearances just when it looked like the Canaries were going to take the lead.
At the other end chances were few and far between with Gareth Taylor and Kevin Ball trying shots from the edge of the box which sent the ball boys scurrying. Kevin Ball was, of course, one of Ian Dury's Reasons to be cheerful. How else do you explain 'Too short to be haughty, too nutty to be naughty, going on 40, no electric shocks'?
Gareth Taylor came closest to winning the match for Burnley 15 minutes from the end when Crichton couldn't hold Dean West's cross under challenge from Armstrong and the ball fell for Gareth whose goalbound shot was acrobatically blocked by a defender.
This one bright bit of action was enough to force Stan into a rethink on the substitution front as despite having Papadopoulos ready to come on he decided to bring on Maylett for Alan Moore who always seems to tire towards the end of the game. Whatever the rights and wrongs of this move it was hardly something which instilled confidence.
As the match drew to a close it was still Norwich who were calling the shots though Paul Weller might have sneaked it for the Clarets but he was betrayed by his own lack of confidence in front of goal by failing to get a shot away despite having a clear opportunity 8 yards out.
At the death that man Libbra thought he had won it for Norwich when his far post header from a tight angle looked to be sailing over everyone into the net but the ball came back off the post allowing Arthur to hack it clear.
There was some booing at the end, which is not something I have ever approved of, but by the same token you can understand why some people do it. I like to think that it is out of a misguided passion for the Clarets.
Stan chose to criticise the fans in his post match comments, which is not something I have ever approved of, but by the same token you can see why he did it. I like to think that it is out of a misguided passion for the Clarets.
We also had a re run of the 'champagne tastes on beer money' quote and it is true that the main reason to be cheerful is our still promising league position. A position we would have given our right arm for not too long ago. A fair point maybe but you can't stop fans getting frustrated by poor performances. If I paid £18 for champagne and was served water with not much fizz I'd feel that I had a right to complain.
None of this really helps anyone. We are still 'little' Burnley and if we are to achieve anything the manager, players and fans have to be pulling in the same direction. Perhaps it's time for all of us to stand up and be counted, to start putting some of our undoubted passion to work in the right direction.
There are 10 games left and there is much still to play for so lets go for it otherwise we might all be making Ian Dury's final lament in Reasons to be Cheerful 'Yes yes, dear dear, maybe next year, or maybe even never.'