Comeback Kings win fourth away game
Report of match Hull City 2 Burnley 3 played 26th November 2011
Reporter Tony Scholes
Burnley, today, won for the sixth time in the Championship this season and incredibly for no less than the fourth time away from home.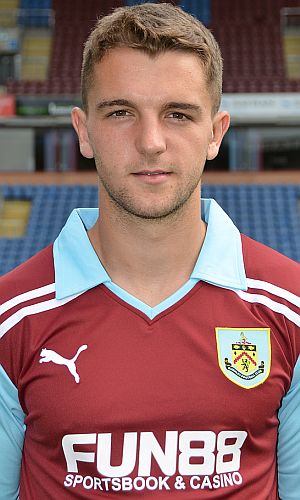 Jay Rod - scored the winner
It was a win that came more desperately needed as the afternoon went on with Bristol City, still in the honeymoon period with new boss Derek McInnes, going in front against Southampton meaning a potential drop into the bottom three.
We were 2-0 down with Matty Fryatt having twice scored for Hull and a fifth successive defeat looked all but an absolute certainty, that was until the game was turned on its head from the 78th minute onwards.
At that point David Edgar headed in for Burnley. Even then I don't think we could quite envisage what would follow, but Edgar popped up again four minutes later with a clever finish from inside the six yard box.
Today was one of those rare occasions when I'm unable to report the game. Illness prevented me from travelling to the KC Stadium and instead, at this point, I was screaming at the radio commentary, demanding that we close shop and settle for a much appreciated point.
My screams fell on deaf ears and we kept going forward looking for a winner. Keith Treacy nearly won it for us with a superb strike that goalkeeper Peter Gulacsi kept out kept out with an even better save. Then, three minutes into stoppage time, Jay did win it for us with a terrific shot, across the keeper and in at the far post.
The cup of tea at the side of me just about survived as I jumped up to celebrate, suddenly not feeling anything like as poorly as I done for the previous two days. Then it was just a matter of waiting for the final whistle.
I said in my match preview that there could be nowhere better to go when we were looking for an away win. That's three successive wins at the KC, the first time we've done that at an away ground since winning at Leicester in three consecutive seasons 2005/06 to 2007/08, and thanks to the message board for that information.
It's also, as far as I know, the first time we've come from two goals behind to win away from home since Andrew Cole notched a hat trick and Ade Akinbiyi scored in a 4-2 win at QPR in February 2008.
What a fantastic boost for us. From staring at the bottom three at around 4:30 p.m. this afternoon we are now in 16th place, a climb of five places.
A guest report will follow over the weekend.