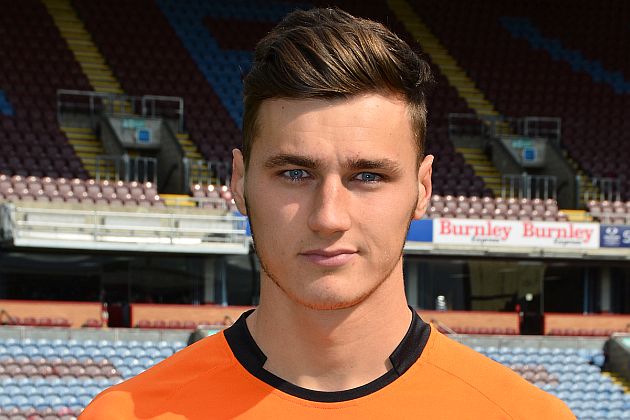 It would have been a major shock had Rochdale not beaten bottom club Morecambe, which they duly did, and Wigan secured a victory against next to the bottom Fleetwood. But the surprise came with leaders Bury being held to a 1-1 draw at home by Carlisle who have spent the whole season in the bottom half of the table.
Bury remain top, but the other two have games in hand with Rochdale now just two points behind and Wigan, who had a lengthy spell at the top recently, now four points behind.
It was only recently that Morecambe climbed off the bottom for the first time all season, but they are well and truly back there now. Accrington were the ones who fell below them but they've recovered well and have now won their last three games to move up two places.
Having climbed to fifth with our midweek draw against Walsall, we now find ourselves back in seventh place after our heaviest defeat of the season, going down 5-0 at Port Vale in a game that saw Conor Mitchell (pictured) play in goal with both Tony Aghayere and Connor King injured.
It's our penultimate home game of the season this coming Saturday when we play Wrexham although there has been no confirmation of the venue as yet.
All the results from last week are below along with this week's fixtures, Burnley's goalscorers and the current table.
RECENT RESULTS
Tuesday 10th March
ROCHDALE 1 WREXHAM 0
Wednesday 11th March
OLDHAM 0 BLACKPOOL 2
Thursday 12th March
BURNLEY 1 WALSALL 1
Saturday 14th March
ACCRINGTON 2 BLACKPOOL 1
BURY 1 CARLISLE 1
FLEETWOOD 0 WIGAN 3
PORT VALE 5 BURNLEY 0
ROCHDALE 3 MORECAMBE 1
SHREWSBURY 2 TRANMERE 2
WREXHAM 4 OLDHAM 2
Monday 16th March
PRESTON 0 WALSALL 0
THIS WEEK'S FIXTURES
Tuesday 17th March
FLEETWOOD v OLDHAM
SHREWSBURY v ROCHDALE
Saturday 21st March
BLACKPOOL v PRESTON
BURNLEY v WREXHAM
CARLISLE v ROCHDALE
MORECAMBE v ACCRINGTON
OLDHAM v PORT VALE
TRANMERE v FLEETWOOD
WALSALL v BURY
WIGAN v SHREWSBURY
BURNLEY'S GOALSCORERS (LEAGUE & CUP)
12: BRAD JACKSON, NTUMBA MASSANKA
8: JOSH DOLLING, KHIUS METZ
6: CHRISTIAN HILL
3: JAMAL CRAWFORD, JAMIE FROST, ANDY NUGENT, BRANDON WILSON
2: WAQAS AZAM
1: ANDREAS BIANGA, SHAUN HOBOSN, ALEX RICHARDSON
CURRENT LEAGUE TABLE
Team
pld
w
d
l
f
a
pts

BURY

25

17

4

4

53

27

55

ROCHDALE

24

17

2

5

55

30

53

WIGAN ATHLETIC

24

15

6

3

59

23

51

PRESTON NORTH END

26

12

7

7

47

26

43

WALSALL

24

12

5

7

35

23

41

TRANMERE ROVERS

25

11

8

6

42

39

41

BURNLEY

26

11

7

8

57

49

40

OLDHAM ATHLETIC

23

12

2

9

52

35

38

BLACKPOOL

27

11

5

11

43

41

38

WREXHAM

27

10

4

13

48

53

34

PORT VALE

24

10

3

11

39

39

33

SHREWSBURY TOWN

24

7

6

11

49

50

27

CARLISLE UNITED

26

6

9

11

33

52

27

ACCRINGTON STANLEY

24

5

3

16

27

58

18

FLEETWOOD TOWN

24

4

0

20

15

53

12

MORECAMBE

25

3

1

21

24

80

10