Burnley will retain Alliance lead this week
By Tony Scholes
Updated Tuesday, 15th November 2011
Views: 24
Burnley have returned to first place in the Youth Alliance League after Saturday's 2-1 win over Bury, climbing ahead of Carlisle United who were without a game.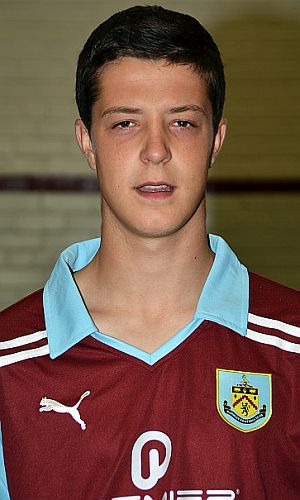 Adam Evans
We went into the weekend knowing that a win would see us take top spot. Carlisle were ahead of us on goal difference so anything other than a defeat would have been enough to go above them. However, a win was needed to ensure we remained above Walsall should they, as expected, win at Wrexham.
We got the win with two Jason Gilchrist goals, as previously reported, and in any case, Walsall failed to win their game, drawing 1-1. It's been a recent hiccup for Walsall. They started the season with seven successive wins but have now failed to win any of their subsequent three fixtures, with two draws in the league and a cup knockout last week.
They are still in a strong position in the league. They are currently four points behind us but do have three games in hand. Walsall are one of the teams we play just once and that isn't until March away from home.
Second place Carlisle are a team we face twice. We've already won there, 1-0 in October with another goal from Gilchrist, and the return should have been this coming Saturday. However, because of the early kick off at Turf Moor for the visit of Leeds this youth game has been put back to 4th February.
That means, no matter what, we'll still be top of the league this time next week although we'll be keeping a close look at the fixtures involving both Walsall an Preston with both able to get within a point should they both win.
Saturday also saw wins for Accrington, Rochdale, Stockport and Tranmere who beat bottom club Morecambe, Oldham, Port Vale and Wigan respectively.
The results, this week's fixtures and Burnley's goalscorers are all shown below along with the up to date league table.
LAST WEEK'S RESULTS
Saturday 12th November
Accrington 1 Morecambe 0
Burnley 2 Bury 1
Rochdale 3 Oldham 0
Port Vale 1 Stockport 3
Wigan 2 Tranmere 4
Wrexham 1 Walsall 1
THIS WEEK'S FIXTURES
Saturday 19th November
Bury v Morecambe
Oldham v Accrington
Preston v Rochdale
Stockport v Walsall
Tranmere v Shrewsbury
Wrexham v Wigan
BURNLEY'S GOALSCORERS
11: Shay McCartan
9: Jason Gilchrist
4: Adam Evans
3: Steven Hewitt
2: Archie Love
1: Cameron Howieson, Alex Mullin, Lewis Nuttall, Dean Overson, Aryn Williams
CURRENT LEAGUE TABLE
Interact with us