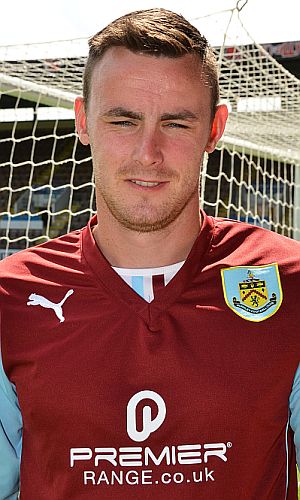 It was our first defeat of the season but throughout that first hour, until the red card, Treacy, in his first start of the season, always looked our most likely player to create something.
His performance won him 28.3% of the man of the match vote and that was some way ahead of Kieran Trippier who won a 12.3% share. Jason Shackell came third with 12.3% with Tom Heaton and Dean Marney sharing fourth place, each with a 9.4% share of the vote.
The player ratings were, in my view, somewhat low. I thought we played much better than these figures suggest and were very much in the game until that ridiculous second yellow card for Heaton.
Those ratings have left only two players with a rating higher than six. Treacy was again the winner. His rating was 6.86 out of 10 with Scott Arfield taking second place with a rating of 6.14. Two players, with exactly six out of 10, were in joint third place. They were Shackell and Trippier.
This result has given Treacy ten points towards the Clarets Mad Player of the Year. Trippier won five points, there were four for Shackell and three for Arfield with both Heaton and Marney winning one point each.
After five qualifying games it is Shackell at the top of the player of the year table and he's ten points clear of all of David Jones, Treacy and Trippier.
The voting is underway for the Preston game. You can vote for your choice of man of the match either from the front page of the site or the VOTING POLLS page. Player ratings can be left on the appropriate thread on Eli's Message Board.
The result from the Brighton game and the current player of the year table can be found below.
MAN OF THE MATCH
28.3% - Keith Treacy
17.9% - Kieran Trippier
12.3% - Jason Shackell
9.4% - Tom Heaton & Dean Marney
6.6% - Scott Arfield
4.7% - David Jones
3.8% - Alex Cisak
2.8% - Sam Vokes
1.9% - Danny Lafferty & Kevin Long
0.9% - Danny Ings
PLAYER RATINGS
6.86 - Keith Treacy
6.14 - Scott Arfield
6.00 - Jason Shackell & Kieran Trippier
5.86 - Danny Lafferty & Dean Marney
5.71 - Alex Cisak
5.14 - Tom Heaton & Sam Vokes
5.00 - Danny Ings
4.86 - David Jones
3.86 - Kevin Long
CLARETS MAD PLAYER OF THE YEAR
28: Jason Shackell
18: David Jones, Keith Treacy & Kieran Trippier
12: Tom Heaton
7: Danny Ings
4: Scott Arfield
3: Kevin Long & Sam Vokes
2: Dean Marney & Junior Stanislas