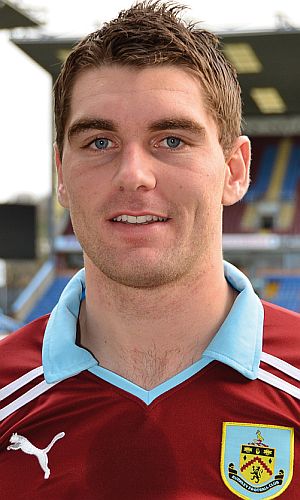 Sam Vokes won the MOM vote with Brian Stock
He was the outright winner in the player ratings but shared the man of the match vote with striker Sam Vokes who came on as a substitute at half time.
Both Stock and Vokes won 20.6% of the vote, and they were some distance ahead of the rest. Martin Paterson took third place with a 9.7% share and 9% of the vote was enough to give Charlie Austin fourth place.
I think it is some time since every player scored under six out of ten in the player ratings but that was the case here. Stock's rating of 5.89 out of 10 was just above Vokes who scored 5.78. Only one other player, and that was Austin, reached five and he took third place with a rating of 5.22 with Lee Grant coming fourth with a rating of 4.89.
The points are still scored towards the Clarets Mad Player of the Year. Stock has won the maximum ten points, with Vokes getting eight points, three for Austin, two for Paterson and one point for Grant.
Those points have lifted Stock into sixth place in the player of the year table but there is little change with Austin stretching the lead at the top. He's now 24 points ahead of Grant in second place.
The voting is currently underway for the Wolves game. You can vote via the front page of the site or alternatively from the VOTING POLLS page, and PLAYER RATINGS can be left on the message board.
The voting will run until the end of tomorrow with the Leeds vote starting at the beginning of Wednesday.
The result from Cardiff, and the current player of the year table, are below.
MAN OF THE MATCH
20.6% - Brian Stock & Sam Vokes (32 votes)
9.7% - Martin Paterson (15 votes)
9.0% - Charlie Austin (14 votes)
8.4% - Dean Marney (13 votes)
7.1% - Chris McCann (11 votes)
6.5% - Lee Grant (10 votes)
5.8% - Junior Stanislas & Kieran Trippier (9 votes)
2.6% - Michael Duff (4 votes)
1.9% - Joseph Mills & Jason Shackell (3 votes)
PLAYER RATINGS
5.89 - Brian Stock
5.78 - Sam Vokes
5.22 - Charlie Austin
4.89 - Lee Grant
4.67 - Martin Paterson & Kieran Trippier
4.56 - Chris McCann
4.44 - Dean Marney
4.33 - Junior Stanislas
3.56 - Jason Shackell
3.44 - Michael Duff
3.33 - Joseph Mills
CLARETS MAD PLAYER OF THE YEAR
80: Charlie Austin
56: Lee Grant
33: Ben Mee
32: Dean Marney
30: Chris McCann
24: Brian Stock
18: Brian Jensen
15: Joseph Mills
14: Junior Stanislas, Kieran Trippier & Sam Vokes
11: Jason Shackell
10: Martin Paterson
6: Marvin Bartley
2: Michael Duff, Steven Hewitt & Ross Wallace