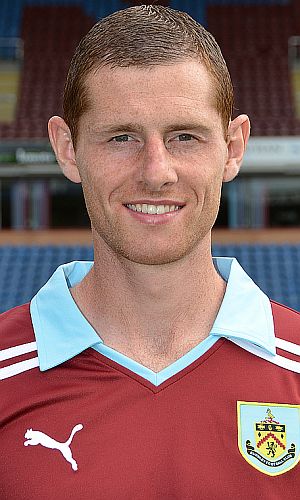 Player ratings winner Chris McCann
This season there has been a slight change to the voting. In previous seasons the top three in both the vote and the ratings were awarded points but this season that's been extended to the top four players.
The winner will receive five points, with three points, two points and one point for the next three. That gives a total of 22 points with a player coming out on top in both receiving ten points.
At Port Vale, the two midfielders Dean Marney and Chris McCann jointly took top place with seven points each.
It was Marney, in outstanding form in the midfield, who took the man of the match vote but it was very close between three players. He came out on top with 22.2% of the vote, just ahead of goalkeeper Lee Grant, who had an outstanding second half, who polled 21.7% of the vote.
Former captain McCann, who along with Marney was on the scoresheet from midfield, came third with 20.6% and the new captain Jason Shackell took fourth place with a 14.4% share of the vote.
The same four players were in the top four places in the player ratings, but not in the same order. This time it was McCann on top. His rating of 7.82 out of 10 just beat Grant who had to settle for another second place. His rating was 7.45.
Marney was just behind with a rating of 7.36 and Shackell again came fourth, his rating of 7.09 was the last over seven for a good performance.
That means both Marney and McCann are on seven points towards the Clarets Mad Player of the Year. Grant is just one point behind them and Shackell is the other scorer with two points.
We've moved on now to the first league game against Bolton. Voting for the man of the match is currently underway and will run until the end of tomorrow after which the Middlesbrough vote will start.
The vote can be found on the front page or the VOTING POLLS page and PLAYER RATINGS can be left on the message board.
The results from the Vale match can be found below.
MAN OF THE MATCH
22.2% - Dean Marney (40 votes)
21.7% - Lee Grant (39 votes)
20.6% - Chris McCann (37 votes)
14.4% - Jason Shackell (26 votes)
6.1% - Charlie Austin (11 votes)
5.0% - David Edgar (9 votes)
2.8% - Joseph Mills (5 votes)
2.2% - Kieran Trippier & Ross Wallace (4 votes)
1.7% - Brian Stock (3 votes)
1.1% - Junior Stanislas (2 votes)
PLAYER RATINGS
7.82 - Chris McCann
7.45 - Lee Grant
7.36 - Dean Marney
7.09 - Jason Shackell
6.82 - Charlie Austin
6.45 - Brian Stock
6.36 - David Edgar
6.00 - Joseph Mills & Kieran Trippier
5.82 - Ross Wallace
5.36 - Junior Stanislas
Clarets Mad Player of the Year
7: Dean Marney & Chris McCann
6: Lee Grant
2: Jason Shackell