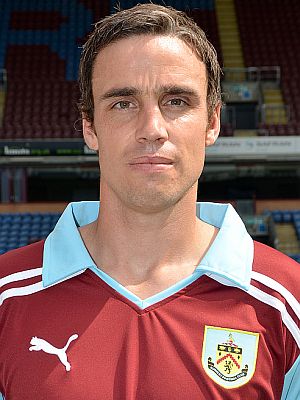 In truth, it would have been something of a shock had we not won either of them and quite rightly he's the clear winner of both.
His performance won him 63.9% of the man of the match vote. That sort of percentage has only been bettered three times this season and it gives the Clarets' most experienced outfield player a second man of the match of the season alongside the win at West Ham.
Brian Easton, employed on the left hand side of a fine man midfield in the second half, has picked up 17.4% of the vote to come second whilst Marvin Bartley, back in the side due to the enforced absence of Dean Marney, took third place with a 4.5% share.
The player ratings certainly don't reflect the man of the match vote, that is apart from first place which was again Duff's with a rating of 6.90 out of 10. He was the only player to reach the average of six.
Chris McCann, as good as anyone on the pitch for me until he was substituted just before half time with a hamstring injury, took second place with a rating of 5.88 whilst another substitute, Danny Ings, grabbed his first point, coming third with a rating of 5.43 out of 10.
It's six points towards the Clarets Mad Player of the Year for Duff with both Easton and McCann getting two points and one each for Bartley and Ings.
Those points have not made too much difference to the table although Duff has moved up four places to eighth.
Voting is currently underway for the February Goal of the Month. You can vote from the front page or via the VOTING POLLS page. The poll will run until the end of Friday with the next man of the match poll, for the Watford game, being available within an hour of the final whistle.
The result from the Millwall game and the current player of the year table are below.
Man of the Match
63.9% - Michael Duff (287 votes)
17.4% - Brian Easton (78 votes)
4.5% - Marvin Bartley (20 votes)
2.2% - Ross Wallace (10 votes)
2.0% - Chris McCann & Jay Rodriguez (9 votes)
1.8% - Kieran Trippier (8 votes)
1.6% - David Edgar (7 votes)
1.1% - Danny Ings, Ben Mee & Keith Treacy (5 votes)
0.7% - Lee Grant (3 votes)
0.4% - Martin Paterson (2 votes)
0.2% - Charlie Austin (1 vote)
Player Ratings
6.90 - Michael Duff
5.88 - Chris McCann
5.43 - Danny Ings
5.24 - Lee Grant
5.14 - Kieran Trippier
4.95 - Jay Rodriguez
4.90 - Marvin Bartley
4.88 - Brian Easton
4.74 - David Edgar
4.69 - Ross Wallace
4.38 - Ben Mee & Martin Paterson
4.00 - Charlie Austin
3.76 - Keith Treacy
Clarets Mad Player of the Year
59: Kieran Trippier
58: Jay Rodriguez
50: Marvin Bartley
41: Dean Marney
37: Lee Grant
31: Charlie Austin
30: David Edgar
27: Michael Duff
25: Ross Wallace
24: Chris McCann & Ben Mee
22: Andre Amougou
17: Keith Treacy
11: Brian Easton
5: Wade Elliott & Junior Stanislas
2: Martin Paterson
1: Zavon Hines & Danny Ings