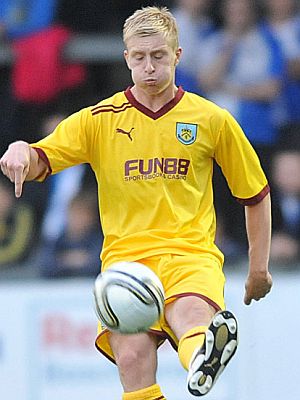 Mee, who is expected to become a full time Burnley player soon, has been back in the side in recent weeks at left back, but moved back to his favoured position in the centre of defence when Michael Duff suffered a hamstring injury in the Boxing Day win against Doncaster Rovers.
He was simply outstanding at Elland Road as we withstood the pressure from Leeds and has been rewarded with the man of the match, polling 40.9% of the vote.
Goalscorer Charlie Austin, getting his first start after recovering from his shoulder injury, came in second with a 14.3% share whilst midfielder Dean Marney, man of the match in the previous two games, was third with 11.3% of the vote.
There was no change at the top when it came to the player ratings with Mee again winning it with a rating of 8.67 out of 10, the second highest rating of the season behind Chris McCann's 8.77 in the Ipswich home win.
Alongside him at the top of the ratings were two other members of the back four, and they couldn't be separated. David Edgar started the game alongside Mee before moving to right back with the introduction of Andre Amougou as a substitute, and those two players have taken second place, both getting ratings of 7.75 out of 10.
Mee wins six points in the Clarets Mad Player of the Year Table. There are two points each for Austin, Amougou and Edgar with one point for Marney. Those points haven't changed things at the top although Austin is now joint fourth alongside Lee Grant with Edgar still in fifth place.
The vote currently underway is for the December Goal of the Month and you can vote via the front page of the site or via the VOTING POLLS page. The man of the match and player ratings result of the Norwich game will be available tomorrow.
The next man of the match vote will be for the Middlesbrough game and will be available within an hour of the final whistle on Saturday.
The result from the Leeds game and the current player of the year table are below.
Man of the Match
40.9% - Ben Mee (94 votes)
14.3% - Charlie Austin (33 votes)
11.3% - Dean Marney (26 votes)
7.8% - David Edgar & Kieran Trippier (18 votes)
5.2% - Andre Amougou (12 votes)
3.9% - Lee Grant (9 votes)
2.6% - Brian Easton & Chris McCann (6 votes)
1.3% - Junior Stanislas & Ross Wallace (3 votes)
0.9% - Jay Rodriguez (2 votes)
Player Ratings
8.67 - Ben Mee
7.75 - Andre Amougou & David Edgar
7.42 - Charlie Austin
7.33 - Dean Marney
7.25 - Chris McCann
6.50 - Ross Wallace
6.33 - Jay Rodriguez
5.92 - Brian Easton
5.67 - Junior Stanislas
5.58 - Lee Grant
5.25 - Kieran Trippier
Clarets Mad Player of the Year
48: Marvin Bartley
39: Kieran Trippier
33: Jay Rodriguez
31: Charlie Austin & Lee Grant
29: David Edgar
25: Ross Wallace
22: Andre Amougou
20: Chris McCann
18: Dean Marney
17: Keith Treacy
14: Michael Duff
9: Brian Easton & Ben Mee
5: Wade Elliott & Junior Stanislas
2: Martin Paterson
1: Zavon Hines