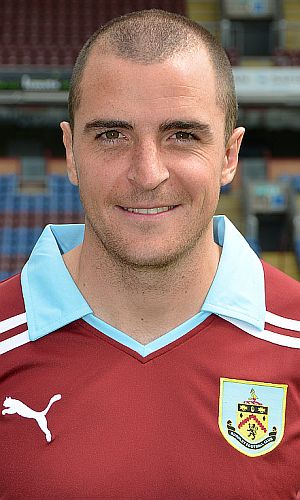 There were candidates all over the pitch for our most outstanding player but Marney's performance gave him top billing on both the man of the match vote and the player ratings ensuring he became the first player to win 10 points under the new scoring system for the Clarets Mad Player of the Year.
Having won the man of the match vote in the cup win at Port Vale, he followed that up by comfortably winning it again, this time polling 32.8% of the vote.
Central defender Jason Shackell took second place with a 16.9% share. That was just ahead of Martin Paterson, who was third with 14.0% and Chris McCann who took the fourth place with 12.8% of the vote.
Three of those players were in the top four in the player ratings. Again Marney was top and again Shackell was second. Marney had a rating of 8.82 out of 10 with Shackell scoring 8.64.
McCann came third with a rating of 8.56 and a rating of 8.47 out of ten gave Charlie Austin fourth place. In total, six of the players had ratings above eight and only Ross Wallace, with 6.78, fell below seven.
Besides Marney winning ten points towards the Clarets Mad Player of the Year, Shackell collects six points, there are three for McCann, two for Paterson and one for Austin.
With two games now completed, Marney leads the way with 17 points followed by fellow midfielder McCann who has ten points.
Voting is currently underway for the Middlesbrough game. The man of the match vote can be found on the front page or on the VOTING POLLS page and you can post your PLAYER RATINGS on the message board.
The vote runs until the end of Friday and the Huddersfield vote will start on Saturday within an hour of the final whistle.
Below is the result from the Middlesbrough game and the current player of the year table.
MAN OF THE MATCH
32.8% - Dean Marney (290 votes)
16.9% - Jason Shackell (150 votes)
14.0% - Martin Paterson (124 votes)
12.8% - Chris McCann (113 votes)
11.4% - Joseph Mills (101 votes)
5.8% - Charlie Austin (51 votes)
3.4% - Junior Stanislas (30 votes)
1.4% - David Edgar (12 votes)
0.7% - Ross Wallace (6 votes)
0.6% - Lee Grant (5 votes)
0.3% - Kieran Trippier (3 votes)
PLAYER RATINGS
8.82 - Dean Marney
8.64 - Jason Shackell
8.56 - Chris McCann
8.47 - Charlie Austin
8.45 - Martin Paterson
8.05 - Joseph Mills
7.95 - David Edgar
7.25 - Junior Stanislas
7.18 - Kieran Trippier
7.09 - Lee Grant
6.78 - Ross Wallace
CLARETS MAD PLAYER OF THE YEAR
17: Dean Marney
10: Chris McCann
8: Jason Shackell
6: Lee Grant
2: Martin Paterson
1: Charlie Austin