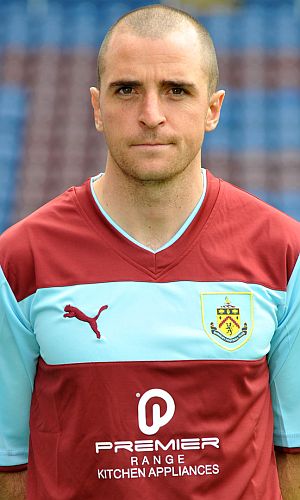 Marney returned to the KC, scored the winning goal and wound up some of the home fans, and had one of his best all round games of the season. It was certainly reflected in the man of the match vote where he polled 45.4%.
Ross Wallace, another who played really well and set up the goal for Marney, came second with 14.5% of the vote with Stock taking third place with a 9.9% share and Jason Shackell coming in fourth with 6.9% of the vote.
Stock was the player ratings winner, and for the fourth time in the last five games, missing out only in the win against Leeds. He scored a rating of 7.75 out of 10 and that edged out both Marney and Shackell who shared second place with 7.63. Michael Duff came in fourth, and his rating was 7.50 out of 10.
That result means a further eight points for Dean Marney towards the Clarets Mad Player of the Year. Stock is just behind with seven points and there are four points for Shackell, three for Wallace and one for Duff.
Charlie Austin still holds a big lead at the top of the player of the year table. His 82 points remains 19 ahead of second place Lee Grant, but right behind Grant now are the two midfielders. Stock is just four behind on 59 points and Marney a further four points behind with 55.
Voting is still running for the Barnsley game. You can vote for the man of the match on the front page of the site or via the VOTING POLLS page and PLAYER RATINGS can be left on the message board.
That will end on Friday with the next man of the match vote coming up on Sunday after the local derby.
The result from Hull and the current player of the year table are below.
MAN OF THE MATCH
45.4% - Dean Marney
14.5% - Ross Wallace
9.9% - Brian Stock
6.9% - Jason Shackell
4.6% - Michael Duff
4.2% - Charlie Austin
3.8% - David Edgar
3.4% - Lee Grant & Ben Mee
2.3% - Chris McCann
1.5% - Martin Paterson
PLAYER RATINGS
7.75 - Brian Stock
7.63 - Dean Marney & Jason Shackell
7.50 - Michael Duff
7.25 - Ben Mee & Ross Wallace
7.06 - Charlie Austin
7.00 - Chris McCann
6.94 - David Edgar
6.88 - Lee Grant
5.75 - Martin Paterson
CLARETS MAD PLAYER OF THE YEAR
82: Charlie Austin
63: Lee Grant
59: Brian Stock
55: Dean Marney
37: Ben Mee
30: Chris McCann
22: Jason Shackell
20: Kieran Trippier
18: Brian Jensen
17: Michael Duff
15: Joseph Mills
14: Junior Stanislas & Sam Vokes
10: Martin Paterson
6: Marvin Bartley
5: Ross Wallace
3: David Edgar & Danny Lafferty
2: Steven Hewitt