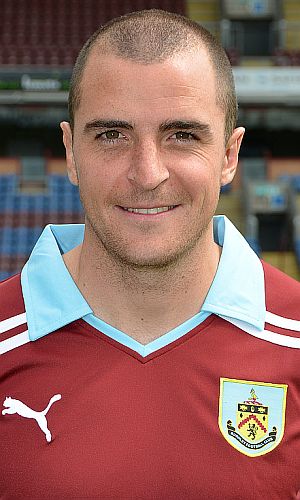 His performance earned him both the man of the match vote and the player ratings although he only narrowly pipped today's new signing Kieran Trippier in both of them.
Marney polled 27.3% of the man of the match vote to take first place with Trippier right behind with 25.0% of the vote. Jay Rodriguez, who played a major role in all three goals came in third with a 13.2% share of the vote.
It was just the same in the player ratings with the three of them in the same positions. Marney had a rating of 8.02 out of 10 and that was just enough to beat Trippier whose rating was 8.00. For both of them it was the highest rating of the season.
Rodriguez was again in third place with a rating of 7.83 out of 10 in a team performance that saw a total of nine players score ratings of more than seven.
Marney therefore wins six points towards the Clarets Mad Player of the Year whilst there are four points for Trippier and two points for Rodriguez. Marney is some way down the table but the other two are in second and third places with these points enabling them to close the gap on leader Marvin Bartley.
The voting for the Hull game is currently running but will end tonight with the Leeds man of the match starting tomorrow. As always you can cast your vote on the front page or via the VOTING POLLS page.
Player ratings can be left on the message board for both the HULL and LEEDS games.
The result from the Doncaster game can be found below along with the current player of the year table.
Man of the Match
27.3% - Dean Marney (143 votes)
25.0% - Kieran Trippier (131 votes)
13.2% - Jay Rodriguez (69 votes)
12.2% - Martin Paterson (64 votes)
10.5% - David Edgar (55 votes)
3.2% - Ben Mee (17 votes)
2.5% - Michael Duff (13 votes)
2.3% - Chris McCann (12 votes)
1.9% - Ross Wallace (10 votes)
1.0% - Junior Stanislas (5 votes)
0.8% - Marvin Bartley & Brian Easton (4 votes)
0.6% - Lee Grant (3 votes)
Player Ratings
8.02 - Dean Marney
8.00 - Kieran Trippier
7.83 - Jay Rodriguez
7.44 - David Edgar & Ben Mee
7.29 - Michael Duff
7.24 - Chris McCann & Ross Wallace
7.07 - Martin Paterson
6.49 - Junior Stanislas
6.46 - Lee Grant
6.05 - Brian Easton
6.02 - Marvin Bartley
Clarets Mad Player of the Year Table
48: Marvin Bartley
39: Kieran Trippier
33: Jay Rodriguez
31: Lee Grant
29: Charlie Austin
25: Ross Wallace
24: David Edgar
20: Andre Amougou & Chris McCann
17: Keith Treacy
14: Michael Duff
11: Dean Marney
9: Brian Easton
5: Wade Elliott & Junior Stanislas
2: Ben Mee
1: Zavon Hines