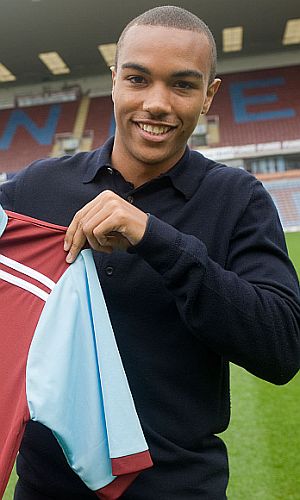 We were 1-0 down at the time and, although we went on to lose the game 3-1, he lifted the performance for the next fifteen minutes leading to the equaliser when he played the ball for Ross Wallace whose cross was headed home by Danny Ings.
Stanislas came back into the side after injury recently but was left out after two poor performances at Cardiff and Ipswich. This cameo certainly ensured he got a place in the team for Friday's game against Brighton.
It also won him both the man of the match and the player ratings. He polled 32.5% of the man of the match vote ahead of second place Ings who had a 24.4% share. Right back Kieran Trippier took third place with 14.5% of the vote.
In the player ratings he was a clear winner with a rating of 7.19 out of 10, again ahead of Ings whose rating of 6.39 was just enough to give him second place ahead of Marney who finished third with a rating of 6.32 out of 10.
Stanislas won six points towards the Clarets Mad Player of the Year and Ings won four points with both Trippier and Marney collecting one point each.
Trippier's point has edged him that bit closer to leader Jay Rodriguez. The lead is now three points with Jay Rod currently out of the side injured giving Trippier a good chance to overhaul him.
Marney remains fifth but is now only one point behind Marvin Bartley, four behind Lee Grant who is himself four points behind Trippier.
Voting remains in progress for the Brighton game and will continue until the end of tomorrow (Monday) before the Doncaster game vote starts on Tuesday. You can leave your PLAYER RATINGS on the message board and vote for the man of the match either on the front page of the site or on the VOTING POLLS page.
The result from the Birmingham game is below along with the current player of the year table.
Man of the Match
32.5% - Junior Stanislas (76 votes)
24.4% - Danny Ings (57 votes)
14.5% - Kieran Trippier (34 votes)
10.3% - Dean Marney (24 votes)
4.7% - Michael Duff (11 votes)
3.0% - Charlie Austin (7 votes)
2.6% - Lee Grant (6 votes)
2.1% - David Edgar (5 votes)
1.7% - Marvin Bartley, Josh McQuoid & Ross Wallace (4 votes)
0.9% - Chris McCann (2 votes)
Player Ratings
7.19 - Junior Stanislas
6.39 - Danny Ings
6.32 - Dean Marney
6.00 - Kieran Trippier
5.45 - Michael Duff
5.23 - Marvin Bartley
5.16 - Chris McCann
5.06 - Charlie Austin
5.03 - Josh McQuoid
4.94 - Ross Wallace
4.48 - David Edgar & Lee Grant
Clarets Mad Player of the Year
63: Jay Rodriguez
60: Kieran Trippier
56: Lee Grant
53: Marvin Bartley
52: Dean Marney
43: Michael Duff
37: Charlie Austin
31: David Edgar & Chris McCann
27: Ross Wallace
25: Ben Mee
22: Andre Amougou
17: Keith Treacy
11: Brian Easton & Junior Stanislas
10: Danny Ings
5: Wade Elliott
3: Danny Lafferty
2: Martin Paterson
1: Zavon Hines