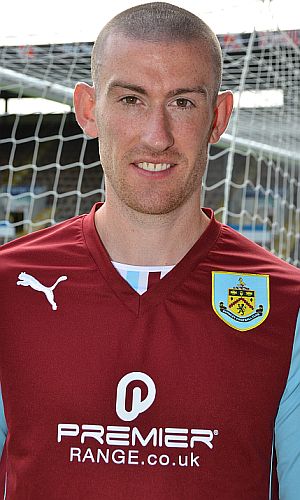 He was in superb form in the middle of the pitch but he didn't quite win the man of the match vote. That went to Michael Kightly who got his first top four place so far, coming first with 22.0% of the vote.
Jones wasn't very far behind at all. He polled 21.4% and was followed by Michael Duff in third place with 18.2% and Sam Vokes who took fourth place with his 11.5% share of the vote.
As for the player ratings; I don't think I've ever seen such high ratings overall in a game in all the years it has been running on Clarets Mad.
Only one player, Tom Heaton, was below 8 out of 10, and he couldn't have been much closer and of all the ratings left on the message board there was only one rating below 7 with one poster rating Marney 6 out of 10.
Jones did win the ratings with 8.78 out of 10 with Duff closest to him; his rating was 8.73. Vokes was third with 8.49 and a rating of 8.43 out of 10 gave Trippier a fourth place finish.
That result means eight points towards the Clarets Mad Player of the Year for Jones with five points each for Duff and Kightly, three for Vokes and one for Trippier.
These latest scores have finally taken Jason Shackell's lead away from the top of the table, and this despite him turning in a series of top performances at the back.
Vokes is the new leader. His 52 points have seen him edge two ahead of his captain with Ings, pointless for once in this game, a further seven points behind. Those eight points for Jones have taken him into fifth place, behind Trippier, while Kightly wins his first ever points.
Voting is currently underway for the September Goal of the Month. You can, as always, vote via the front page of the site or from the VOTING POLLS page and the voting will run until the end of Friday.
The result for the Reading game is below with the current Clarets Mad Player of the Year Table.
MAN OF THE MATCH
22.0% - Michael Kightly
21.4% - David Jones
18.2% - Michael Duff
11.5% - Sam Vokes
7.2% - Dean Marney
5.6% - Danny Ings
4.0% - Kieran Trippier
3.5% - Scott Arfield
2.4% - Jason Shackell
2.1% - Ben Mee
1.9% - Tom Heaton
PLAYER RATINGS
8.78 - David Jones
8.73 - Michael Duff
8.49 - Sam Vokes
8.43 - Kieran Trippier
8.37 - Michael Kightly
8.35 - Dean Marney
8.22 - Jason Shackell
8.20 - Danny Ings
8.04 - Scott Arfield & Ben Mee
7.90 - Tom Heaton
CLARETS MAD PLAYER OF THE YEAR
52: Sam Vokes
50: Jason Shackell
43: Danny Ings
34: Kieran Trippier
31: David Jones
24: Tom Heaton
21: Scott Arfield & Keith Treacy
14: Michael Duff
8: Alex Cisak
5: Michael Kightly & Junior Stanislas
4: Ben Mee
3: Kevin Long
2: Dean Marney