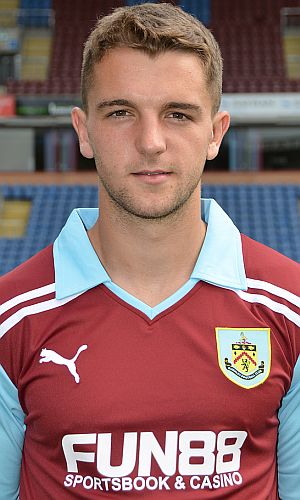 Jay's goal was a special one, coming in the 87th minute, and if it didn't quite warm up the already frozen fans it was certainly a goal to savour.
That, and his overall performance have again seen him win both the man of the match and the ratings with the points now taking him to the top of the Clarets Mad Player of the Year Table.
This time he didn't quite reach half of the man of the match as he'd done at Forest. He had to settle for a 49.6% share ahead of Kieran Trippier who was again in second place with 25.5%.
With those two having won over three quarters of the vote there was no one else with a substantial share and midfielder Dean Marney came third with 6.2% of the vote.
Again it was Jay in the player ratings. His rating of 7.97 out of 10 was more than enough to give him first place, again ahead of Trippier who had a rating of 7.30. Skipper Chris McCann took third place and his rating was 6.80 out of 10.
That gives Rodriguez another six point maximum towards the player of the year. Trippier wins another four points with the two central midfielders, Marney and McCann, both getting one point.
Those points have made a big difference to the player of the year table. Marvin Bartley, the leader for so long, is now down in third place. Jay's gone top with 53 points, three ahead of Trippier and a further two points ahead of Bartley.
Marney's point has seen him go fourth whilst McCann is in tenth place.
Voting is currently underway for the January Goal of the Month, with six goals to choose from. You can vote from either the front page or the VOTING POLLS page.
The next man of the match vote will be for the Southampton game and will be available within an hour of the final whistle on Saturday.
The results from the Peterborough game and the current player of the year table are below.
Man of the Match
49.6% - Jay Rodriguez (191 votes)
25.5% - Kieran Trippier (98 votes)
6.2% - Dean Marney (24 votes)
3.1% - Ross Wallace (12 votes)
2.9% - Michael Duff, Chris McCann & Josh McQuoid (11 votes)
1.8% - David Edgar & Lee Grant (7 votes)
1.3& - Ben Mee (5 votes)
1.0% - Charlie Austin & Keith Treacy (4 votes)
Player Ratings
7.97 - Jay Rodriguez
7.30 - Kieran Trippier
6.80 - Chris McCann
6.33 - Dean Marney
6.20 - Keith Treacy
6.00 - Michael Duff
5.87 - Ross Wallace
5.83 - Lee Grant
5.80 - David Edgar
5.77 - Josh McQuoid
5.67 - Charlie Austin
5.30 - Ben Mee
Clarets Mad Player of the Year
53: Jay Rodriguez
50: Kieran Trippier
48: Marvin Bartley
32: Dean Marney
31: Charlie Austin & Lee Grant
29: David Edgar
25: Ross Wallace
22: Andre Amougou
21: Chris McCann
20: Ben Mee
17: Michael Duff & Keith Treacy
9: Brian Easton
5: Wade Elliott & Junior Stanislas
2: Martin Paterson
1: Zavon Hines