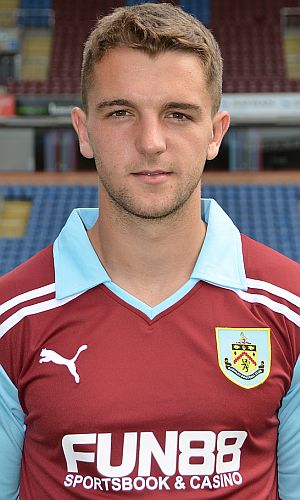 There were no points dropped for Jay's astonishing, and ultimately amusing, penalty miss but he won lots of votes and high ratings for another outstanding performance that brought with it two goals, his third league brace for the Clarets.
He gave the Clarets the lead with a 3rd minute header from a Kieran Trippier cross with the full back winning all the plaudits for his part in that goal. The same two combined for the second with Jay having a lot more to do as he got a great leap to loop his header into the top corner.
It was no surprise that these two players dominated and equally no surprise that Jay Rod came out on top. He did so in the man of the match with a 56.3% share of the vote. That left him a clear winner with Trippier coming second with 17.3%.
Michael Duff, again marshalling a defence that kept a clean sheet, took third place and he was just short of double figures with 9.9% of the vote.
The same top two won the player ratings with Jay again on top. His performance earned him a rating of 8.77 out of 10, just ahead of the 8.55 rating won by Trippier. This time Duff was pipped for third place by Dean Marney who was third with a rating of 7.84 out of 10.
Jay, therefore wins six points towards the Clarets Mad Player of the Year. Trippier picks up four points and there is a point each for Duff and Marney.
Those points really have changed things. Marvin Bartley has been a clear leader for some time but has now lost virtually the whole of his lead during his time on the bench. He now sits just one point ahead of Rodriguez who in turn is one point ahead of Trippier.
They have what looks a comfortable lead over the rest but it's not that long since Bartley's lead at the top looked unassailable.
Today is the last day to vote for the man of the match and leave your player ratings from last Saturday's game at home to Peterborough. You can make your choice for the man of the match from the front page of the site or the VOTING POLLS page. The PLAYER RATINGS can be left on the message board. Starting tomorrow is the vote for the January Goal of the Month which will have six choices.
The result from the Forest game is below along with the current player of the year table.
Man of the Match
56.3% - Jay Rodriguez (238 votes)
17.3% - Kieran Trippier (73 votes)
9.9% - Michael Duff (42 votes)
4.3% - Dean Marney (18 votes)
2.6% - Ross Wallace (11 votes)
2.4% - David Edgar & Josh McQuoid (10 votes)
2.1% - Lee Grant (9 votes)
1.4% - Ben Mee (6 votes)
0.7% - Chris McCann (3 votes)
0.5% - Keith Treacy (2 votes)
0.2% - Charlie Austin (1 vote)
Player Ratings
8.77 - Jay Rodriguez
8.55 - Kieran Trippier
7.84 - Dean Marney
7.82 - Michael Duff
7.55 - Ross Wallace
7.41 - David Edgar
7.27 - Josh McQuoid
7.23 - Chris McCann
7.05 - Ben Mee
6.73 - Charlie Austin
6.59 - Lee Grant
6.00 - Keith Treacy
Clarets Mad Player of the Year
48: Marvin Bartley
47: Jay Rodriguez
46: Kieran Trippier
31: Charlie Austin, Lee Grant & Dean Marney
29: David Edgar
25: Ross Wallace
22: Andre Amougou
20: Chris McCann & Ben Mee
17: Michael Duff & Keith Treacy
9: Brian Easton
5: Wade Elliott & Junior Stanislas
2: Martin Paterson
1: Zavon Hines