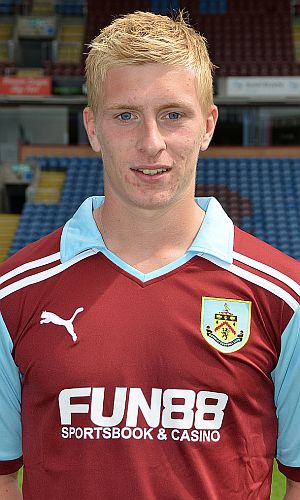 In what was far from a good defensive display from the Clarets he stood out as he tried to keep the home side at bay only to see his side concede four goals, and it is very rare indeed that a central defender would come out on top after a game where the opposition got four.
He won the man of the match with 32.5% of the vote with Dean Marney continuing his recent form with another good performance to take second place. He had a 19.6% share of the vote which was just over the 18.4% won by goalscorer Jay Rodriguez who came third.
There was an identical result in the player ratings as far as the top three were concerned, and in the same order for the only three players to secure ratings higher than six.
Mee was the winner with a rating of 7.07 out of 10. Marney's rating was 6.79 to take second place and Rodriguez was third with a rating of 6.43 out of 10.
Mee, therefore, wins the maximum six points towards the Clarets Mad Player of the Year. Marney collects four points and there are two points for Rodriguez.
Those points have taken Rodriguez to within four points of second place Kieran Trippier. Marney's recent form has seen him shoot up the table from nowhere and he's now joint eighth with Andre Amougou and Ben Mee has moved up to twelfth place following his two recent performances.
The goal of the month vote for December continues until the end of tomorrow and you can vote from the front page or the VOTING POLLS page. The man of the match vote from the Middlesbrough game will start on Saturday evening within an hour of the final whistle.
The result from Norwich is below along with the current player of the year table.
Man of the Match
32.5% - Ben Mee (53 votes)
19.6% - Dean Marney (32 votes)
18.4% - Jay Rodriguez (30 votes)
6.1% - David Edgar (10 votes)
4.3% - Martin Paterson (7 votes)
3.7% - Andre Amougou & Chris McCann (6 votes)
3.1% - Lee Grant (5 votes)
2.5% - Charlie Austin, Brian Easton & Ross Wallace (4 votes)
1.2% - Marvin Bartley (2 votes)
Player Ratings
7.07 - Ben Mee
6.79 - Dean Marney
6.43 - Jay Rodriguez
6.00 - Martin Paterson
5.57 - Ross Wallace
5.36 - Marvin Bartley
5.29 - Lee Grant
5.14 - Chris McCann
5.00 - David Edgar
4.71 - Charlie Austin
4.43 - Brian Easton
3.36 - Andre Amougou
Clarets Mad Player of the Year
48: Marvin Bartley
39: Kieran Trippier
35: Jay Rodriguez
31: Charlie Austin & Lee Grant
29: David Edgar
25: Ross Wallace
22: Andre Amougou & Dean Marney
20: Chris McCann
17: Keith Treacy
15: Ben Mee
14: Michael Duff
9: Brian Easton
5: Wade Elliott & Junior Stanislas
2: Martin Paterson
1: Zavon HInes