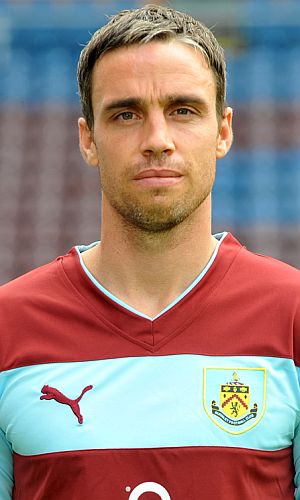 Duff won both the man of the match vote and the player ratings on a night when most of the plaudits went to the defenders with two more from the back four also making the top four .
A 26.0% share of the vote gave Duff the man of the match and he was followed by right back Kieran Trippier, who played a big part in the winning goal, with 18.5%. Midfielder Dean Marney took third place with 10.2% and 9.1% gave Jason Shackell fourth place.
The player ratings were similar, but with one exception. The three defenders were all in there again and in the same positions. Duff, again the winner, scored a rating of 8.00 out of 10 and Trippier, right behind, had a rating of 7.90
In the ratings it was Charlie Austin who took third place with 7.76 and a rating of 7.63 out of 10 gave Shackell another fourth place.
Those results gave Duff the maximum ten points in the Clarets Mad Player of the Year Table. Trippier won six points and there were two each for Austin, Marney and Shackell.
That served to increase Austin's lead at the top to 24 points but further down, Marney moved into joint third place, Trippier is now seventh with Shackell and Duff in 12th and 13th places respectively.
The voting is still available for the Ipswich game. You can vote for your choice as man of the match from either the front page or alternatively from the VOTING POLLS page and PLAYER RATINGS can be left on the message board. The voting will end tonight.
The results from the Leeds game and the current player of the year table are below.
MAN OF THE MATCH
26.0% - Michael Duff (125 votes)
18.5% - Kieran Trippier (89 votes)
10.2% - Dean Marney (49 votes)
9.1% - Jason Shackell (44 votes)
7.3% - Charlie Austin & Chris McCann (35 votes)
6.7% - Ross Wallace (32 votes)
5.8% - Brian Stock (28 votes)
4.8% - Ben Mee (23 votes)
1.7% - Sam Vokes (8 votes)
1.5% - Martin Paterson (7 votes)
1.0% - Lee Grant (5 votes)
0.2% - Danny Lafferty (1 vote)
PLAYER RATINGS
8.00 - Michael Duff
7.90 - Kieran Trippier
7.76 - Charlie Austin
7.63 - Jason Shackell
7.49 - Ben Mee
7.15 - Dean Marney & Lee Grant
7.12 - Sam Vokes
7.07 - Chris McCann
7.05 - Brian Stock
7.02 - Ross Wallace
6.88 - Martin Paterson
5.95 - Danny Lafferty
CLARETS MAD PLAYER OF THE YEAR
82: Charlie Austin
58: Lee Grant
37: Dean Marney & Ben Mee
34: Brian Stock
30: Chris McCann
20: Kieran Trippier
18: Brian Jensen
15: Joseph Mills
14: Junior Stanislas & Sam Vokes
13: Jason Shackell
12: Michael Duff
10: Martin Paterson
6: Marvin Bartley
3: David Edgar
2: Steven Hewitt & Ross Wallace