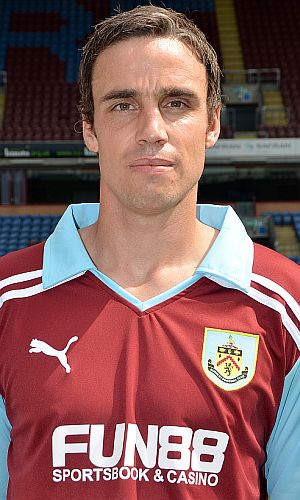 Lafferty got the nod ahead of Ben Mee at left back to give him his first taste of first team football in England and his performance earned him a 26.0% share in the man of the match vote.
In what was one of the smallest votes, Duff was second with 18.0% and midfielder Dean Marney was third with 15.3% of the vote.
Duff, however, was just ahead in the player ratings with a rating of 6.75 out of 10. There was a cluster behind him on 6.50 out of 10 with Lee Grant, Marney, Chris McCann and Ross Wallace sharing second place.
Duff won five points towards the Clarets Mad Player of the Year. There were three points each for Lafferty and Marney and two each for Grant, McCann and Wallace.
Those points have left things very close in the race for third place with Jay Rodriguez and Kieran Trippier still some way ahead at the top. Marney is now just one point behind third place Marvin Bartley with Grant a further four points behind.
The man of the match vote for the Ipswich game will run until the end of tomorrow and from first thing on Sunday it will be replaced with the vote from the West Ham game. You can vote either on the front page or via the VOTING POLLS page.
You can also leave your PLAYER RATINGS on the message board.
Below is the result from the Cardiff game and the current player of the year table.
Man of the Match
26.0% - Danny Lafferty (39 votes)
18.0% - Michael Duff (27 votes)
15.3% - Dean Marney (23 votes)
8.0% - Danny Ings (12 votes)
7.3% - Chris McCann (11 votes)
6.7% - David Edgar (10 votes)
4.7% - Kieran Trippier & Ross Wallace (7 votes)
4.0% - Junior Stanislas (6 votes)
2.7% - Martin Paterson (4 votes)
Player Ratings
6.75 - Michael Duff
6.50 - Lee Grant, Dean Marney, Chris McCann & Ross Wallace
6.00 - David Edgar & Kieran Trippier
5.50 - Danny Lafferty
5.00 - Junior Stanislas
4.75 - Danny Ings & Martin Paterson
Clarets Mad Player of the Year
63: Jay Rodriguez
59: Kieran Trippier
50: Marvin Bartley
49: Dean Marney
45: Lee Grant
39: Michael Duff
31: Charlie Austin
30: David Edgar
27: Ross Wallace
26: Chris McCann
24: Ben Mee
22: Andre Amougou
17: Keith Treacy
11: Brian Easton
5: Wade Elliott & Junior Stanislas
3: Danny Lafferty
2: Danny Ings & Martin Paterson
1: Zavon Hines