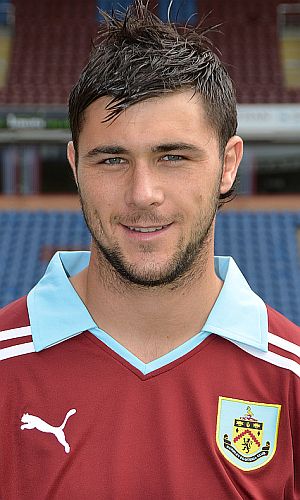 Alongside Danny Ings, who was in superb form during the second half, they tipped the game in our favour with Ings having already scored his first Burnley goal to give us a 2-1 lead before Austin came on for the injured Martin Paterson.
The two of them dominated the man of the match vote and the player ratings to take the top two places in both.
Austin was the winner and polled 47.0% of the man of the match vote with Ings coming second with a 31.7% share. Midfielder Dean Marney, with just 4.1% of the vote, took third place.
It was the same result in the player ratings with Austin again coming out on top with a rating of 8.86 out of 10. Again Ings was not far behind, claiming second place with a rating of 8.71 and this time it was captain Chris McCann who took third place with a rating of 7.71 out of 10, a full point behind second place Ings.
Austin, therefore, wins the maximum six points towards the Clarets Mad Player of the Year. Ings gets four points with one point each for both Marney and McCann.
Those points haven't made much impact on the table with only Marney in the five winning any points. He remains in fifth place but now two points behind Marvin Bartley.
Voting is still underway for Tuesday's Birmingham game. You can vote for your choice as man of the match via the front page of the site or the VOTING POLLS page and PLAYER RATINGS can be left on the message board.
The vote will run until the end of tomorrow with the voting for the Brighton game starting on Saturday morning.
The results from the Portsmouth game and the current player of the year table are shown below.
Man of the Match
47.0% - Charlie Austin (126 votes)
31.7% - Danny Ings (85 votes)
4.1% - Dean Marney (11 votes)
3.4% - Kieran Trippier (9 votes)
3.0% - David Edgar (8 votes)
2.6% - Chris McCann (7 votes)
2.2% - Michael Duff (6 votes)
1.9% - Marvin Bartley & Ross Wallace (5 votes)
1.1% - Lee Grant (3 votes)
0.7% - Ben Mee (2 votes)
0.4% - Martin Paterson (1 vote)
Player Ratings
8.86 - Charlie Austin
8.71 - Danny Ings
7.71 - Chris McCann
7.43 - David Edgar
7.29 - Kieran Trippier
7.00 - Dean Marney
6.86 - Marvin Bartley
6.71 - Lee Grant & Ross Wallace
6.43 - Michael Duff & Martin Paterson
5.71 - Ben Mee
Clarets Mad Player of the Year
63: Jay Rodriguez
59: Kieran Trippier
56: Lee Grant
53: Marvin Bartley
51: Dean Marney
43: Michael Duff
37: Charlie Austin
31: David Edgar & Chris McCann
27: Ross Wallace
25: Ben Mee
22: Andre Amougou
17: Keith Treacy
11: Brian Easton
6: Danny Ings
5: Wade Elliott & Junior Stanislas
3: Danny Lafferty
2: Martin Paterson
1: Zavon Hines