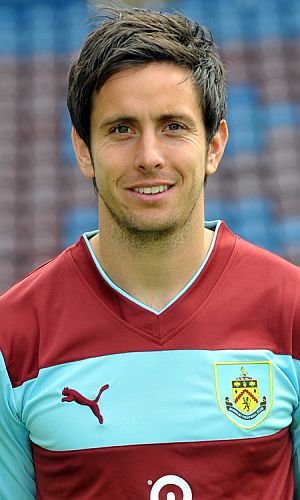 He's certainly received some favourable reviews and none more so than those after the win against Wolves last Saturday when we beat one of or bogy teams 2-0 in what was Sean Dyche's first game in charge.
Stock, playing alongside David Edgar in a defensive midfield role, won both the man of the match award and the player ratings on the message board.
In the man of the match he polled 31.9% of the vote ahead of partner Edgar who came in second with a 17.9% share. Dean Marney, who played further up the pitch was third with 15.9% and 12.8% of the vote gave the returning Ben Mee fourth place.
There was just one different player in the top four in the ratings, with Lee Grant winning a place at th expense of Edgar. Stock was again the winner with a rating of 8.31 out of 10 and this time Mee took second place, his rating was 7.90.
Just below were Grant with a rating of 7.88 and Marney who took fourth place with a rating of 7.83 out of 10.
The result gives Stock the maximum 10 points towards the Clarets Mad Player of the Year. Mee won four points, there were three points each for Edgar and Marney and two for Grant.
Those points have seen Stock climb to fifth place in the table, just a point behind Marney and a further two points behind Mee. The top two are still some way ahead but Grant did actually close the gap on Charlie Austin very slightly with this being a rare occasion when Austin didn't win any points.
The voting is now underway for the Leeds game. You can vote for your choice as man of the match in one of two places, from the front page or the VOTING POLLS page. The PLAYER RATINGS can be left on the message board.
The result from the Wolves game is below along with the current player of the year table.
MAN OF THE MATCH
31.9% - Brian Stock (189 votes)
17.9% - David Edgar (106 votes)
15.9% - Dean Marney (94 votes)
12.8% - Ben Mee (76 votes)
5.1% - Michael Duff & Martin Paterson (30 votes)
3.5% - Lee Grant (21 votes)
2.9% - Charlie Austin (17 votes)
2.0% - Jason Shackell (12 votes)
1.2% - Ross Wallace (7 votes)
1.0% - Kieran Trippier (6 votes)
0.7% - Danny Ings (4 votes)
PLAYER RATINGS
8.31 - Brian Stock
7.90 - Ben Mee
7.88 - Lee Grant
7.83 - Dean Marney
7.71 - Charlie Austin
7.60 - Jason Shackell
7.52 - Michael Duff
7.46 - David Edgar
7.42 - Martin Paterson
7.23 - Kieran Trippier
6.75 - Ross Wallace
6.50 - Danny Ings
CLARETS MAD PLAYER OF THE YEAR
80: Charlie Austin
58: Lee Grant
37: Ben Mee
35: Dean Marney
34: Brian Stock
30: Chris McCann
18: Brian Jensen
15: Joseph Mills
14: Junior Stanislas, Kieran Trippier & Sam Vokes
11: Jason Shackell
10: Martin Paterson
6: Marvin Bartley
3: David Edgar
2: Michael Duff, Steven Hewitt & Ross Wallace