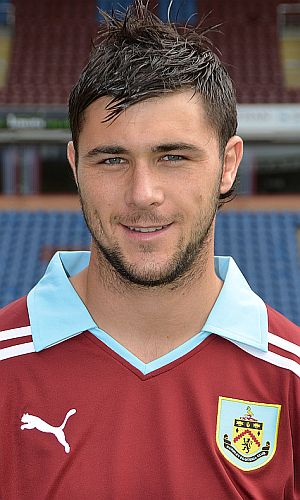 There were six goals to choose from in January and four of them were scored by Jay Rodriguez, undoubtedly our best player during the first month of 2012. However, his four goals took the bottom four places as those from Austin and Kieran Trippier, the December winner, won over 68% of the vote.
Austin scored the first goal of the year and it looked as if it was going to provide ten man Burnley with all three points at Elland Road on New Year's Day Bank Holiday. He received the ball from Chris McCann and got his shot into the bottom corner from the edge of the box.
That goal won 35.3% of the vote and it was just enough to take first place ahead of Trippier who came second with his long range strike at Middlesbrough in our first win of the year. It was Trippier's second league goal for the Clarets having scored that vote winner at Brighton in December.
As for Jay, he scored three headers and one from the established corner routine. It was his second at Forest, my choice of the six, that did best for him with 19.1% of the vote.
His goal at Middlesbrough was next with 6.6%, then the first at Forest with 3.7% and finally his FA Cup goal at Norwich, that superb header, getting just 2.2%.
Austin's goal will now be guaranteed a place in the Goal of the Season vote along with all the other monthly winners so far - Austin v Burton Albion (August), Andre Amougou v MK Franchise (September), Ross Wallace v Blackpool (October), Jay Rodriguez v Hull City (November) and Kieran Trippier v Brighton & Hove Albion (December).
The vote is currently continuing for the man of the match from Tuesday's 2-0 win against Barnsley. It will run until the end of tomorrow with the Reading vote starting on Saturday. You can vote via the front page of the site or via the VOTING POLLS page.