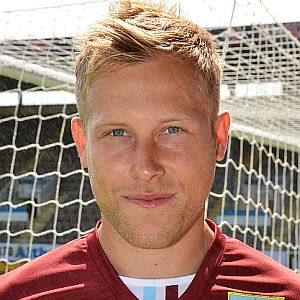 The results are now available for the remaining five games in the month, those against Barnsley, Leicester, Blackpool, Middlesbrough and Wigan.
With these added to the previous games in the month it means Scott Arfield was the Clarets Mad Player of the Month, taking over from Sam Vokes who had won the three previous months.
Voting is still underway for the Yeovil game. You can vote for the man of the match via the front page of the site or the VOTING POLLS page and you can leave your Player Ratings on the message board.
Today is the last day and tomorrow the goal of the month vote for December will be underway whilst the man of the match and the player ratings results for the first three games of 2014 will be available.
Below are the results from the last five games in December, the result of the December Player of the Month and the current Clarets Mad Player of the Year Table.
BARNSLEY (HOME)
MAN OF THE MATCH
39.7% - Scott Arfield
19.3% - Ben Mee
10.5% - Michael Kightly
9.5% - Michael Duff
5.5% - Jason Shackell
4.4% - Kieran Trippier
4.0% - Sam Vokes
2.9% - Tom Heaton
1.8% - David Jones
1.5% - Danny Ings
1.1% - Brian Stock
PLAYER RATINGS
7.41 - Ben Mee
7.35 - Scott Arfield
7.29 - Jason Shackell
7.12 - Tom Heaton
7.06 - Michael Duff & Michael Kightly
7.00 - Sam Vokes
6.56 - David Jones & Kieran Trippier
6.35 - Danny Ings
5.29 - Brian Stock
LEICESTER (AWAY)
MAN OF THE MATCH
35.6% - Kieran Trippier
13.1% - Danny Ings
12.8% - Ben Mee
11.7% - Sam Vokes
8.9% - Michael Duff
7.5% - Dean Marney
3.6% - Tom Heaton
2.8% - Scott Arfield
1.8% - David Jones
1.4% - Jason Shackell
0.7% - Michael Kightly
PLAYER RATINGS
7.91 - Sam Vokes
7.58 - Danny Ings
7.30 - Michael Duff
7.27 - Tom Heaton & Dean Marney
7.12 - Kieran Trippier
7.09 - David Jones
7.03 - Ben Mee
6.88 - Jason Shackell
6.61 - Scott Arfield
5.94 - Michael Kightly
BLACKPOOL (HOME)
MAN OF THE MATCH
53.4% - Scott Arfield
19.1% - Dean Marney
6.1% - Tom Heaton
5.3% - Danny Ings
4.6% - Michael Duff
3.1% - Jason Shackell
2.3% - Ben Mee & Kieran Trippier
1.5% - Michael Kightly & Sam Vokes
0.8% - David Jones
PLAYER RATINGS
8.33 - Scott Arfield & Dean Marney
8.00 - Tom Heaton
7.89 - Kieran Trippier
7.67 - Danny Ings
7.22 - Michael Duff, David Jones & Sam Vokes
7.00 - Jason Shackell
6.67 - Ben Mee
6.56 - Michael Kightly
MIDDLESBROUGH (AWAY)
MAN OF THE MATCH
20.6% - Dean Marney
15.9% - Danny Ings
12.7% - Michael Duff
11.1% - Kieran Trippier
7.9% - David Jones
6.3% - Scott Arfield, Jason Shackell & Sam Vokes
4.8% - Danny Lafferty
3.1% - Tom Heaton & Michael Kightly
1.6% - Junior Stanislas
PLAYER RATINGS
7.17 - Dean Marney
6.83 - Michael Duff
6.33 - Jason Shackell
6.17 - Danny Ings & Junior Stanislas
5.83 - Scott Arfield & Tom Heaton
5.50 - Sam Vokes
5.33 - David Jones
4.67 - Michael Kightly & Kieran Trippier
3.83 - Danny Lafferty
WIGAN (AWAY)
MAN OF THE MATCH
17.7% - Scott Arfield & Jason Shackell
15.3% - Kieran Trippier
13.7% - Danny Ings
11.3% - Michael Duff
7.3% - David Jones
5.6% - Danny Lafferty & Dean Marney
3.2% - Tom Heaton
1.6% - Keith Treacy
0.8% - Sam Vokes
PLAYER RATINGS
7.63 - Jason Shackell
7.11 - Michael Duff
6.68 - Tom Heaton & David Jones
6.53 - Kieran Trippier
5.74 - Keith Treacy & Sam Vokes
5.58 - Dean Marney
5.47 - Scott Arfield & Danny Lafferty
5.16 - Danny Ings
CLARETS MAD DECEMBER PLAYER OF THE MONTH
23: Scott Arfield
20: Ben Mee & Jason Shackell
19: Dean Marney
12: Danny Ings
11: Michael Duff & Kieran Trippier
9: Tom Heaton
7: Sam Vokes
2: David Jones, Michael Kightly & Kevin Long
1: Junior Stanislas
CLARETS MAD PLAYER OF THE YEAR TABLE
106: Jason Shackell
95: Sam Vokes
65: Scott Arfield & Danny Ings
54: Kieran Trippier
45: Michael Duff & David Jones
37: Tom Heaton
32: Ben Mee
23: Dean Marney
22: Keith Treacy
8: Alex Cisak
7: Michael Kightly & Junior Stanislas
5: Kevin Long