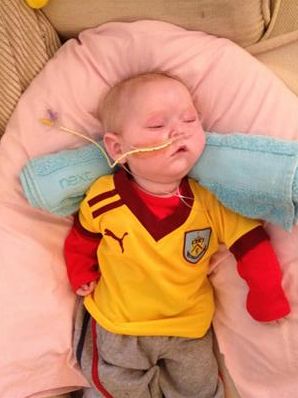 Joshua had his first birthday last Wednesday but his condition means he is very unlikely to reach his second birthday.
We also reported that his auntie, Gail Hill, is running the London Marathon next month to raise money for the charity Epilepsy action and I'm delighted to report that several Clarets Madders pledged their support for Joshua and also supported Gail with some sponsorship.
Such was the support, that I received a letter from Joshua's grandpa Alan Hill which I placed, in full, on the message board, a letter which can now be found below.
Alan wrote:
By means of this letter I would like to express our since thanks to you for stating Joshua's case on the 'Clarets Mad' website.
Burnley Football Club themselves have been very supportive and there is no doubt that the pieces they placed with the local press, the match magazine, various website have, along with your piece on the 'Clarets Mad' website heightened the profile of Joshua's condition.
I think I'm right in saying that a quick activity check carried out last night on the 'just giving' Epilepsy Action website showed that no less than 18 'Clarets Mad' fans had already donated - thank you Tony.
Anthony (Joshua's dad) continues his fundraising efforts for Derian House Childrens Hospice Chorley local providers of specialist nursing and respite care for Joshua.
Gail (Joshua's auntie) too continues her schedule build up in preparation for the 2012 London Marathon supporting Joshua (and many others with all types of epilepsy) through the charity Epilepsy Action.
Last Sunday Anthony and Carrie had Joshua Christened at home with immediate members of our family. He is a very brave little boy whose condition continues to touch many people.
Thank you once more to you and all those 'Clarets Mad' fans who are doing their bit to support Joshua on his journey.
Gail is hoping to raise £5,000 for Epilepsy Action and at the time of writing she's reached over £3,870. Should you wish to support her then you can do so by donating online at www.justgiving.com/gail-hill-londonmarathon2012 or you can donate by cheque.
Cheques should be made payable to Epilepsy Action (registered charity No. 234343) and sent to Alan Hill, Benson Cottage, Hetton, BD23 6LR.
Click HERE for last week's story on Joshua.