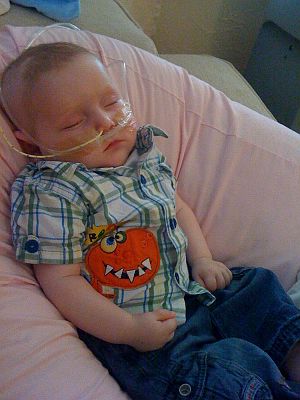 Born in March last year, into a family of Clarets stretching back to his great granddad who starting watching from the old Brunshaw Road enclosure in 1947, he was very soon diagnosed with a very rare form of epilepsy known as Ohtahara Syndrome.
It's a progressive illness which affects the brain and a part of the disorder causes Joshua to suffer from seizures. Prior to the diagnosis and receiving the correct medication, he was suffering up to 200 seizures a day although management of them has now brought that down to around 10-20 a day.
His outlook is not good. He is not expected to reach his second birthday and as such is unlikely to walk or talk. His movements are very limited, he is very susceptible to chest infections and is unable to feed orally.
Joshua is supported by oxygen 24 hours a day and that makes it difficult to get him out with the need to carry oxygen tanks and suctioning machines.
Despite all this, his granddad Alan told Clarets Mad that hes rarely cries or makes a fuss. "He is," said Alan, "Our very brave boy."
Joshua's aunt, Gail Hill, is this year running the London Marathon for Joshua and for Epilepsy Action and is hoping to raise £5,000.
You can support her by donating online at www.justgiving.com/gail-hill-londonmarathon2012 or should you wish you can donate by cheque. If you wish to make a donation by cheque, please make it payable to Epilepsy Action (registered charity No. 234343) and return to:
Alan Hill, Benson Cottage, Hetton, BD23 6LR.
If you feel you can, and wish to, help young Joshua, please do.