Danny wins Eli Trophy
Feature by Tony Scholes
Updated Sunday, 24th July 2011
Clarets Mad have had both golf and pool competitions but today saw the first even Clarets Mad Crown Green Bowling, as 20 competitors got their woods out to try and win the inaugural Eli Trophy.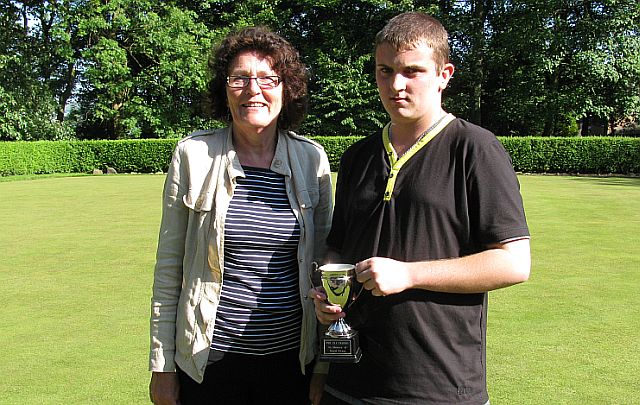 Danny receives the Eli Trophy from 'Er Indoors
The competition was first suggested back in late 2006 following the sad and untimely death of David Evans, message board favourite Eli, and finally went ahead today.
It was an excellent four hours of thumb and finger peg as some experienced bowlers joined some novices at Ightenhill and it was won by Danny Parkinson who beat Roy Holtom in the final.
Following the close final, which could have gone either way with both players requiring to win one more point, Danny was presented with the trophy by Yvonne Evans who was always referred to on Clarets Mad, by Eli, as 'Er Indoors.
I'd like to thank Yvonne for joining us today and I'd also like to pass on my thanks to both Robin Cook and Derek Gill from the bowling club with Robin organising the day superbly. Also of course thanks to everyone who took part and even Big Dave who wandered round the green at times trying to keep score.
Hopefully Danny will be just the first winner of the Eli Trophy with the competition surely now set to become an annual one on the Clarets Mad Calendar.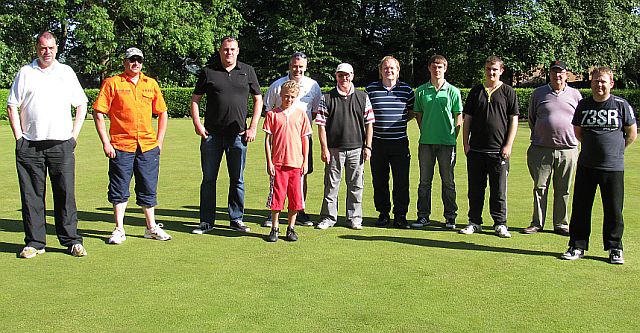 Some of the bowlers at the end of an enjoyable day
Interact with us
Sponsored links