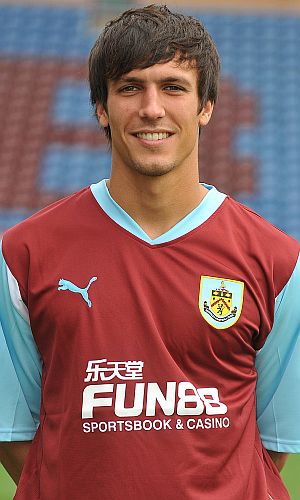 Jack Cork joined Burnley on loan in two seasons
That Richards deal is for the maximum 93 days permitted for emergency loans which means he will need to return to Swansea on 12th December leaving him unavailable for the last four league games of the calendar year.
Early moves into the loan market have, in recent years, been rare with clubs often leaving it a couple of weeks to ensure that they have the players right through until the end of December, particularly if the loans have been made with a view to a permanent signing.
It's nine days now since the much publicised 'Agents and Sky Sports News Day', otherwise known as the last day of the transfer window. Clubs chased up and down to bring in last minute signings.
Manchester United and Arsenal failed miserably in their attempts to sign multiples of players, Crystal Palace and West Brom landed four and Harry Redknapp managed a late interview through his car window having brought in three late loans.
Burnley's only signing on the last day was that of Stoke City's Michael Kightly on loan. He's a player who manager Sean Dyche knows well from his time at Watford and there will be no Christmas worries with this deal, which was completed with just a few minutes to spare, bringing him to Turf Moor for the season.
There were hopes amongst supporters that a new striker might be coming in. There had been all kinds of links with Brighton's Ashley Barnes at the fore, but the Kightly signing has certainly been greeted with some enthusiasm.
Loans, however, are loans. They are not players committed to the club long term and they are, for some managers, last resort signings. However, they are very much part of the game now and when Kightly wears a claret and blue shirt for the first time he will become the 101st loan player to play for the Clarets, and that excludes players such as Jon Harley who signed on loan just to get the deal through in time to play before making it permanent days later.
Some managers love them. Ian Holloway won a promotion with them with Blackpool and Steve Bruce had more than a handful playing for Hull last season as they returned to the Premier League, and remember the impact Fraizer Campbell had there when they were promoted in 2008.
Watford, meanwhile, took the loaning of players to a different level last season, exploiting a Football League loophole that allowed them to bring in just as many as they wanted from outside our shores. No one will convince me they are not doing the same this season.
Some managers don't like the idea of filling up a squad with loan players. Eddie Howe wasn't keen on loan signings and neither was Steve Cotterill who once told me that by the time you got them fit and ready to play it was virtually time for them to go back.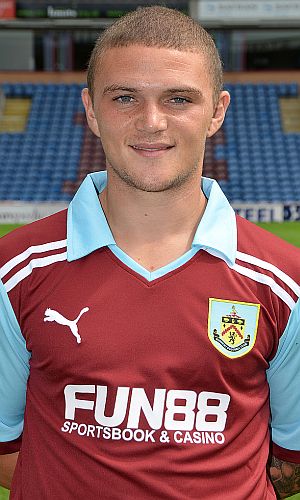 Kieran Trippier's loan became a permanent move
Cotterill brought in players on loan at times out of sheer necessity. With no disrespect there can be no other explanation for the arrival of players such as Karl Bermingham or even Michael Ricketts.
He also brought in other players who, in his words, were better deals for the club. They were players on longer term deals, the likes of Gary Cahill and Eric Djemba-Djemba, and those with a view to a permanent move. They included players such as James O'Connor, Pete Whittingham, Andy Gray and Alan Mahon. Not all of them worked out and not all of them signed for us.
I've had a look through the list of names, and they've had loan spells at Burnley of varying degrees of success, but there is no doubt the longer term loans, half and full season, have proved, overall, to be the most effective.
They have had the opportunity to come in and get themselves match fit given that, in most cases, they weren't getting much football at their respective parent clubs. It's meant we've had more of an opportunity to see them at their best and I think that has, very often, reflected in their performances.
We'll all have our ideas on who were the most successful loans at Burnley. I certainly have my own ideas but I've decided to open this up as a vote and so, rather than try to influence anyone, I've just selected who I think to be the best sixteen from which you can make your selection.
By my reckoning, 23 of the 100 went on to play for Burnley on a permanent after their loans, some immediately and others, such as Steve Davis (Mark 2) almost two years later.
Additionally the list includes Tony Morley and David Miller who played for us on loan after previously being at Turf Moor on a permanent basis and then there are Brian Flynn, John Mullin and Marlon Beresford who had loan spells with the Clarets in between two permanent spells.
Remember when making your choice, and you can vote until Friday via the front page of the site or the VOTING POLLS page, it is how they performed on loan and not throughout their entire Burnley careers.
For a player such as Malcolm Smith, the first player ever to play for Burnley on loan, that's a bonus. He was a bit of a let down after signing permanently, winning his contract after a loan spell when he just couldn't stop scoring goals. Once he'd signed on the dotted line it was months before he found the net again.
The full list of loan players is below - and hopefully I haven't forgotten anyone.
| | | | | | | |
| --- | --- | --- | --- | --- | --- | --- |
| No | Name | Season | | No | Name | Season |
| | | | | | | |
| 1 | Malcolm Smith | 1976/77 | | 51 | Matt Hewlett | 1998/99 |
| 2 | Martyn Busby | 1979/80 | | 52 | Paul Cook | 1998/99 |
| 3 | Paul McGee | 1981/82 | | 53 | Paul Robinson | 2000/01 |
| 4 | Brian Flynn | 1981/82 | | 54 | Gareth Taylor | 2000/01 |
| 5 | Ian Muir | 1982/83 | | 55 | Marlon Beresford | 2001/02 |
| 6 | Mike Walsh | 1982/83 | | 56 | David Johnson | 2001/02 |
| 7 | Steve Baker | 1983/84 | | 57 | Luke Chadwick | 2003/04 |
| 8 | Joe Neenan | 1984/85 | | 58 | Delroy Facey | 2003/04 |
| 9 | Mark Rhodes | 1984/85 | | 59 | Gareth Farrelly | 2003/04 |
| 10 | Dennis Peacock | 1985/86 | | 60 | Andy Todd | 2003/04 |
| 11 | Andy Robinson | 1985/86 | | 61 | Jay McEveley | 2003/04 |
| 12 | Phil Harrington | 1985/86 | | 62 | Neil Wood | 2003/04 |
| 13 | Peter Haddock | 1985/86 | | 63 | Bradley Orr | 2003/04 |
| 14 | Ian Britton | 1986/87 | | 64 | Dele Adebola | 2003/04 |
| 15 | Wayne Entwistle | 1986/87 | | 65 | Richard Duffy | 2004/05 |
| 16 | Mark Caughey | 1986/87 | | 66 | James O'Connor | 2004/05 |
| 17 | Steve P Davis | 1987/88 | | 67 | Gary Cahill | 2004/05 |
| 18 | David Reeves | 1987/88 | | 68 | Pete Whittingham | 2004/05 |
| 19 | Tony Morley | 1988/89 | | 69 | Dean Bowditch | 2004/05 |
| 20 | David Miller | 1988/89 | | 70 | Karl Bermingham | 2005/06 |
| 21 | Mark Harris | 1989/90 | | 71 | Keith Lowe | 2005/06 |
| 22 | Steve M Davis | 1989/90 | | 72 | Nathan Dyer | 2005/06 |
| 23 | Junior Bent | 1989/90 | | 73 | Lee Grant | 2005/06 |
| 24 | Neil Buckley | 1989/90 | | 74 | Michael Ricketts | 2005/06 |
| 25 | John Pender | 1990/91 | | 75 | Phil Bardsley | 2005/06 |
| 26 | Andy Marriott | 1991/92 | | 76 | Andy Gray | 2005/06 |
| 27 | Mark Kendall | 1991/92 | | 77 | Alan Mahon | 2005/06 |
| 28 | Nicky Walker | 1991/92 | | 78 | Eric Djemba-Djemba | 2006/07 |
| 29 | Brian Mooney | 1992/93 | | 79 | Mike Pollitt | 2006/07 |
| 30 | Louie Donowa | 1992/93 | | 80 | Graham Coughlan | 2006/07 |
| 31 | Steve Slawson | 1992/93 | | 81 | Paul McVeigh | 2006/07 |
| 32 | Nathan Peel | 1993/94 | | 82 | Stanislav Varga | 2007/08 |
| 33 | Ted McMinn | 1993/94 | | 83 | Mark Randall | 2007/08 |
| 34 | John Gayle | 1994/95 | | 84 | Andrew Cole | 2007/08 |
| 35 | Jamie Hoyland | 1994/95 | | 85 | Russell Anderson | 2008/09 |
| 36 | Craig Armstrong | 1994/95 | | 86 | Rhys Williams | 2008/09 |
| 37 | Andy Saville | 1994/95 | | 87 | Fernando Guerrero | 2009/10 |
| 38 | Paul Stewart | 1994/95 | | 88 | David Nugent | 2009/10 |
| 39 | Paul Shaw | 1994/95 | | 89 | Frédéric Nimani | 2009/10 |
| 40 | Paul McDonald | 1995/96 | | 90 | Jack Cork | 2010-11 |
| 41 | Charlie Bishop | 1995/96 | | 91 | John Guidetti | 2010/11 |
| 42 | Paul Mahorn | 1995/96 | | 92 | Nathan Delfouneso | 2010/11 |
| 43 | Doug Hodgson | 1996/97 | | 93 | Shane Duffy | 2010/11 |
| 44 | Steve Guinan | 1996/97 | | 94 | Ben Mee | 2011/12 |
| 45 | Andy Kiwomya | 1997/98 | | 95 | Kieran Trippier | 2011/12 |
| 46 | Gerry Creaney | 1996/98 | | 96 | Sam Vokes | 2011/12 |
| 47 | John Mullin | 1997/98 | | 97 | Josh McQuoid | 2011/12 |
| 48 | Paul Crichton | 1998/99 | | 98 | Joseph Mills | 2012/13 |
| 49 | Gavin Ward | 1998/99 | | 99 | Cameron Stewart | 2012/13 |
| 50 | John O'Kane | 1998/99 | | 100 | Alex Kačaniklić | 2012/13 |