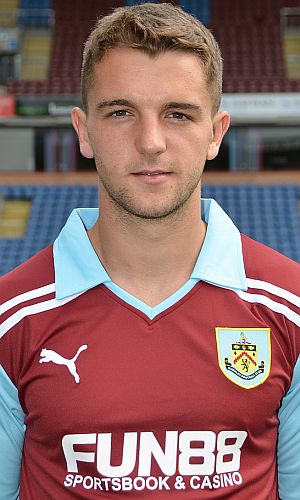 Four goals on the road for Jay Rodriguez
Just under a year ago, following our Boxing Day win at Barnsley, I described our away form as unacceptable. In two calendar years, 2009 and 2010, we'd won a grand total of four league games on the road out of a total of 39 games played. In 2009 we'd won at Blackpool and Plymouth whilst in 2010 the wins came at Hull and, finally, at Barnsley.
That Hull win was our only win away from home in the Premier League. It felt as if we were world champions that day as the Burnley fans taunted the home supporters with the singing of 'How *** must you be - we're winning away' as Burnley went on to win 4-1.
There had been six draws in each year and there is no doubt that some of those draws should have been wins. There were the two 1-1 draws at Birmingham and Derby in 2009 and then, last year, we drew at Crystal Palace (0-0), Sheffield United (3-3) and Norwich (2-2). All of those should have been won but the simple answer was that none of them were.
"Four wins in two years is just not good enough," I wrote. I demanded better and I expected better. I suppose three away wins in 2011 would have at least been better but any decent team should be looking for more than two or three wins on the road.
It was the same old story as the year got underway. Ross Wallace gave us the lead in our first away game of the year at Reading. We also missed numerous chances and then, inevitably, conceded two bad goals and lost the game 2-1. We were better than Reading that day and that was more points thrown away on the road.
Stuart Gray was in charge that day and it proved to be his only away game in charge as new man Eddie Howe arrived and if the home form has dropped somewhat since his arrival then there has been a transformation away from home.
A 0-0 draw at Scunthorpe was his first game in charge. It was a weary affair and you have to wonder why on earth that game was chosen by Sky for live coverage. They might have been better selecting one of our next few away games, most of which all provided more entertainment.
Howe got his first league win at Portsmouth where Jay Rodriguez and Dean Marney scored in a 2-1 win. Then came another weary affair; a 1-0 defeat at Doncaster. That was followed by three wins and a draw.
A 3-1 win at Watford was blessed with a superbly entertaining own goal from Dale Bennett and in the second half an inspired spell from Chris Eagles. He scored one and set one up for Chris Iwelumo.
Steve Thompson scored a late equaliser at Cardiff to earn a 1-1 draw and then came Preston. We went a goal down before Jay Rodriguez equalised just past the half hour. I don't think we could have complained with the draw but a brilliant Jack Cork goal won it as he made yards and yards to get on the end of a superb Wade Elliott cross to head home right in front of a Bill Shankly packed with Burnley fans.
Things were looking up and Nathan Delfouneso scored early on his debut at Hull to give us a 1-0 win but we were thankful to Lee Grant who had an inspired second half.
There were five away games left, but four were lost without us scoring a goal. There was still one more win though at Derby and what a day for Chris McCann who came back from injury and crowned it all with a goal in a 4-2 win.
Six away wins in the season, five of them in 2011 and it has all continued this season. The first six away games followed a pattern. We lost then won three times. Derby, the last win of last season, proved to be the first win of this season and a fully deserved 2-1 win with Charlie Austin getting both goals.
A Rodriguez goal, and another excellent afternoon for Grant provided us with a 1-0 win at Millwall and then Wallace and Austin both scored to turn a 1-0 deficit into a 2-1 win at Coventry.
Two defeats came at Bristol City and Birmingham but then three more wins in the last three away games of the year at Hull, West Ham and Brighton and all with a story to tell. We were 2-0 down at Hull then came back to win it 3-2 through two David Edgar goals and a Rodriguez winner. Again at West Ham we were behind but goals from McCann and Sam Vokes won it.
Then, finally, it was Brighton and a Kieran Trippier goal against their nine men gave us a 1-0 win.
Just take a look at the last three years.
2009: played 20, won 2, drew 6, lost 12, scored 19, conceded 46, points 12
2010: played 19, won 2, drew 6, lost 11, scored 20, conceded 34, points 12
2011: played 24, won 11, drew 2, lost 11, scored 28, conceded 34, points 35
No less than 16 Burnley players have scored away from home in the league in 2011 with Jay Rodriguez leading the way with four goals. Charlie Austin, Chris Eagles and Ross Wallace all have three.
Burnley have never been the best of teams away from home and we have to go back over a decade to the last time we won as many as eleven league games on the road. That came in the year 2000. We'd only won two away games in the 1999/2000 season up to February but then secured seven wins in the last nine games before adding four more wins in the first half of the 2000/01 season.
That equalled 2011, but we've to go back a lot further to a year when we won more than eleven games away from home. I believe we have to go back to 1960, our Championship year.
That year got underway with a 5-2 win at West Ham. By the end of the season we'd also recorded wins at Nottingham Forest, Birmingham City and Manchester City.
The 1960/61 season started unbelievably well on the road and by the end of December we'd won eight games at Newcastle United, West Bromwich Albion, Preston North End, Blackburn Rovers, Chelsea, Bolton Wanderers, Arsenal and Everton.
But for now, eleven away wins in a year is brilliant and Howe, already way past Brian Laws, is very close already to having recorded more away wins than both Steve Cotterill (15) and Owen Coyle (13).
Long may it last.
Which of this year's eleven away wins was your favourite? You can now choose via the voting poll on the front page of the site or the VOTING POLLS page. The voting will run until the end of Christmas Day.