Rebirth at the Ricoh
Feature by Dave Thomas
Updated Monday, 24th October 2011
The new Tim Quelch book is now available. There will be a proper review eventually but in the meantime there is enough Burnley material and mentions in this book to make it a worthwhile purchase for any Burnley fan.
It's a huge 430+ page book with small print as well, so this is certainly not a book to think you can skim through in just a few days. Called 'Underdog' it is very much the story of Tim's journey through football from being a young lad following numerous small clubs and even some big clubs, and seeing their key games, when all of them could be classed as an 'underdog'. Suffice it to say for now that Tim is a wonderfully lyrical writer and the images he conjures up are stunning and vivid, be it a grubby ground, or a wild and windy day at Blackpool when the stinging rain coming off the sea near cuts you in half. All the way through, Tim provides the social and historical background to his near 50 years watching football at all levels. This is an absolutely absorbing and fascinating book and superb value at just £14.99 for a hardback of this size.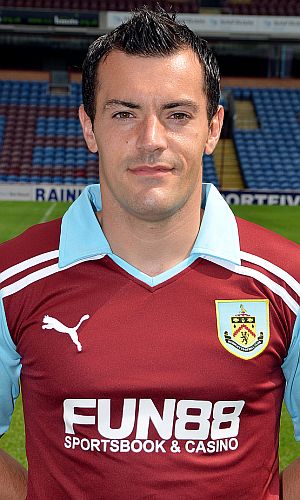 Ross Wallace - beautifully into the top corner
First of all Mike Smiths Tommy Boyle book and now this one; plus I hear there is an Andy Payton book as well due anytime.
Eddie Howe responded after the game to the defeat at Oakwell and the fan's reactions to the games against Reading and Barnsley.
In a nutshell he said he wasn't stupid and could only ask the fans to stick with him and "my players and see if we can come through this together. I think I am an honest guy and if it's not, then I'd be the first to put my hand up and say it's not going to work."
We can all of us interpret that last part in our own ways and read between the lines. Mine is that if he felt his appointment wasn't working, and he wasn't doing the job well enough and was failing, he would resign, leave of his own choice and with dignity intact. The fact that he has said this, I suspect, suggests he is maybe having the beginnings of doubts that heading north was his best option.
What was also evident and has been from day one of the firesales, is that he has never once publicly stated any discontent with the board or its decisions, or the haste to sell players and cut wage bills thereby making the club less competitive and leaving the club, because of injuries, currently down to the bare bones of a threadbare squad.
He must have heard the booing at the end of half-time and full-time at Barnsley. He must have heard the chants of: "Eddie, Eddie sort it out, Eddie sort it out." It's unlikely he's ever had them shouted at him before. It's reasonable to think they hurt. If he was or still is unhappy with the boardroom, and none of us know whether he is or isn't, he masks it extremely well.
He came into the club with players of the quality of Fox, Eagles, Cork, Elliott and Mears. That's half a team, four of them sold and one unaffordable. These were top-six level players. They have not been replaced with anything like the same quality. Some players are receiving wages big enough to drive round in fancy BMX's and yet there were moments at Barnsley when they were so poor that Barnsley looked like Barcelona (ish).
The old adage is that good managers are made by good players. Sadly, too many players in the squad on the evidence of the Barnsley game were not that good. It is open to debate whether or not that is solely the board's fault, the manager's or a mixture of both. That debate rang round the websites with a vengeance after Reading and Barnsley.
There were two items of news that taken together made me chuckle. One was local and concerned President Jimmy Mac ringing the bell that now adorns the wall in one of the Jimmy Mac Stand corporate rooms. He gave it a ceremonial ding or two and then I read that it was to be padlocked and never dinged again until we have returned to the Prem. On the same day in two national newspapers I read that doctors now think we can live to the age of 100 if we lead the right lifestyle. Thethought occurred to me immediately that we'll all need to live to be 100 to see Burnley back in the Prem the way things had been going. For some reason it made me think, too, of the tips and hints for reducing your gas and lecky bills that were being given. Wear warm sweaters and have plenty of hot soup it said. You couldn't make it up.
Anyway next on the agenda was Coventry away. Was anybody expecting anything much? You could be forgiven for thinking no. But, and Mrs T wll confirm, I forecast a win. Bad as we have been, football is such a daft game, that I could see us getting some kind of fluky win even if they'd come out blindfolded.
At half-time I wondered how I could have made such a daft prediction. If you thought Barnsley was bad, these first 45 minutes were even worse. Words like dire or dismal were flattering. The first Burnley shot came around 35 minutes. Bad as Coventry were they could have been ahead by two or three goals. Grant earned his money with two fine saves. Then Coventry indeed went ahead with the usual gift of a goal. A deep cross and the Coventry man was unmarked to head home. We sat back and waited for the inevitable defeat. Treacy was barely getting out of first gear. Stanislas was woeful again. Eddie had tinkered and dropped Austin because of a bad toe (he used to build walls and now he scores goals) to make way for Treacy. Stanislas seemed to be up front alongside Rodriguez and Wallace was wide right.
This was a team (I use the word loosely) going through the motions. Nothing came off. Except Treacy for some reason before half-time, perhaps he was injured, or perhaps just a little fatigued from the effort of getting out of bed. He had done precious little while he'd been on. That first 45 minutes I spent so much time with my head in my hands that I'd barely any eyebrows left.
It was difficult to know what to think at half time. This was a dispirited sham of a collection of disparate individuals. The best thing you could say was the away kit looked stunning. The performance for the 45 minutes was so bad you had to feel, not angry with, but sorry for them. Another 45 minutes of anything similar and the Board of Burnley Football Club would most certainly have been the target for some serious, serious vocal riticism of their policies and their financial decisions.
"I hope Barry Kilby and Brendan Flood are watching this and hanging their heads in shame," said the guy behind me.
On a scale of bad, it was utterly awful, lifeless, lethargic and lazy. This was a team in need of the last rites. You wondered if the coffin had been ordered and the vicar booked.
And then something remarkable happened. Don't ask me how Howe transformed them. Don't ask me what triggered it. Don't ask me where a new spirit and determination came from, or passion and fight. But bit by bit this collection of what for the last two and a half games had been a bunch of odds and sods and misfits, struggling and hiccuping along, misfiring, and misplacing passes, gradually hauled themselves back into the game and began to believe in themselves.
You could see it growing, you could feel it developing and at last the reward came when Rodriguez headed the ball on via Austin, and there was Wallace unmarked somewhere round the penalty spot to put the ball beautifully in the top corner. None of us quite believed it at first. Surely this was a mistake. Burnley had scored – you must be joking. Surely the linesman would flag. Surely the referee would find something wrong? But no it was a fine goal.
Rodriguez alas was whacked in the face for his troubles and lay inert on the ground. It looked bad. The paramedics and trainers raced on. The stretcher followed. A couple of players stood by looking worried. So were we. Rodriguez is not a lad who stays down if he is not hurt. Eventually he was helped up clutching a towel to his face and with aid walked off. On came Hines.
By now we could not fault them. Austin was firing on all cylinders. Wallace was a man reborn. Trippier was tripping the light fantastic, Easton was filled with eastern promise; Hines was full of beans. McCann maurauded because McCann McCould. Coventry by now hardly got a look in. Their keeper made a string of top saves. Burnley poured forward.
Next, in this action packed 45 minutes came something totally unexpected. Thingamybob the Coventry midfielder, with one of those silly haircuts that made him look like a paintbrush on little legs was sent off. It looked like a two footed, both feet off the floor tackle. The referee had his red card out faster than Mrs T's mastercard in M and S.
For some reason Amougou had been taken off earlier. We'd no idea why he'd agongon. On came Mee and immediately looked poised, cool, composed, playing delighful balls out from the back. With Coventry a man missing on their left, time and again Tripper and Wallace stood wide, unmarked in acres of space waiting for a killer ball. It was the one remaining grumble that they were underused and the obvious passes to them never came. Stanislas was berated by all and sundry, us and team-mates, for taking a ridiculous shot from 35 yards when he could have released either WonderWally or SuperTripps on the right standing their howling for the ball.
A winning goal had to come. You felt it, sensed it; sniffed it. By the final minutes Coventry were playing for the draw, their goalkeeper guilty of the most infuriating timewasting. Six minutes extra time announced. The Burnley end roared with anticipation. The Coventry end roared with anger. Burnley poured forward with venom, resolve, grit; fervour. The support thundered down from the Burnley end by this time a twelfth extra man. And the goal came at last, Austin firing home to seal a thoroughly deserved win after incessant pressure and the ball had pinged about in the area.
Is there anything better than an away win? Is it any better when the goals come right in front of you so that you hear the smack of boot on ball, the sizzle of ball on netting; the close-up looks of joy on players' faces? Austin wheeled away and raced to the manager. Everyone in the team followed suit. Delirium in the away end, fury and disappointment all mixed up in the near-empty Coventry stands.
A couple of minutes remained to play out the game. Of course Coventry suddenly bucked up, but in truth they were f****d up.
Yet still we hadn't finished. The whole team came down to the Burnley end for a far longer than usual recognition and acknowledgement of the travelling fans and their support. They beamed and applauded us as we cheered them to the rooftops. Yeh I know this was only a bottom end Championship game against a very poor Coventry but the pleasure of this win, after what we've seen recently, was as great as anything during the Coyle season when we walloped the likes of Arsenal, Chelsea and Spurs. You'd have thought we'd won the Cup. Burnmark from the messageboard was behind us looking as stunned as the rest of us. Clarettony and me at half-time both had our dismal reports ready in our heads and the gloomy headlines.
We'd come, a thousand of us maybe, to bury our stuttering, struggling team and write its epitaph. We ended up singing their praises long and loud. Beneath a blue sky, we'd whupped the Sky Blues. You'd have thought we'd won the Cup.
But of course there was a reality check afterwards on the coach drive home. The joy we felt was as much relief as anything else. This is still a threadbare squad. There are still some very limited players in it. Passion and spirit won this game, not superb football. This win will not be the start of something wonderful. There are too many defects, too many weaknesses for anything like a surge up the table. I suspect it won't be this team that sees the Premiership bell dinged again. I might be 100 before it happens again. 33 years to go and I'll need to cut out the bacon sandwiches. Hmmm, there may be a problem.
Interact with us
Sponsored links