On the Road
Feature by Dave Thomas
Updated Thursday, 20th October 2011
In a fit of madness I'd got tickets for the next two away games at Barnsley and Coventry. I was hoping we'd get Russell Grant on loan or Robbie Savage in time from Come Dancing but sadly no.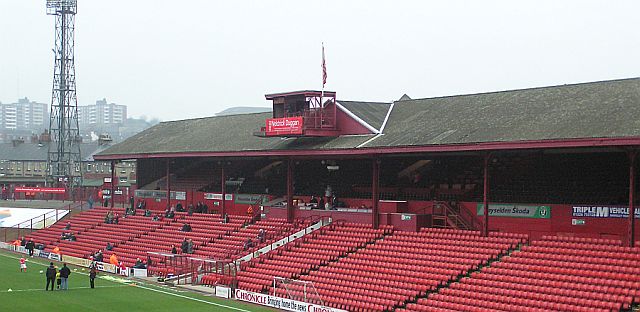 An era of cloth caps, cigarette smoke and grey raincoats
It's an easy trip from Leeds so really there was no excuse not to go to Barnsley; just 40 minutes down the motorway and only an hour from door to door. I like the ground as well. One section of it, the now sparsely used West Stand belongs to a different era of cloth caps, cigarette smoke and grey raincoats. Much of it dates back to 1904. It was opened by the Mayor and cost just £600. The name Oakwell allegedly derives from the area once being mainly Oak woodland. When I visit Barnsley I can look over at the West Stand and let my imagination run riot.
Footballers then at Barnsley had short hair and centre partings, rigid with brylcreem, with legs sturdy as pit props with bulging shinpads and bulbous toecaps that glowed with dubbin and menace. The most famous was Skinner Normanton, immortalised by Michael Parkinson (from whom I have cribbed most of this paragraph. If children were naughty in Barnsley their mothers would say "stop mucking abart or ah'll send for Skinner Normanton." He put the fear of God up any member of the human race who didn't wear a Barnsley shirt. If you wanted to invent a football hero then here was one already; someone who spent his weekdays down the pit, and his Saturdays kicking lumps out of the opposition.
Ee by gum in them days, men were men and even the women in Barnsley carried great heavy sacks of coal around with less effort than I can pick up a bag of Asda shopping.
It was Macedonian striker Georgi Hristov who caused uproar when he played for Barnsley and complained that he couldn't find a girlfriend in Barnsley because they were all so ugly and drank too much. Naturally his remarks caused outrage and as a result few Barnsley folk have ever wanted to go to Macedonia for a holiday.
Goldthorpe was the last mine to close in 1994. But the first ever glass re-cycling bottle bank in the UK was opened in 1977. Not a lot of people know that.
An unusual feature of the football ground is a stand in one corner specially built for disabled spectators. It puts the non existent facilities at Turf Moor to shame. The current Turf Moor landlord ought to be thoroughly guilt-ridden. But then at the moment we don't really seem to have any idea who the landlord is, although it's the club as tenant that foots the upkeep bills.
I sometimes think Burnley and Barnsley are so alike. Both saw their dominant industry and source of employment disappear. Bot have tried to re-invent themselves. Both are surrounded by miles of splendid countryside. Barnsley were also like Burnley and had a brief tryst with the Premiership. Then they fell from grace and went through hard times. Peter Ridsdale landed there when he fled from Leeds. Seeing the Barnsley story and others like it, the mantra at Turf Moor is therefore one of caution and budgeting sensibly. But the squad I saw versus Reading was unconvincing and so lightweight; the result of a timetable of revolution which has been the preferred approach, rather than careful evolution.
Football is so unpredictable; there was no need to suppose that Burnley at Barnsley could be quite as poor as they were against Reading. Anyone who was realistic remembered that the Forest 5–1 could easily have been 5-5 and the 1–0 at Millwall was a classic smash and grab. There was therefore no reason to believe that beating Reading would be a certainty. Anyone who thought that the previous 7 points was the turning point got a rude awakening. The saddest thing for me was the way that it was so boring and the options to change the game from the bench were so limited. The last time I was as bored during a game was during the latter stages of Steve Cotterill's reign. Nor was I the only one to use the dreaded 'b' word.
Against Barnsley, tactician Phil Smith in the Express warned of aggressive second balls. I asked a few people around me if they knew what these were. Nobody knew.
So we arrived at Barnsley anything but optimistic. Winter's fingers seemed to be edging towards us with cold blasting winds and icy rain; just what you need for a game at Barnsley although by the time we got there it had stopped and the evening was just cold. The place is a bit like Rotherham, depressing enough when the sun shines. But like Burnley, the surrounding areas are green and picturesque.
Let's do the positives first. Burnley had a screaming Wallace shot cleared off the line very early on. Rodriguez hit the bar. McCann was just inches wide with a fantastic shot/lob from 50 yards when the keeper was way out of position. The Barnsley keeper made one stunning save. And Burnley had good spells in the first 10 minutes of each half. And there the good stuff ended. That all sounds quite creditable but to be pleased would give a totally wrong impression. For the rest of the time Burnley were just dreadful and with Barnsley missing three other golden chances, the scoreline could easily have been 5–0, or 5–3 had Burnley's three best attempts gone in.
At least in this game, bad as they were, they created some chances and not once was there any boredom as there was against Reading. Perhaps that was because of the rousing atmosphere that nearly 1000 clarets brought with some superb backing, humour and chants. But at half-time there were boos. And at full-time there were boos. Not a lot, but the first definite, clearly audible ripples of discontent. Happiness amongst the rank and file was in short supply and around us where me and Mrs T sat, there was discernible irritation.
There was exasperation at the release and sale of good players that have been replaced with the not so good. Some of them were deemed as deadwood, but others were not. There was both anger and puzzlement that with player sales and parachute money still coming in, this was the best squad we could muster. There was bewilderment with the early tactics that put the diminutive Wallace in a central midfield role and shoved Rodriguez (we think) wide left. There was bafflement that Stanislas was left for so long to flounder around. There were comments that the introduction of Hines with just 3 minutes to go and 2–0 down was the silliest, most pointless substitution for a long time. There was criticism that changes were not made sooner when it was clear that Burnley had lost their way. And questions were asked about just where were these promising, hungry and exciting young players that have been talked about. A few people asked why not give Mee the left back slot?
But there was sympathy too for Eddie Howe. Quite what is he expected to do, people asked, when the ground has been cut from under his feet by all the player sales? Was this what he signed up for? Surely he must have been desperately disappointed to lose Eagles, Mears, Fox and Elliott. Fingers on the messageboards and amongst the crowd at Barnsley preferred to point to boardroom decisions and policies rather than the manager.
But all our grumbles were put into perspective by the sight of the local army lads on leave from Afghanistan parading at the Barnsley ground. We get all worked up by a football match but then remember that there are bigger and more important things – like trying to survive a tour of duty in a God-forsaken, oven-like, hostile place thousands of miles from home. The applause and recognition was long and loud.
And so the next game at struggling Coventry and you hope that Eddie Howe can work some changes (but exactly what with this tiny squad?) and boost what must now be sagging morale.
Coventry provides a complete contrast to Barnsley and its remnants of Gothic streets and an industrial past. Coventry's Ricoh is out on a limb, new, brash, modern, and purpose built, far from any city terraced street. Its finances are chaotic, its move from the old Highfield Road financially disastrous; warring factions vie for the money and the income. The football club gets precious little of the matchday loot. Managers have come and gone. Barnsley is homely, local and you feel the club for its people. I could identify with them on Tuesday night and could imagine the 8,000 of them all scurrying back in the cold to the warmth of their houses feeling well pleased. Coventry is cold and soulless built around the corporate ethic and Premium Seating – and still massively in debt.
We booked places on the Supporters Club Coach, something we always enjoy. You can eavesdrop on all the grumbles. The people on coaches like this are the heartbeat of the club. In riding with them you hear all the murmours. And on the last trip we did to Peterborough they were none too charitable. The people are not happy and remain unconvinced, not so much at the direction the club is going in, but the almost unseemly haste to cut costs so quickly when parachute money remains for another two years and the new league regulations don't start just yet.
But meanwhile, congratulations to Jimmy Mac on being made President of the club. He said that BFC would now pay for his bus pass and it would look good on his passport. When we finished his book (still some available) and it went into print I told him he would definitely remember more things that he had forgotten about.
He remembered only this week that when he lived in his first digs up on one of the streets off Todmorden Road, opposite lived Mr Grimshaw who owned a brewery. "He was a smart, cut above the average looking fella with a white moustache" said Jimmy. He also had a Rolls Royce which Jimmy thought must once have belonged to Royalty because there was some sort of crest on the footstep that you needed to climb in. Anyway after a game Mr Grimshaw would always slip trainer Billy Dougall a tenner to "get the boys a few drinks." And a tenner in the very early 50s would get quite a few drinks. Jimmy said though that the last they ever saw of that tenner was when Billy took hold of it.
"The boys are still waiting for their drinks," he added, chuckling.
Interact with us