IF - the biggest word in football
Feature by Dave Thomas
Updated Monday, 31st October 2011
On the way home from the Blackpool game, absolutely delighted with the win of course, plus the manner of the performance, it did occur to me that if Elliott and Fox had been retained, there might still just have been a top-six squad at Turf Moor.
If… it's the biggest word in football.
I wonder too, if Paterson had been sold, the move was strongly rumoured, would we then have had to sell Fox and Elliott? Had a deal been done? Was it then scuppered because Pato was injured? I guess we'll never know until the chairman writes his memoirs – or Pato.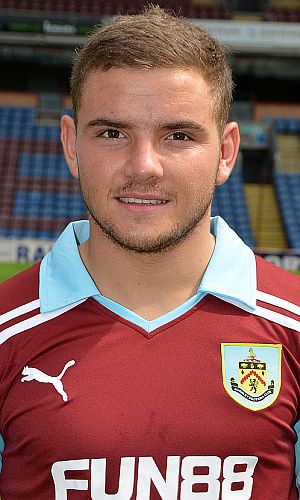 Alex MacDonald was given a chance at Cardiff
Many months ago we were told the club was now debt free. Another one, shortly after the promotion, was that it was set up for the next ten years although maybe there was a bit of a soundbite in that. The next thing we heard and not that long ago was that the club had lost £4million last year.
It's all tiresome I know and going over old ground yet again, but the nagging thought remains that if the best of the old bunch had been retained until the end of this season, we might well be fighting up there at the top end already especially when you saw the team play so well against the donkeylashers. The other argument is that 'the best of the old bunch' didn't help win promotion last season, so why should they this season?
We booked for the re-arranged game at Birmingham but gave Cardiff a miss. There'd been a bit of dross before that and there's only so much dross you can watch on a voluntary basis. It was a good decision. A quarter-final place was at stake for God's sake but whatever passion and determination that emerged at Coventry, had vanished.
Significantly Eddie Howe did not begin the game with four of the players who took part in that storming second half at Coventry. Stanislas was cup-tied. Austin, Bartley and Wallace were all on the bench nursing niggles. Any boost and momentum from that game was therefore immediately lost. Alex MacDonald was given a chance to shine. Alas he didn't grasp the opportunity. The tinkering backfired. In general the comments from those who were there were caustic.
The solitary Cardiff goal was a classic goof as Burnley lost possession inside the Cardiff half and within a few seconds the ball nestled in the back of the Burnley net. After that Burnley could have played till midnight and never scored. There were just three shots on target. From Cardiff there were just 2 shots on target plus a shot that hit the woodwork. Not exactly Barcelona then were they and yet even against a poor Cardiff this side could not raise their game sufficiently. Even the normally impartial commentators Phil Bird and Darren Bentley were tearing their hair out at the lackadaisical, effortless performance.
And then a surprising thing happened. It was a question and answer session on the Clarets Mad message board. CE Paul Fletcher agreed to take questions from MB members via fan Tony Yates. His answers were then posted on the site on the same night as the Cardiff defeat. You can always judge the 'success' or impact of a topic on the CM messageboard by the number of responses. This one went into overdrive basically all saying the same thing that no-one was really any the wiser having received the answers. It was a brave thing for Fletch to do and in truth he was on a hiding to nothing. There were answers to all questions, though none in detail.
A number of questions received the same answer: there is no money. This produced a huge number of responses, but all in the same vein. Where exactly has it gone? There were no specific answers but of all the answers this is the one that supporters were keenest to hear.
Even taking into account Gawthorpe improvements and the high wages of the Premier season; how can a club in receipt of around £16million para money both last season and this season, and a further £8million for two more years, have "no money" was and is a recurring question.
The following four paragraphs are based on a lengthy article in the magazine of the London Clarets in which Phil Whalley interpreted as far as he could the financial 'ins' and 'outs' at BFC. He actually went back as far as season 2006/07.
For 2009/10: Using available figures the turnover was £45.4million. The wage bill was £22.4 million. The net transfer loss was -£6.4million. The end of year profit was £14.4million.
For 2010/11 based on figures given by John B at the London Clarets AGM: Turnover was app £28million. The wage bill was app £16million. Net transfer gain was +£1.4 million. But it later emerged from the Chairman there would be a forecast loss of app £4million.
The question that so many rank and file supporters are asking is how has that app £4million loss happened?
The answer Phil thinks possibly lies in three things: the repayment of directors' loans; a lack of liquidity and cash flow problems resulting in more loans, either commercial or from directors; and thirdly, amounts owed to other creditors.
The new accounts at the next AGM may reveal what has happened.
None of the questions we ask should make anyone at the club think that fans do not understand that this after all is "a little club." We do not have grandiose ideas. We do not demand Premiership status. We know that this may well be an imperfect season of change. We know that several directors have put their money into the club over a long period and that certainly four of them rescued the club in April of 2009. We know there will be wage caps in relation to income rules coming in the near future. We know that the cloth has to be cut accordingly. I doubt for a minute that any of us would claim to be able to do it better. And those of us who took the free season ticket offer cost the club £1.75million.
The impact of the defeat at Cardiff came at the weekend with the Carling quarter-final draw. There would have been a home tie against Blackburn Rovers. It's reasonable to think it would have been televised. A full-house, possible TV money and all the commercial spin-offs; it was a costly result and the limp manner of it, so disappointing.
Blackpool arrived having won just two of their last seven games. It was in this fixture many years ago that Burnley full-back Alex Elder was instructed to follow Stan Matthews wherever he went. I have a vague recollection of the game and my father laughing at how close Elder stuck to him for the 90 minutes no matter where Stan roamed. He did so. Stan joked afterwards he was even there in the toilets at half-time.
Maybe the most significant Blackpool game was the one that took place on a wild and windy night in March 2009, when a Kalvenes goal 5 minutes from time kickstarted Burnley's stuttering progress towards promotion. They had won just 2 of the previous 11 games if memory serves. The weather was so appalling that Owen Coyle wanted to abandon the game. The referee carried on. You could say Burnley's run of incredible good fortune began that night.
If Cardiff was such a let-down, the Blackpool game was the absolute opposite, a terrific night of blood and thunder football, a game of biff bang wallop, a game of up and at 'em thrills, spills and pride and passion right from the off. It was frantic, frenetic and feisty. Sometimes you just know from the first minute when a team is up for it. This was just such a game.
The second half at Coventry was replicated but this time for the whole pulsating 90 minutes on a night of swirling wind and spells of driving rain. This was a team that wanted to win, showed it, earned the points and never looked in any danger of losing despite dominant Blackpool spells. This was the Burnley we all wanted to see and when the second goal went in, the display of joy and team spirit was instantaneous. I've always wondered how the guy at the bottom of the pile when they all jump on top of each other, ever gets up in one piece.
Stanislas set up the first goal with a magnificent cross from the right that Austin headed home with spectacular venom.
Wallace scored the second with a marvellous free kick that curled and dipped at pace into the top right corner with the goalkeeper flailing. For a change we were in the Jimmy Mac end (chicken wrapped in bacon and the best chunky chips I've ever tasted, chocolate torte and a few scoops; so this is life in the corporate lane – very nice thankyou). We had the perfect view of the goal.
The third was made by Austin steaming in from the right and cutting it back for Bartley from around the penalty spot to stab home into the corner. The ground exploded. After that Austin missed from close range when Harry Redknapp's Mrs could have scored. Amougou who had stolen in to find all the space in the world on the edge of the 6-yard box put a glancing header well wide.
A huge Blackpool following added a marvellous atmosphere of noise and incessant chanting. They could have had two players sent off. Certainly Shelvey for a disgraceful and savage foot-up, over the top, tackle on Mee that could have been a leg-breaker. Easton had already gone off and Mee had replaced him at left-back.
Mee looked a natural there. Edgar was immense throughout but sadly his error gave away the Blackpool goal in the dying minutes. After a win like this you can't fault any of them. Austin, Rodriguez and Wallace were outstanding. Two wins on the trot; a third one might be the sign of something beginning to emerge but the squad remains so desperately small. There have been some dreadful Burnley displays latterly but Blackpool was the fourth win out of the last six league games. Good Lord, don't say it. That's promotion form.
Holloway bemoaned his side not putting away chances. They put Burnley on the back foot for long spells in the second half and yet I can't recall any moment that they looked like scoring until the giveaway. The lethal Kevin Phillips was anonymous and eventually taken off.
Dismal against Cardiff, dynamite against Blackpool; would the real Burnley please stand up, we wondered?
It was goodbye Dobbo. His 3-year contract came to an end and was not extended. Vince Overson followed quite quickly. The explanation was "re-structuring" and "a consultation period" the effect of the new system and categorisation of youth development at all clubs. This is at the behest of the Premier League who more or less instructed all clubs to accept their recommendations and suggested youth development structure, or forego the £5million they pay annually to League clubs for development. When you consider that every Premier League club receives a minimum £40million a year from Sky, then the £5million they so generously give to those below them is pathetically small.
Burnley were one of the clubs to vote against the new system that will see hard work put into young lads at League clubs, then to be picked up for next to nothing if they develop into a wonderkid. To cut a long story short this will now allow Prem clubs to cherry pick emerging talent for a fraction of the compensation they have paid up until now. Greed rules OK. Greed is good. Gordon Gecko would be well proud.
Interact with us
Sponsored links