Was the latter ever realistically possible after the squad was hit by all the players that moved on in the summer – Fox, Eagles, Mears, Cork and Elliott. Or despite their exit should it have been a better season with the parachute money still available? It was certainly cruel the way Eddie Howe lost so many players in the summer of 2011.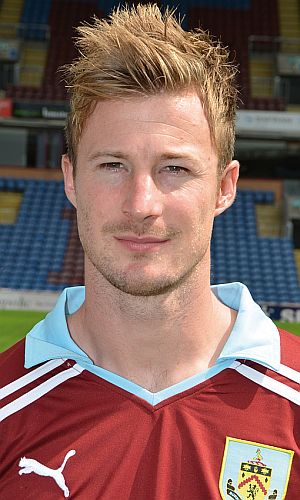 Wade Elliott was one of the players moved on
Were we happy with all the spin? "This is a developing squad… a work in progress… this is a season of transition… we're building for the future… laying down foundations?" I am passing no opinions, merely asking questions.
Is it a good blueprint; a young manager, keen to bring in the youths, eager to build a young and hungry side? Or is the Blackpool/Holloway format the better option? They're in the play-offs with a mixture of seasoned pros and shrewd loan signings, just one season after relegation from the Premier. Burnley were relegated two seasons ago and in the final games of the season could only just about put 12 players out, plus a handful of kids on the bench. And that was after two seasons of parachute money. How much in total since May 2009; £100million maybe?
This season has been a period of patience, understanding and tolerance. Results have been mixed. There has been inconsistency, defensive lapses have been frequent. Some games have been inexplicably lost. Some games have been cruelly lost. The away form has been exceptional. The home results have been disappointing. It's a puzzle. We can all pass opinions but next season might provide the answers. If at the end of next season we are still floundering, then the current policy and philosophy will be subject to criticism and doubt. If it takes us to the top six it will have been the right one. By the end of next season there will be only one remaining slice of parachute money.
A handful of home games have been thrillers; others have been tedious and dull. What's at the root of this? The Eddie Howe style of play, the players he has available who then determine that style, lack of money… a squad down to its bare bones and propped up with kids by the end of the season?
"You never know what you're going to get from one game to the next," someone said.
If Hines and Treacy are still part of plans for next season, if Paterson and Mee come back from injury, then that still leaves the need for half a dozen new quality players to form a squad of let's say, 22. It's difficult to know what to think about Alex MacDonald, Alex-Ray Harvey, Kevin Long or Wes Fletcher. These players have been on the fringe now for a season or maybe more and seem no nearer making it. We haven't even mentioned the possibility of Jay Rod being sold. I think we are all resigned to that and there will be few if any grumbles. We saw that he is not indispensable, in the last few games of the season.
I might be wrong, but the whisper is that fewer than 7,000 season tickets have been sold and the wage bill was still at £12.5million. That's worrying. But let's say Jay fetches £6million. There might well be grumbles if all of that is not made available to Eddie Howe.
If he makes good signings to bolster the current squad, a bit of luck, some fair decisions, the run of the ball and his players playing to the maximum; then next season might well bring some success. But what will success be, a finish in the top third maybe? Or once again just retention of the Championship place?
There's no doubt that at the beginning of the season Eddie Howe had the ladder kicked from under his feet. Since then, his good signings outweighed the disappointments. Bartley, Ings, Mee, Trippier and Austin are the pluses. Hines has never really had enough opportunities to feature. Treacy has been unbelievably poor. Stanislas –just downright frustrating; somewhere there is a class player there. He has shown in brief spells what he can do. If only he could do it for 90 minutes and really involve himself in a game, there would be a real match-winner.
Try as I did to ignore it, I still kept coming back to how for the Blackpool game there was the, by now, standard barebones team backed up by Jensen, the kids on the bench and one loan player, even taking into account injuries and players shipped out on loan. That £32million parachute money kept cropping up. And to add to that is the last two years 'normal' income plus player sales. How much is all that - approaching £60million maybe? So why is it that we could only just raise a team at Bloomfield Road? Easton too was well and truly out in the cold.
Bloomfield Road was a clash of two philosophies. It was the Burnley way of "young, hungry players" versus the Blackpool way of a team of mature players, one golden oldie, and canny loan signings; the experienced Holloway versus the manager "learning his trade." Whether Blackpool or Burnley won this one single game it did not prove either way which was the correct philosophy. If that was the case then on the basis of Burnley 3 Blackpool 1 earlier in the season, then the Burnley way was the way forward. But over the whole season, it was Blackpool in the top six, whilst we at Burnley could still only say this is a developing team and where have all the players gone?
It was Blackpool 4 Burnley O and the men from donkey-land clinched their place in the top six at the first attempt since relegation last season. It contrasted with the drift we've seen at Burnley since January 2010; the appointment of Brian Laws, the money he wasted (and was allowed to waste), the failure of the Board to dismiss him in the summer of 2010 when it was clear he was not the man to provide charisma, inspiration and energy; when it was clear some of the players weren't giving him everything. I can't help thinking that Blackpool's position, after they had beaten Burnley 4–0 was where we should have been a year ago with the players and remaining money at our disposal.
Fourteen goal attempts by Burnley showed that it wasn't quite all Blackpool despite the emphatic scoreline. Their keeper Gilks was responsible in the first half for keeping them in the game. Holloway was relieved it wasn't 2–1 to Burnley at that stage and thought the final scoreline flattering. But it was in the second half that Blackpool took over and the twitter airwaves crackled with updates that made gloomy reading as an evenly balanced game turned into a rout.
More than just a few expressed envy (me too) at Blackpool's top-six place. Blackpool certainly isn't a big-city club awash with money paying ridiculous wages, but there they were comfortably in fourth place. Yes, I was envious and disgruntled. Poor season ticket sales provide the evidence of a wider dissatisfaction and dwindling interest. The cycle begins, or has it already begun, of mediocre results, lack of excitement, another tame end to a season, loss of season ticket holders, a dwindling budget – and the next season becomes an even greater struggle, support and interest decline further still – and so it goes on.
The diehards and the faithful clung to the mantra… this is team in transition… developing players… gaining in experience… the five-year plan… keeping the faith… Eddie is experimenting. The latter alas is tosh… there's been pretty much only one team he could pick over the last few games.
"To be successful you have to be consistent," said Eddie after the game.
Well: you therefore need a squad of 22 good, solid, reliable players from whom you can choose 16 on matchday who can win something like half their games and draw another ten maybe. You need players who can snarl and who hate to lose; abrasive players who have bottle and a bit of muscle, players who don't disappear from a game for 45 out of 90 minutes, and players who can lead. Individually they don't need to be world-beaters; the team of 2008/09 showed that. Then they need a motivator and a charismatic, inspirational, driving leader off the pitch. They need someone who can be nasty as well as nice.
The piece in the Burnley Express made depressing reading: "Burnley Boss Eddie Howe on the hunt for a bargain." Even the best players in League One will be out of our reach, he said. We're looking for the ones that others are not looking at… It's going to be difficult… we can spend a lot of money and really have a go for it, that's not where we're at… I don't want to paint a negative picture."
Which is exactly what he did; resulting in a reaction on message boards, that was 90% caustic and disparaging at a time when the club is desperate to sell season tickets.
Three days after the Blackpool game a pal who lives in Blackpool mailed me. He's had a season ticket for years and goes to all the away games.
"Saturday, I'm still not over it, devastated, gutted, furious. I've always made sure my lad stays positive, even when we're getting a right tubbing. I've physically dragged him to his feet when he slumps into his seat when we concede a last minute goal or whatever. But Saturday has just finished me off. I'm not even going to talk about the match, or tactics, or why Eddie Howe is "trying a few things."
I refuse to do what Burnley fans do best – blame Coyle, Laws, Beast, Grant etc. Actually there's something that really makes me laugh – listening to Burnley fans discussing bringing Beast back, how we miss Caldwell, Wade Elliott, any chance of Robbie coming back, they ask – living in the past or what?
What makes football exciting? The atmosphere at the ground? Well, the Turf is dead, not surprising after watching the dross that's been served up there this season. Heroes? I've been here before; where's the guy we worship even when he's bad – he needn't be a goal scorer, he could just be a right dirty buggar. We've nowt have we? We're lightweight. And how many games have I walked away from this season thinking "My God, that was superrrbbb!" None.
The Premiership, what an opportunity missed: blown. We're one bad season away from lower leagues again.
I'm a bit whoozy, just had a glass of cider, so 'appen none of this makes sense. I hope it conveys my anger though. I'm ashamed of what happened on Saturday. At the moment I don't even bloody well like Burnley, our lightweight squad of players, or our nice manager. Saturday was a disgrace.
To top it all, as we left the ground, Burnley fans were applauding their second-love The Seasiders, while the Seasiders laughed at us; horrible, horrible day.
He'll come round. He'll be here next season. Being a Burnley supporter, it's an affliction.
"Football, bloody hell:" now who once said that, lost for words at what it does to our emotions. Whilst Jimmy Robson received a deserved award at the Supporters Awards Evening, I watched Barcelona v Chelsea. And that's all I could say afterwards.
"Football, bloody hell."