Since its inauguration in August 1998, the clarets have played the Royals at the Madejski on five occasions, picking up four draws and one heavy defeat in the process.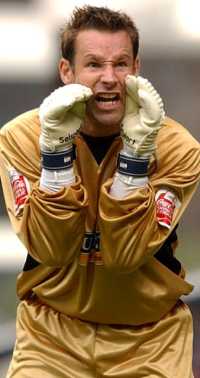 Danny Coyne - clean sheet last season

These games are often tight affairs and last season was no different. Reading were top of the Championship and scoring at free will in most of their games. However, it was no surprise to see Burnley come away from the game with yet another clean sheet. After the stalemate, Reading boss Steve Coppell said; "Burnley have done this in six away games now, where they've conceded only one goal…they play a certain way and it works for them…it's not down for anyone to complain about, it's down to teams to now do something about it"



Compliment or criticism, it was a sign that the Clarets were doing a professional job on the road away from Turf Moor. Little could be said for our defence just two season's previous, as the clarets lost their fourth game out of four at the start of the 2002/2003 season. Surprisingly, Burnley were the better of the two sides early on, but as the first half developed, Reading grew in confidence and should have gone in at half time in front after having a series of corners just before the interval.



Burnley tried to push forward a little more in the early stages of the second half. It was to their cost though as John Salako found space down the right hand side, before tying Lee Briscoe in knots and delivering a low ball into the box, where Jamie Cureton had time and space to shoot on the turn into Nik the Greek's bottom right hand corner.



With only half an hour of the game left, Burnley went in search of the equaliser, but Reading looked comfortable throughout. With only a few minutes of the game left the clarets won a free kick in a central position just outside the box. Robbie Blake stepped up, only to see his free kick fire into the wall. From the ricochet and with the majority of the Burnley players in the attacking third, the ball was picked up by Cureton who began to break away.

He calmly slotted the ball through for his strike partner Martin Butler who, just as Salako had done previously, got the better of Briscoe before slotting the ball past Michopoulos.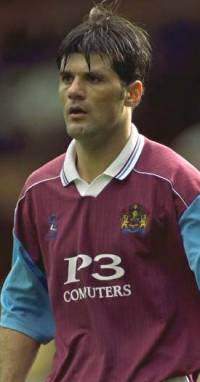 Andy Payton - scored the first goal ever against Reading at the Madejski

#In injury time, Reading scored their third goal of the evening. American goalkeeper Marcus Hahnemann cleared the ball long up field. After a fast bounce off the greasy surface, Cureton once again was quickest to act, knocking the ball for himself to run onto, before hitting a high lobbed volley over a stranded Michopoulos. An excellent finish for Cureton, who on the night was outstanding.



Two years ago it was another draw and one we should have won. After trailing 1-0 we came back to lead 2-1 with goals from Ian Moore and David May. Just as it looked as though we had picked up a vital three points in our relegation fight the home side came back with a late, late equaliser.



Our first ever visit to the Madejski was back in 1998. We were a goal down and then a man down as Peter Swan was sent off but Andy Payton rescued a point with the first goal Reading had conceded at the new, then far from complete, stadium.



So we are still looking for our first win there although we did twice win at their previous Elm Park ground. Back in 1974 Keith Newton and Peter Noble gave is a 2-1 League Cup win and in 1981 two goals from Steve Taylor and one from Micky Phelan secured a 3-1 win.



Now we just need to find our first win at the Madejski.