It was Gifton's month
Feature by Tony Scholes
Updated Sunday, 1st October 2006
I would think September 2006 will be a month that striker Gifton Noel-Williams will be able to look back on with a great deal of satisfaction, a month that saw life at Burnley take something of an upturn.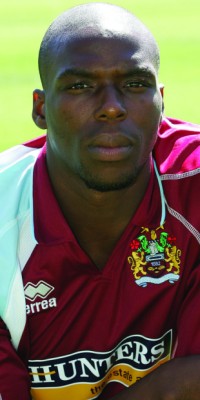 Gifton - a change in fortune during September
The month didn't get off to the best of starts, or more so the previous month didn't end too well. Almost certainly he would have been hoping to get a move but the window shut and the only way out for him now would appear to be a period out on loan.
Ronnie Jepson had tried to get him on the cheap and probably his best hopes were now with Mark McGhee and a chance of returning to the Withdean Stadium for another spell with Brighton & Hove Albion.


By the end of the week things were to get worse but really the first week in the month belonged to our trio of Northern Ireland internationals and one of them, Kyle Lafferty, in particular.


Things didn't go to plan for the Irish initially and they were beaten by Iceland without a Claret in the starting line up, but three days later Michael Duff and Kyle got starts at Windsor Park for the toughest of games against Spain. It was Kyle's first start for his country and although he was forced off just after half time with a strain he couldn't have chosen a better night to make his full debut as they beat the Spaniards 3-2.


We left Kyle dancing the night away on the Windsor Park pitch with a sombrero on his head but by the end of the week things had got a bit worse for our transfer listed striker Gifton with the news that McGhee had been sacked at Brighton. If that wasn't bad enough he had to endure a dreadful entrance onto the pitch as we got our month underway with a home game against Colchester.


With us 2-0 down he was one of three players to come on as a substitute and he crossed the line to booing from his own supporters, as bad as anything I've ever heard. It couldn't have got much lower for him but he set about turning it round, and how.


By the final whistle, and a 2-1 defeat, he'd done enough to win him the man of the match award on the site and if that wasn't enough, he was brought on as a sub again three days later as we once again trailed 2-0 to one of the promoted teams, this time
Barnsley
.
Jon Harley pulled one back and then Gifton, without a Burnley goal since August 2005, hit three in the second half, became the first Burnley player to score a hat trick at Turf Moor since Delroy Facey, and cleaned up with the man of the match award this time. He'd become a hero, his name was now being chanted, and in an after match interview the articulate striker got his words just about right as well.


Former player Paul Weller landed himself a new job at the Turf, becoming the Community Manager to replace Darren Finch who had joined Dean Ramsdale at Deepdale as part of their youth development team.


If Weller had been watching on the previous Saturday I'm sure he'd have sympathised with Gifton, he'd taken stick more than once during his time as a Claret. His appointment to this role was greeted with great enthusiasm.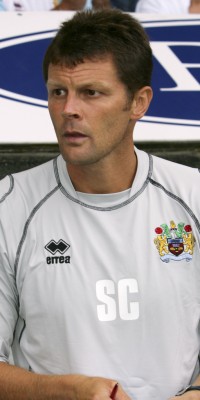 Steve Cotterill - looked pleased with the win at Stoke
A former team mate of Paul's had done a runner with
Tranmere Rovers
. Warren Joyce was running their Centre of Excellence. Well, he though 'was' but his club thought 'is'. Joyce had walked out though and gone to Royal Antwerp as coach after being appointed by
Manchester United
. The Wirral club were not happy and were reporting it to the FA, and a fat lot of good that will do. They'll do FA about it as usual whilst spending time and money on something petty.
Steve Cotterill had entertained his audience in a question and answer session on the Thursday night. He was in good form and two days later I'm sure he was in even better form as he saw the Clarets win 1-0 at Stoke with a first minute goal from Andy Gray.


He certainly looked pleased as he made his way to the tunnel at the end of the game after this, his second win in three attempts at the Windy City as Burnley manager. The home fans don't appear to like him very much and I think this might be why he so enjoys winning there.


Things were going very well and when West Brom decided to dispense with the services of manager Bryan Robson we never thought it would upset the rest of the month. The bookies made Steve favourite for the job and we've sat there bracing ourselves waiting for them to make an approach.


It was a busy week for managers, Kevin Blackwell and Gary Waddock said goodbye to their jobs at Leeds and QPR respectively. Blackwell was virtually marched off the premises at Elland Road but Waddock, replaced by John Gregory, stayed on as a coach.


Whilst we were absorbing all that news came through that Duane Courtney had joined a Premier League club after being paid up by the Clarets. It turned out to be New Saints in the Welsh League but Courtney talked it up to such an extent you got the impression he'd actually taken a step up.


There was still no news from West Brom but we had a game to play, and because of today's game at Norwich moving for television it meant the
Southampton
game was the last of the month.
Captain Wayne Thomas had a miserable end to August, his mistake cost us in the Carling Cup and his red card meant he missed the game at
Crystal Palace
. But he was back, and trying to make amends when he behaved like a complete idiot in this last game in September.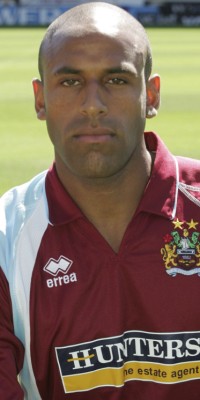 Wayne Thomas - out suspended for much of the month
A goal up, a quarter of an hour gone, so much on top against Southampton that a second was on the cards, and he decides to get himself sent off yet again in an off the ball incident. It was just ridiculous, and it has quite rightly cost him a four match ban. He could lose the captaincy too and he's definitely lost the respect of respect from the fans.
He'll miss most of October and when he's available again he has some major bridge building to do – time will tell whether he's able to carry out that building work. That would have been the major news in this last week but the West Brom saga just won't go away and it is looking a good bet that we could lose our manager.


We can only hope not, we can only hope that he is able to continue the good work he's already done at our football club, starting this afternoon at Norwich.


We ended last month in sixth place, this month we are down to eleventh although we would climb to third if we beat Norwich. Just think where we would have been had we done what we should have done and beat Colchester, and if we'd had eleven players and won against Southampton. A lot of ifs I know.


So what happens in October? Will Gifton still be the new hero? Will Wayne Thomas still be captain, and will he get back in the side when his suspension finally allows it? And will we still have our manager?


A top six place going into November with Steve Cotterill in charge, goals galore from our strikers and Wayne Thomas sat watching from the bench, that would do for me.
Interact with us
Sponsored links