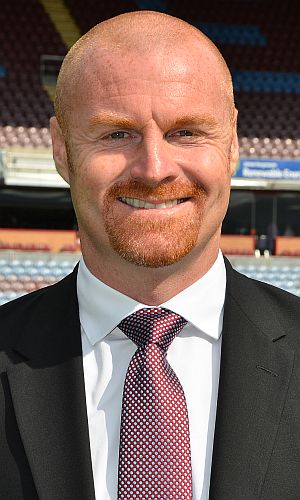 He left Meadow Lane two days before we played there in the return game that season. and was replaced by Howard Kendall, but he's been at Cardiff since October last year after replacing Ole Gunnar Solskjaer.
This week he's added to his squad with the loan capture of Tony Watt and said of him: "He's a technical player, and he's very positive on the ball. At the back end of last season he had a very good game against us, scoring one and setting up another. He's capable of scoring in the big games, he's still young and he seems to have settled quickly with us in the last three or four days.
"On top of that we've got Kiko (Macheda), who is getting ever closer now, having played for the under 21s and trained with us this week. We'll be putting him in the twenty man squad for Saturday, while he's not likely to be a starter."
Speaking about the Clarets, he added: "Burnley are a strong and rigid side, with a massive threat up front. They paid a lot of money for Andre Gray, but he's been very productive for them. We know what a big game Saturday is, and the game the week after. If we can put a run together now before Christmas, that will put us in really good stead going into the New Year."
The last time Burnley played at Cardiff, Sean Dyche was sat in the stand watching the game, just days before being appointed manager. I'm not sure what he thought that day as we fell to a 4-0 defeat but he said yesterday: "A lot has changed thankfully since then, for us. It was my first real look at the side and I think it was quite obvious on that day what needed changing. I think generally it's fair to say we have taken a big shift forward."
Michael Duff and Dean Marney are the only two players who started that day who are still at the club with Marney returning to the bench last week after recovering from a ruptured anterior cruciate ligament.
But Dyche has said he'll have to be patient with the squad he's coming back into to try and get back into the starting line up.
"We have already seen the impact that some of our substitutions have had, when called upon," the manager said. "That's a vital factor if you want to be successful in football and it's great to see there's a great collective mentality.
"Dean is back in there now, but it's only a window to getting involved and it doesn't guarantee the next step. He has been out a while. He is getting closer though and, if called upon now, I think he feels he is at a level that he can at least perform and that's a key thing.
"Dean can only support what we have at the moment and fight for his chance to start again, along with many of the others. They are all fantastic professionals who give a lot to what we are and what we do, and they just have to be ready."
He knows Cardiff will be a tough game for us and added: "Looking at their squad on paper they have some really good players, some of whom have been there for a long time.
"They've certainly got good experience and it seems they've had good home form and been a bit up and down away from home. That's probably what a Championship season is about and we've had our own share of that.
"I've seen them a couple of times and they are a decent side, but I could say that virtually every week. They certainly have strength in depth and it's whether they have strength on the day.
"We have to show our own strength with a good performance to get what we all want, which is three points."