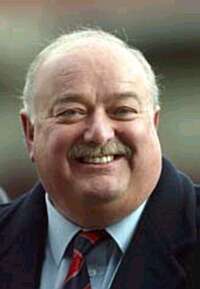 Kidderminster Chairman Colin Youngjohns
The reason it disappeared was down to the fact that the hundreds of you who sent in nominations decided to give up on it and the numbers coming in suggested it was no longer worth it.
But a return has been on the cards for a few weeks although whether it returns as a regular feature or an occasional special has not yet been decided.
However as Christmas approaches one Football League' clubs attitude towards its own supporters was very much worthy of introducing our very first Tw*t of the Week special.
This week Mansfield Town announced the prices for the FA Cup tie at Field Mill against the Clarets with an increase of £1 on their normal charge for away fans at league games. But you are mistaken if you think Mansfield are winning this award because another 3rd Division club has treated its own supporters much worse than this.
The 3rd round draw saw Kidderminster Harriers themselves a home tie and they have taken the opportunity to use this tie as a way of ripping off their fans. Normal league prices have gone out of the window as they decided to hit their supporters in the pocket just before Christmas.
They have looked after their season ticket holders though and they are given the first chance to buy tickets, in fact they can buy two each. That of course is if they can afford them.
To stand they will have to pay £20 with under-16s paying £15 but if they wish to take a seat then the price goes up to an incredible £30 (£20 kids).
Now onto those without season tickets and although this has since been amended slightly to ensure you got a ticket for the cup tie meant spending a fortune.
To qualify for the option of buying two tickets you had to attend the game against Leyton Orient and collect a voucher, buy a match programme and collect a second voucher and then buy tickets for four league games to be played after the cup tie, with all payments up front.
Kidderminster got their comeuppance though with a below average attendance and thousands of unsold season tickets.
They have since been forced into making some amendments and supporters are now only required to buy tickets for two future games but that only entitles them to one ticket for the cup tie. This still means anyone who wanting a cup seat must still pay £60 up front plus the £15 plus programme he has already spent, not much change from £80.
Chairman Colin Youngjohns has tried to defend it all by suggesting the system ensures the tickets go to genuine Kidderminster fans but admitted he was in a no win situation.
Kidderminster are hovering close to the Football League's trap door and after the way they have treated supporters of both their own club and Wolves with the obscene price increases and sale restrictions there will certainly not be many shedding tears should it be they who accompany Carlisle into the Conference.
This really is how not to treat your supporters and I think the board of directors of Kidderminster Harriers are fully worthy of re-introducing Tw*t of the Week on Clarets Mad.