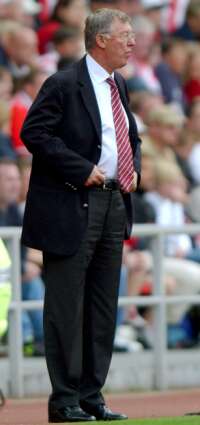 Tw*t of the Week - Alex Ferguson
Top whinger Alex Ferguson picks up the award following his amazing outburst last week as his Manchester United side were easily beaten by Arsenal and went out of the FA Cup.
Ferguson is if nothing else a bad loser and will always look for any excuse available after a defeat. He simply doesn't seem to be able to accept that they can lose because they are second best.
He was fortunate that two of his players Ruud Van Nistelrooy and Paul Scholes weren't sent off, the Dutchman could and should have gone in the first few minutes. But that doesn't interest him but then he complains that Arsenal put the referee under pressure by questioning decisions and surrounding him.
He has a bad memory doesn't he? Does he not recall the worst instance of this most of us can ever recall seeing? Just to remind him it was three seasons ago and was in their home game against Middlesbrough when his players almost frightened referee Andy D'Urso to death.
Of course he doesn't recall it but he will have had all week to recall that his side are no longer in this season's FA Cup, they were well beaten by Arsenal last week. They have now left the Clarets to fly the North West flag in this season's competition.
Second place goes to someone who would have been a regular winner of this award had it been around in his playing days and that is former Blackburn forward Simon Garner.
Last week it looked possible that a Blackburn player could move to Burnley on loan. It was a move that, had it happened, should surely have been accepted by supporters of both clubs.
I'm sure it would have been but not for this objectionable big mouthed clown who took it upon himself to let us all know that it was not a good idea, that he should not be moving to Burnley.
The problem is that Garner could never quite get on with his career so obsessed was he with the Clarets and he even made a complete fool of himself by taking the opportunity to have a go at us when invited onto a Sky television programme.
Thankfully the broadcaster saw him for what he was and they marked him down as one not to use again.
I have no problem with him ranting crap about any other club but as far as Burnley are concerned it is impossible for him to say anything sensible because of his obsession.
Do us all a favour Garner and disappear again – even Wycombe wasn't far enough for you.
And finally to third place and to that wonderful organisation The Football Association. This body runs the FA Cup and yet after the draw had been made on Monday they decided to kick us out of the competition and preview the 6th round tie between Watford and Fulham.
Yes the FA had decided Fulham were through and ignored us completely. Even when it was pointed out to them it took them some hours to alter it and even then we were added something as an afterthought.
Clarets Mad did complain to the FA and did receive a reply from Matthew Wagstaff from their Customer Relations department.
It read, "Please accept our sincere apologies for this oversight. As soon as the mistake was highlighted the article was removed. We wish Burnley the best of luck in their 5th Round replay match against Fulham and for the rest of the season."
So the FA are now sending us their best wishes, just a pity they couldn't recognise that we had been entered into the quarter-final draw of their premier competition.
That's it for this week but keep a look out over the next few days and send your NOMINATIONS by midnight next Thursday.
The winners so far:
Week 1 – Roy Keane (Manchester United)
Week 2 – Jeff Winter (Referee)
Week 3 – Football League's Football Disciplinary Commission
Week 4 – Alex Ferguson (Manchester United Manager)
Week 5 – Luton Town supporters
Week 6 – Barry Knight (Referee)
Week 7 – Burnley FC Showboaters
Week 8 – Tony Livesey (Editor Sunday Sport)
Week 9 – The Directors and Owners of Franchise FC
Week 10 – David Sheepshanks (Ipswich Town Chairman)
Week 11 – David Davies (Football Association)
Week 12 – George Boeteng (Middlesbrough)
Week 13 – Andy Hall (Referee)
Week 14 – Craig Hignett (Coventry City Loan Player)
Week 15 – Garry Flitcroft (Blackburn Rovers)
Week 16 – Craig Bellamy & Alan Shearer (Newcastle United)
Week 17 – Peter Kenyon (Manchester United Chief Executive)
Week 18 – Lee Bowyer (Leeds United)
Week 19 – Steven Gerrard (Liverpool)
Week 20 – Gerard Houllier (Liverpool Manager)
Week 21 – Gerard Houllier (Liverpool Manager)
Week 22 – Stockport County Football Club
Week 23 – Andy Todd (Blackburn Rovers)
Week 24 – Farnborough Town FC
Week 25 – John Mackie (Reading)
Week 26 – Alex Ferguson (Manchester United Manager)