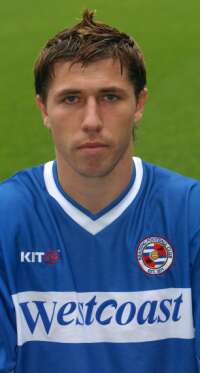 John Mackie - facing serious charges
Reading's John Mackie stands accused of racially abusing a fellow professional footballer. The alleged incident happened back in December in the game between Reading and Sheffield United at the Madejski Stadium when it was reported that the Reading defender racially abused Blades' striker Carl Asaba.
Although Asaba himself was reluctant to complain and his manager Neil Warnock suggested the whole thing should be laid to rest their club formally complained to the FA about Mackie's behaviour.
There has been much confusion over this incident since but this week it all became clear. The FA have charged Mackie with making racist comments and the player himself has admitted it. The FA said this week, "John Mackie has admitted directing racist comments towards Carl Asaba during Reading's match on December 14, 2002."
The FA must now act, and act accordingly, and Mackie should receive a very severe penalty for this. As clubs are making every effort to remove racism from the stands it is totally unacceptable for it to be going on down on the pitch. Mackie must be made to pay for this.
Second place also involves Reading and the incidents at the Jimmy McIlroy end of Turf Moor last Saturday. Incredibly we have had nominations for the Reading goalkeeper Marcus Hahnemann suggesting that the throwing of objects was fully justified because of Hahnemann's behaviour.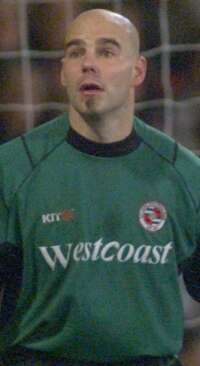 Reading keeper Marcus Hahnemann - goaded the fans
These though have been swamped by the number of nominations we received for those responsible in the lower tier who have now put Burnley Football Club in the dock with the Football Association.
There is no doubt that Hahnemann could and should have been censured for his actions last Saturday. There is no doubt that referee Roy Pearson should have done something about his blatant time wasting (what is it about Reading goalkeepers).
Apparently Hahnemann was also guilty of goading the Burnley fans with his actions on the many occasions he decided to go for a stroll round the back of the net when he should have been getting on with the game.
But whatever Hahnemann and Pearson did or didn't do it can never be an excuse for anything being thrown onto the pitch. Those responsible could, if caught, be included in the next batch of life bans issued by the Clarets.
Referee Steve Dunn leads the way for third place but basically it is officials in general with assistants getting their fair share this week. In two First Division games last week the games changed after decisions by assistants that can only be described as appalling.
One was at the Turf when Reading were awarded a throw in when the ball never went within a country mile of the touchline. Within seconds they were in front although the assistant got this one right, Sidwell was clearly ONSIDE, played so by the now asleep Burnley defence.
Steve Dunn - backed up a dreadful decision and then had to apologise
But what about the incident at Derby when the assistant flagged that Rotherham keeper Mike Pollitt had handled the ball outside his box. Whether he had or he hadn't (and he clearly hadn't) there was no way he could see because Pollitt was blocking his view.
Dunn, a most incompetent official, could have sorted this one. Even from his position he had to be aware that his assistant had no view and should without doubt have waved the idiot's flag away. But no, he gave the free kick and worse still he sent Pollitt off. And just to rub salt in the wound Derby scored from the free kick to go one up.
These two assistants have got decision seriously wrong because they have both in their wisdom pre-judged decisions. One had decided that Cooky wouldn't keep the ball in play and the other that Pollitt was going to handle the ball. They both got it badly wrong and hopefully some action will be taken against both of them.
As for Dunn, he phoned Ronnie Moore on the Monday and apologised. A bit late once he has changed the course of a game and had he been more alert during the game and applied a bit of common sense then there would have been no need for an apology.
And now on to week 26 so keep a look out over the next few days, send us your NOMINATIONS by midnight next Thursday and all will be revealed a week today.
The winners so far:
Week 1 – Roy Keane (Manchester United)
Week 2 – Jeff Winter (Referee)
Week 3 – Football League's Football Disciplinary Commission
Week 4 – Alex Ferguson (Manchester United Manager)
Week 5 – Luton Town supporters
Week 6 – Barry Knight (Referee)
Week 7 – Burnley FC Showboaters
Week 8 – Tony Livesey (Editor Sunday Sport)
Week 9 – The Directors and Owners of Franchise FC
Week 10 – David Sheepshanks (Ipswich Town Chairman)
Week 11 – David Davies (Football Association)
Week 12 – George Boeteng (Middlesbrough)
Week 13 – Andy Hall (Referee)
Week 14 – Craig Hignett (Coventry City Loan Player)
Week 15 – Garry Flitcroft (Blackburn Rovers)
Week 16 – Craig Bellamy & Alan Shearer (Newcastle United)
Week 17 – Peter Kenyon (Manchester United Chief Executive)
Week 18 – Lee Bowyer (Leeds United)
Week 19 – Steven Gerrard (Liverpool)
Week 20 – Gerard Houllier (Liverpool Manager)
Week 21 – Gerard Houllier (Liverpool Manager)
Week 22 – Stockport County Football Club
Week 23 – Andy Todd (Blackburn Rovers)
Week 24 – Farnborough Town FC
Week 25 – John Mackie (Reading)