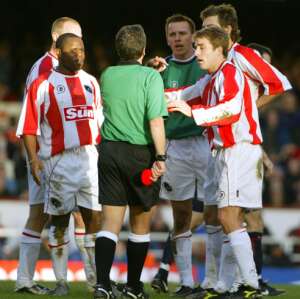 A Fanborough player about to get a red card but the club deserves one for their decision
It's sad to report but Conference side Farnborough Town have won this week's award following the decision to move the FA Cup 4
th
round tie against Arsenal from their own ground to Highbury for no other reason than money.
Officially the move was made for safety reasons, after all the rules don't permit a move for financial reasons, but it is obvious to everyone just why the change was made. And surely if their own ground was not up to staging the game then a better venue closer to Farnborough should surely have been used, the likely candidate being Reading's Madejski Stadium.
Not satisfied with grabbing the cash by the move though the Farnborough club then started whinging when Sky pulled the plug on live coverage of the tie once it had been moved to Highbury. This cost Farnborough £265,000 and almost made the switch meaningless.
No wonder the FA Cup is a devalued competition and given the chance of staging a big tie at their own ground they went money grabbing instead.
Their Chairman/Manager Graham Westley has left the club this week to join Stevenage as manager. I hope he soon adopts their ethics. When faced with a similar situation a few years ago when drawn against Newcastle, and despite bully boy tactics from the Premiership club and comments from Shearer, they stood their ground and demanded that they would stage the game.
Farnborough have a lot to learn.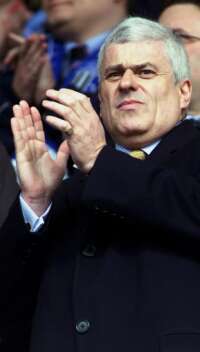 Leeds Chairman Peter Ridsdale - not a lot to applaud now
Second place goes to the Premiership club who thought they could muscle in with the big boys and failed, Leeds United.
Burnley fans were up in arms last night when the BBC did the dirty on us again by withdrawing a Stan interview from 5 Live to hand over an entire programme to the goings on at Elland Road.
Leeds are a big club according to those closely involved but they have become just about the biggest sellers in world football recently as their debts mount and mount. Maybe O'Leary was the culprit, maybe it is Ridsdale or maybe it is just all down to the fact that the club is really run by men in suits in London.
But for sure they are no big club and are on their way to joining the perennial Premiership strugglers. The way things are going it could all be a matter of time before they are playing Nationwide League football again.
When Barrow Boy Venables took over in the summer he knew things were tight but honestly believed he could hang on to his best players including Rio Ferdinand. He was wrong but Ferdinand has been followed out of Elland Road by Robbie Keane, Lee Bowyer and Robbie Fowler. Olivier Dacourt is hardly likely to return having been loaned out and Jonathan Woodgate should be on his way today, if not already.
Greed got the better of them, they gambled and they failed. They aren't the first and won't be the last. And apart from making second place this week it does seem as though the whole football world is laughing at them.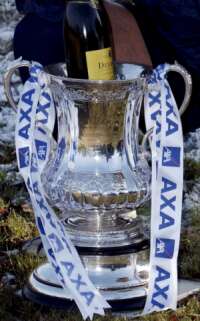 The FA Cup - its owners are doing even more damage to it
And the FA have made third place for finally destroying the FA Cup draw. Some of those old enough to remember were looking forward to the return of the Monday lunchtime draw but we have had to admit that it doesn't work.
For a start it always used to be at the same time, over to Lancaster Gate at 12:30, but now we have a constant changing of time and certainly this week's 1:30 p.m. draw was ridiculous with many people back in work or school after the lunch break making it difficult or impossible to see or hear it.
Even I have to admit that time has moved on and this is not working and so it really must be moved back to the Sunday after the last game.
And that brings us back to the televising of games. Scottish football fans complained two years ago, Nationwide football fans complained last season. Sunday evening football does not work and the kick off time for the Shrewsbury v Chelsea game of 6:30 was a complete nonsense.
The FA claim to be worried about the state of the FA Cup and yet each decision seems to make things worse. That's a surprise. My hand is held up, I accept that the Monday lunchtime draw is no use, it's now up to those at Soho Square (and whatever happened to Lancaster Gate).
We are now on the look out for our 25th winner of the season. All we ask is that you keep a good lookout over the next week and send us your NOMINATIONS by midnight next Thursday and all will be revealed.
The winners so far:
Week 1 – Roy Keane (Manchester United)
Week 2 – Jeff Winter (Referee)
Week 3 – Football League's Football Disciplinary Commission
Week 4 – Alex Ferguson (Manchester United Manager)
Week 5 – Luton Town supporters
Week 6 – Barry Knight (Referee)
Week 7 – Burnley FC Showboaters
Week 8 – Tony Livesey (Editor Sunday Sport)
Week 9 – The Directors and Owners of Franchise FC
Week 10 – David Sheepshanks (Ipswich Town Chairman)
Week 11 – David Davies (Football Association)
Week 12 – George Boeteng (Middlesbrough)
Week 13 – Andy Hall (Referee)
Week 14 – Craig Hignett (Coventry City Loan Player)
Week 15 – Garry Flitcroft (Blackburn Rovers)
Week 16 – Craig Bellamy & Alan Shearer (Newcastle United)
Week 17 – Peter Kenyon (Manchester United Chief Executive)
Week 18 – Lee Bowyer (Leeds United)
Week 19 – Steven Gerrard (Liverpool)
Week 20 – Gerard Houllier (Liverpool Manager)
Week 21 – Gerard Houllier (Liverpool Manager)
Week 22 – Stockport County Football Club
Week 23 – Andy Todd (Blackburn Rovers)
Week 24 – Farnborough Town FC