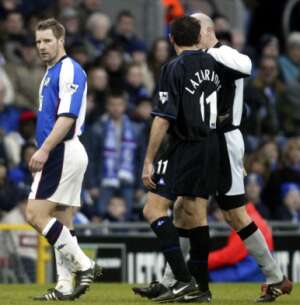 Tw*t of the Week - Andy Todd
That happened last Saturday at Ewood Park and this week's winner, but only just, is Blackburn's Andy Todd for the kick that saw him sent off against Birmingham.
A kick did I say, this was appalling behaviour from the former Bolton and Charlton player who has courted controversy during his career. He may well have been fouled by Christophe Dugarry and he may well have been fouled by Aliou Cisse but that does not excuse his behaviour.
As referee Clive Wilkes quite rightly awarded Todd a free kick he elected to take the law into his own hands and launched a kick at Dugarry who was on the ground. This was a nasty assault on Birmingham's new French star who was making just his second appearance in the Premiership.
Dugarry is no angel but this sort of cowardly attack by Todd has no place in the game. Sadly he found some defence from Sourness after the game who was trying to accuse Dugarry of getting his player sent off.
Steve Bruce (yes he is still at Birmingham) lost it completely and was even suggesting a life ban for Todd. That could be a little harsh although the three match suspension does seem inadequate for this particular incident.
It was though a disgraceful incident and hopefully the FA will view it as such and apply some further punishment.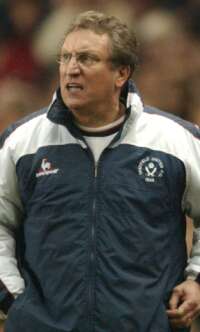 Runner-Up - Neil Warnock
Our runner up this week just had to be selected from the Worthington Cup Semi-Final at Anfield and it just had to be someone who always receives nominations.
For those who can't lip read Sheffield United manager Neil Warnock certainly gave us a good lesson at the final whistle as his team finally bowed out of the competition.
Warnock had been behaving himself all night but this was only until the final whistle went and then the objectionable man just lost it completely. It initially looked as though Liverpool's Jamie Carragher was the target for his foul and abusive attack but in fact it was Carragher's team mate Stephane Henchoz who Warnock was accusing of spitting at him.
Liverpool boss Gerard Houllier, another manager to have harsh words for Warnock, claims to have seen the incident clearly and said Henchoz had done nothing other than spit on the ground.
That is almost certainly the case and this is just another example of Warnock being unable to accept a defeat. Under normal circumstances most neutral football supporters would support the underdog in such a match but everyone I spoke to was rooting for Liverpool and all citing Warnock as the reason why.
Basically he has once again been unable to cope with defeat and shown his true colours. I bet Stan, St. Megson of West Brom along with a whole host of football managers were having a good laugh in front of their magic lanterns as this nasty man completely lost it.
There will be another Warnock tantrum to come later in the season, the day it becomes impossible for them to be promoted. Someone will be on the end of it and that's for certain because leopards like Warnock never lose their spots.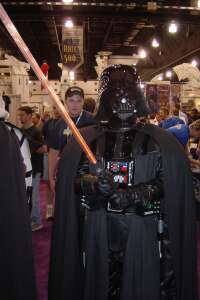 Third Place - Exeter City and their new director
Third place this week is yet another club in chaos but a club who quite honestly are making complete fools of themselves.
It is down to Devon and 3rd Division Exeter City who looked on the brink of extinction not so long ago and were rescued by Uri Geller. He had been trying to get into football for some time and always suggested that any club he was involved with would be successful as he would use his psychic powers.
He once publicly said he would be interested at Burnley but from what I can gather we had enough bent spoons at the time and so we passed on his interest.
Reading always looked favourites but John Madejski saw him off and eventually he moved in at Exeter.
One of his first major decisions was to appoint Michael Jackson as a director but the former coloured lead singer of the Jackson 5 has not been of any real help.
Mind you neither has Geller and currently Exeter are in 20th place in Division 3 and don't even have a decent spoon to stir the half time tea so Geller has done what any self respecting Football Club Chairman would do. He has signed Darth Vader.
It's not a joke and the actor who played Darth Vader, Dave Prowse, has been elected to the board at St. James' Park with Geller suggesting that the powers of Darth Vader could help his side move up the table.
It really is a strange set up there and despite being Chairman Geller is not even registered as a company director but with his style of running things I'm sure it is only a matter of time before his club with the boardroom of football mis-fits are playing their football in the Conference.
There were other nominations this week with most of them coming from the two incidents that took the top two places. Needless to say Sourness was well represented whilst from Anfield there wasn't a single nomination for Henchoz or Houllier but we are pleased to tell you that the nasty piece of work with the big nose, Phil Thompson received a good number of your nominations.
Manchester United also scored heavily after once again playing the dirty tricks game to try and get a player on the cheap. This time it is Sunderland's David Bellion and they have, according to Sunderland Chairman Bob Murray, left the French forward in such a state that he doesn't feel able to play for the Wearside club.
Murray described United's behaviour as despicable and added that the relationship between the two clubs was at an all time low saying, "They are the biggest club in the world and we are fighting for our lives and they pull this one on us. Their approach has been unethical and uncaring" Sunderland have reported Manchester United to the Premier League but they won't get anywhere, the top clubs always win the day in such things.
That's week 23 over with so keep a close eye during cup weekend for candidates for next week's award. Then send us your NOMINATIONS by midnight on Thursday and the next winner will be revealed a week today.
The winners so far:
Week 1 – Roy Keane (Manchester United)
Week 2 – Jeff Winter (Referee)
Week 3 – Football League's Football Disciplinary Commission
Week 4 – Alex Ferguson (Manchester United Manager)
Week 5 – Luton Town supporters
Week 6 – Barry Knight (Referee)
Week 7 – Burnley FC Showboaters
Week 8 – Tony Livesey (Editor Sunday Sport)
Week 9 – The Directors and Owners of Franchise FC
Week 10 – David Sheepshanks (Ipswich Town Chairman)
Week 11 – David Davies (Football Association)
Week 12 – George Boeteng (Middlesbrough)
Week 13 – Andy Hall (Referee)
Week 14 – Craig Hignett (Coventry City Loan Player)
Week 15 – Garry Flitcroft (Blackburn Rovers)
Week 16 – Craig Bellamy & Alan Shearer (Newcastle United)
Week 17 – Peter Kenyon (Manchester United Chief Executive)
Week 18 – Lee Bowyer (Leeds United)
Week 19 – Steven Gerrard (Liverpool)
Week 20 – Gerard Houllier (Liverpool Manager)
Week 21 – Gerard Houllier (Liverpool Manager)
Week 22 – Stockport County Football Club
Week 23 – Andy Todd (Blackburn Rovers)