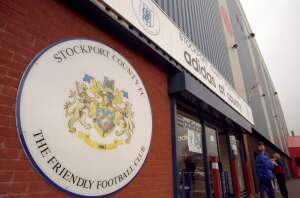 Tw*t of the Week - The Unprofessionals of Stockport
We don't hear much of them now since their relegation but this week's winners are the Unprofessionals of Stockport County and how deserved it is, you won't believe what Hell-Wood and his Unprofessionals have been up to now.
Apparently Edgeley Park was in need of a new PA system and they applied for and won a grant from the Football Trust. Unfortunately they weren't exactly honest with them and made an application for more than the cost of the work being carried out.
This is tantamount to taking money from a charity and last week, having owned up to the offence, they were disciplined and fined by the Football Association and so they should.
This is just about as low as you can get and surely someone should be making sure they are never able to get grants again.
It could be worse for them because the police are now investigating and who knows what could happen if they do decide to prosecute.
Not bad is it for a club who, according to manager Carlton Palmer, have taken terrific strides forward in the last 12 months. Those strides have taken them to within two points of the relegation places in Division Two.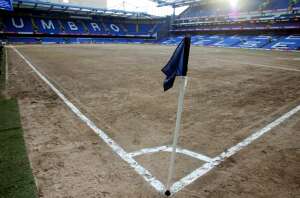 Runner Up - And just look at the state of this Stamford Bridge pitch
You really couldn't make up your minds as to who should take second place but there is no doubt that your choice has much to do with the Premiership game between Chelsea and Charlton Athletic last week.
Some of you have nominated Chelsea for removing the top surface of their pitch prior to the game and electing to play on sand whilst some of you have nominated Charlton for whinging after losing the game 4-1. So I suppose overall we should give second place to the pitch.
There is no doubt that Chelsea are surely out of order in doing this and not having the required surface and Charlton's demands are because of a breach of Premiership rules. Their Chief Executive Peter Varney said this week,
"At no time prior to our away fixture at Stamford Bridge on Saturday, January 11th, were we informed by Chelsea FC that we would be playing on an artificial sand surface and not grass contrary to the rules of the FA Premier League (Rule 17 Section 1)"
So there we have it and it is now up to the FA to sort it out and they have already launched an investigation. Most of us saw it and for certain we would not want to watch too many football matches on that type of surface.
Referee Mike Dean passed the pitch fit because he said it was flat but the question to be asked is whether a match should take place on a pitch that resembled the beach at Blackpool.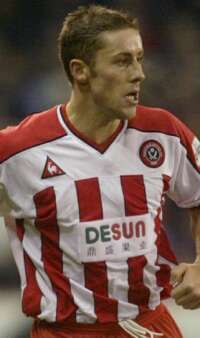 Third place - Sheffield United's Michael Brown
For third place we go back to an incident the week before that won Gerard Houllier the top prize a week ago. That was for his moaning over Sheffield United after Liverpool had lost the first leg of their Worthington Cup Semi-Final at Bramall Lane.
But some of you have this week given Houllier some defence by nominating Michael Brown after his tackle (if tackle is the right word) on Liverpool goalkeeper Chris Kirkland. It was an incident that surely should have seen Brown collect a red card but even so should not have brought about the comments from the under pressure Frenchman.
We all have our own thoughts on Sheffield United, their manager and the way they play. They have certainly had their disciplinary problems over recent years and Brown's challenge did nothing to help them improve things.
Both Sunderland and Bolton were nominated for their team selections this week for the FA Cup replay. Both teams apparently made nine changes and showed just how much more they value remaining in the Premiership than progressing in the devalued FA Cup.
Burnley FC's ticket pricing was also up there with many fans stunned at the charges last Tuesday, citing attendances at Norwich and Coventry as examples of reduced pricing. Some fans were disgusted that their own season ticket seats were not available and they had to pay more to sit elsewhere or suffer the elements in the lower tier of the Jimmy Mac. They felt they had been hard done to.
Despite many of you showing your disgust at Craig Bellamy last week, a disgust I fully endorse, we did have a suggestion this week that it was over the top and he was only reacting to the crowd's chanting for Kevin Muscat who had previously been involved in an incident with Bellamy.
A national paper this week described as Premiership on the field and non-league off the field and that just about sums him up. We accept the nomination for the Wolves fans but are also delighted that the Newcastle club have taken action against Bellamy.


That's it for week 22 and all we ask is you keep an eye on events this week and send us your NOMINATIONS by midnight next Thursday, the next winner will be revealed next Friday morning.
The winners so far:
Week 1 – Roy Keane (Manchester United)
Week 2 – Jeff Winter (Referee)
Week 3 – Football League's Football Disciplinary Commission
Week 4 – Alex Ferguson (Manchester United Manager)
Week 5 – Luton Town supporters
Week 6 – Barry Knight (Referee)
Week 7 – Burnley FC Showboaters
Week 8 – Tony Livesey (Editor Sunday Sport)
Week 9 – The Directors and Owners of Franchise FC
Week 10 – David Sheepshanks (Ipswich Town Chairman)
Week 11 – David Davies (Football Association)
Week 12 – George Boeteng (Middlesbrough)
Week 13 – Andy Hall (Referee)
Week 14 – Craig Hignett (Coventry City Loan Player)
Week 15 – Garry Flitcroft (Blackburn Rovers)
Week 16 – Craig Bellamy & Alan Shearer (Newcastle United)
Week 17 – Peter Kenyon (Manchester United Chief Executive)
Week 18 – Lee Bowyer (Leeds United)
Week 19 – Steven Gerrard (Liverpool)
Week 20 – Gerard Houllier (Liverpool Manager)
Week 21 – Gerard Houllier (Liverpool Manager)
Week 22 – Stockport County Football Club