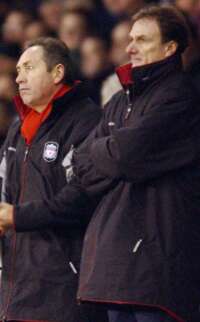 Tw*t of the Week again - Gerard Houllier alongside the obnoxious big nosed Phil Thompson
For whinging and wanting his own way there is no one better at the moment than Liverpool boss Gerard Houllier. It has been said that he has been restoring the tradition of the Anfield club and make no mistake he is clearly leading a campaign to have everything go their way.
Last week he disgracefully tried to defend one of his players after a two footed lunge, but that's not the first time, and now this week he has had the nerve to lead an appeal against action brought by the FA.
But more than that, after seeing his side lose to Sheffield United in the Worthington Cup he turned his attentions to the tactics of the Blades. Now of course we don't need telling about the ways of Sheffield United boss Neil Warnock but at the end of the day Houllier's rantings seem to be over one incident involving his goalkeeper.
People in glass houses shouldn't throw stones Monsieur Houllier and right now you are in a big greenhouse. It is obvious to those of us with an interest in the game that you are under pressure and perhaps even fighting for your job.
Can we suggest a win or two would probably be a better idea than turning on the opposition after another defeat. A return of four points out of thirty and a cup defeat at Bramall Lane is not going to keep you in a job much longer.
In fact the only recent success was the 1-0 win against a dreadfully poor KKMC in the FA Cup and that is unacceptable for a club who were being tipped as Premiership favourites not too many weeks ago.
It is unlikely that Houllier will win the award for a third week and to avoid it all he needs to do is keep his mouth shut. Maybe he is just returning things to the Liverpool of old, whinging when things go wrong. The difference is that things hardly ever went wrong with the Liverpool of old.
Second place Craig Bellamy having to challenge for the ball with a Nationwide League player
Second place this week goes to another winner from this season, Newcastle United's Craig Bellamy.
He had a poor game, along with most of his colleagues, as Newcastle were knocked out of the FA Cup at the first time of asking at Wolves last Sunday. It was a cracking game and had passed without incident.
Bellamy though decided he would have the last word with the Wolves fans as he left the pitch. Now these Wolves fans have had little to celebrate recently and they even suffered defeat in one of their annual victories, the trip to Turf Moor.
But Bellamy's reaction was nothing short of disgraceful. In a gesture that was an insult to every player in the Nationwide League and below he pointed to the badge on the sleeve of his shirt and mouthed the word Premiership.
Of course the less than intelligent Bellamy will probably think he has always been a Premiership player and should probably be reminded that he hasn't always been in a successful side.
It is only two seasons ago that he was in a side not good enough for the top division, a member of the Coventry side that was relegated. And before that he was playing Nationwide League football for Coventry.
But Bellamy doesn't give a damn about that, doesn't care that his actions were an insult to Norwich and all his former team mates at Carrow Road. This conceited nasty piece of work thinks he is above all that.
Oh yes you really are a star Bellamy and once again this season like all you so called stars you are going to win everything you deserve – absolutely nothing.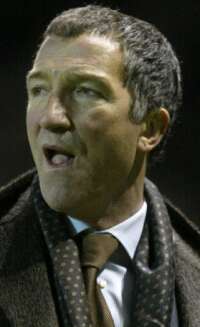 Third place - the nasty Graeme Sourness
He's always there or thereabouts, for some reason Burnley fans don't like him but this week his actions have seen him reach third place – it is Graeme Sourness.
Earlier this season Stan was banned from the touchline for two matches for remarks made to an official even though that official just happened to be the incompetent Barry Knight.
The fact is that just about every club suffers from poor decision by referees, suffer from poor performances by referees. Certainly the Clarets have come across some nightmares this season but we are not naïve enough to think it is just us that have to suffer.
But Sourness cannot cope with this and thinks he can have a touchline tantrum every time a decision goes against him. To be quite honest I wonder just how a decision against his lot can ever be wrong but it seems the opinions of Sourness and myself differ.
Now we are all aware that Andy D'Urso is not the best of referees and he was having a standard D'Urso performance at Wigan in the Worthington Cup. But Sourness turned his nastiness this time on fourth official Matt Messias to such an extent that the match referee had to be called over.
Messias was obviously concerned for his safety after watching Sourness tackling in some old Liverpool videos and had to take such action. D'Urso immediately put a stop to his tantrums and sent him to the stands.
It happens in games and managers then cool down and accept their punishment. Sadly it happens too often with Sourness and he also thinks he is above all this and shouldn't be punished.
So needless to say once again this week he has launched an appeal and thinks he is going to get away with it. Hopefully the FA will throw the book at him and force him into the stands for the foreseeable future.
Mind you that will force us to take in the miserable face of Tony Parkes (pronounced Perrrks) on the touchline but it will be worth it just to see Sourness get his just desserts.
The Football Association came close to the top three this week with the latest news on Wembley Stadium. This wonderful organisation are trying to restore the FA Cup to its former glories and have switched the draw to Monday lunchtime. Well done to them for that but in the same breath announced that once the new Wembley opens all semi-finals will be played there.
Do they never learn? Wasn't this another of the reasons for devaluing the competition? Playing at Wembley used to be special for a club but this money grabbing lot will make it easier and easier as they plan to get their money back on this obscene and costly new stadium. It seems that they need to play games such as the FA Cup semi-finals there otherwise they cannot afford the new Wembley. If you can't afford it, don't buy it.
Although Gerard Houllier won this week there were nominations for Neil Warnock because of Sheffield United's tactics (thanks Stan) but on this occasion it wasn't enough to get the Yorkshire Chiropodist into the top three.
There were also nominations for David Sullivan the owner of Birmingham City who admitted that his club would be making signings this month even though they couldn't afford them. Apparently Sullivan and Chairman David Gold are dipping into their own pockets.
The reason is that they have to try and avoid relegation. It does appear that they haven't as yet seen the current plight of the likes of Derby, Leicester, Ipswich, Sheffield Wednesday and Bradford City. When will these clubs ever learn?
That's it for week 21 and all we ask is you keep an eye on events this week and send us your NOMINATIONS by midnight next Thursday, the next winner will be revealed on Friday morning.
The winners so far:
Week 1 – Roy Keane (Manchester United)
Week 2 – Jeff Winter (Referee)
Week 3 – Football League's Football Disciplinary Commission
Week 4 – Alex Ferguson (Manchester United Manager)
Week 5 – Luton Town supporters
Week 6 – Barry Knight (Referee)
Week 7 – Burnley FC Showboaters
Week 8 – Tony Livesey (Editor Sunday Sport)
Week 9 – The Directors and Owners of Franchise FC
Week 10 – David Sheepshanks (Ipswich Town Chairman)
Week 11 – David Davies (Football Association)
Week 12 – George Boeteng (Middlesbrough)
Week 13 – Andy Hall (Referee)
Week 14 – Craig Hignett (Coventry City Loan Player)
Week 15 – Garry Flitcroft (Blackburn Rovers)
Week 16 – Craig Bellamy & Alan Shearer (Newcastle United)
Week 17 – Peter Kenyon (Manchester United Chief Executive)
Week 18 – Lee Bowyer (Leeds United)
Week 19 – Steven Gerrard (Liverpool)
Week 20 – Gerard Houllier (Liverpool Manager)
Week 21 – Gerard Houllier (Liverpool Manager)