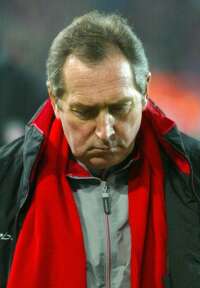 Tw*t of the Week - Gerard Houllier

A week ago the award was picked up by midfielder Steven Gerrard for a two footed lunge in the Merseyside Derby. Needless to say he was defended by his big eyed French manager but it is his manager who collects the award this week.



Hasn't everyone just about got fed up of this man's whinging. He seems to have this crazy idea that everything has to go Liverpool's way. He defends his players for bad fouls, he defends Emile Heskey just about every time he goes to ground, but then as soon as anything goes against his club the moaning and complaining starts.



And Houllier has done much of this in recent weeks with not one of their last ten league games ending in a victory. Just four points have been won in those ten games and the last win was against The Sinister One's West Ham at the beginning of November.



Not bad for a side who apparently according to Houllier were supposedly Championship contenders in the Premiership.



This week it was his constant moaning over the decisions during their 1-1 draw with Arsenal that brought about his nominations. It is fair to say that Arsenal striker Francis Jeffers won some nominations for his diving but it really is about time Houllier took a close look at his own team and stopped having a go at everyone else's.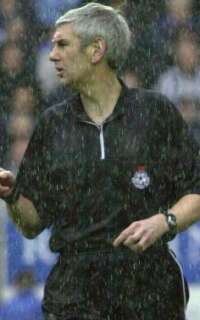 Runner Up - referee Mark Warren

Second place is referee Mark Warren who managed to turn a First Division fixture into pure farce on Saturday, the game between Reading and Leicester.

He declared the pitch fit to start the game following a morning pitch inspection although there was concern with the forecast for the afternoon predicting more rain.



The game started but it was at half time that he turned everything into pure farce when he became more concerned about the state of the pitch.



He discussed the situation with both managers and told them both that he would give it another ten to fifteen minutes in the second half. Just one minute later the two managers heard that he had called it off and worse still said that his decision had been agreed by the two managers.



Both managers have now issued statements saying they did not agree the decision and it now looks as though we have a referee here who hasn't even got the bottle to back his own decisions.



Down to third place and this is awarded to Brighton and Hove Albion Football Club for being the biggest rip off club so far this season.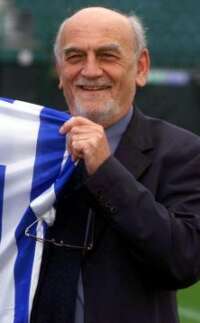 Third place - Brighton and their chairman Dick Knight

Yes we have some sympathy with the mess they find themselves in having had their ground taken from under them. This meant a move out of Brighton and for a time they had to play their home games at Gillingham.



So having to go and watch the Clarets in a ground that is clearly not up to the required standard for First Division football is something that we are prepared to accept although it has to be said that a little bit more effort could have been made to make some improvements at the Withdean Stadium.



However what is unacceptable is the appalling price of £20 that we are charged for the privilege of watching football there. With a view that can only be described as poor, sat on seats that were anything but secure and left open to any rain that may or may not come down and yet, rip off champions Ipswich apart, we are charged more than at any other ground.



Thankfully we are not likely to be going there again next season, they don't seem to have much chance of stopping up, and that has to be a relief with every chance of charges up to £25 next time around.



There were nominations also for Francis Jeffers who went down quicker than a Greek striker for Arsenal against Liverpool and for Neil Warnock with many Burnley fans accusing him of getting the game called off just to wind up Stan.

Keep a look out for candidates in the coming week and send us your NOMINATIONS by next Thursday and the next winner of the award will be announced next Friday.

The winners so far:

Week 1 – Roy Keane (Manchester United)
Week 2 – Jeff Winter (Referee)
Week 3 – Football League's Football Disciplinary Commission
Week 4 – Alex Ferguson (Manchester United Manager)
Week 5 – Luton Town supporters
Week 6 – Barry Knight (Referee)
Week 7 – Burnley FC Showboaters
Week 8 – Tony Livesey (Editor Sunday Sport)
Week 9 – The Directors and Owners of Franchise FC
Week 10 – David Sheepshanks (Ipswich Town Chairman)
Week 11 – David Davies (Football Association)
Week 12 – George Boeteng (Middlesbrough)
Week 13 – Andy Hall (Referee)
Week 14 – Craig Hignett (Coventry City Loan Player)
Week 15 – Garry Flitcroft (Blackburn Rovers)
Week 16 – Craig Bellamy & Alan Shearer (Newcastle United)
Week 17 – Peter Kenyon (Manchester United Chief Executive)
Week 18 – Lee Bowyer (Leeds United)
Week 19 – Steven Gerrard (Liverpool)
Week 20 – Gerard Houllier (Liverpool Manager)