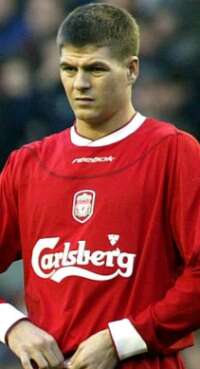 Tw*t of the Week - Steve Gerrard
The inspiration for the award had come earlier in the season when Liverpool played host to Aston Villa in the Premiership. On the pretty dismal Premiership programme on ITV the Liverpool manager Gerard Houllier in trying to defend his own player Steven Gerrard who had been sent off tried diverting the blame towards Villa's George Boeteng who he accused of making a meal of it.
I found myself muttering some name at Houllier under my breath similar to the name of this award and so between them Gerard and Gerrard were responsible for our Tw*t of the Week award.
So it is only right and fitting that finally the young Liverpool and England midfielder should become the winner and even more so that it comes in exactly the same way, with a horror two footed lunge on Everton's Gary Naysmith in the Merseyside derby.
For some strange reason he avoided a red card from the inept Jeff Winter who claimed not to have seen it. Winter, a favourite with you regarding this award, received nominations himself for his performance and it does make you wonder just what he is doing out there if he doesn't see things as obvious and as blatant as this.
Action certainly needs to be taken against the overweight official but more so the FA must take some serious action against Steven Gerrard. A talented midfielder he is without any doubt at all but there is no way he can be allowed to get away with this and should be facing a long suspension. I won't be holding my breath expecting the FA to act appropriately.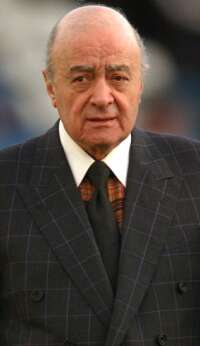 Runner Up - Mohammed Al Fayed
Second place goes to the man chasing a passport, Fulham chief Mohammed Al Fayed. The man from Harrods took over Fulham a few years ago and has moved them up from the 3
rd
Division to the Premiership with a Jack Walker style funding.
However there was always some doubt about his intentions regarding the ground at Craven Cottage which was desperately in need of development. It was thought that the main problems surrounded two listed buildings, the main stand and the cottage but they got round that.
For this season they moved out into a ground share with QPR at the LEGO style Loftus Road ground and before they had even got the kit out of the bags their stay at the temporary home was extended.
Fulham fans were already having serious doubts by now as to whether they would ever return to Craven Cottage, in fact they were having serious doubts as to whether the club would ever return and play in Fulham again. Surely Al Fayed wouldn't let them down.
Oh yes he would.
This week he announced that plans to return to Craven Cottage had now been scrapped because of spiralling costs and now the Fulham fans are wondering about the future of their club. Of course Al Fayed will be able to do exactly as he wishes, nobody will be able to stop him, least of all the FA who sat back and basically did nothing as Charles Koppel destroyed another London club Wimbledon.
How many more times will things like this happen before the authorities do something to protect the interests of football supporters? Again I won't be holding my breath expecting the FA to act appropriately.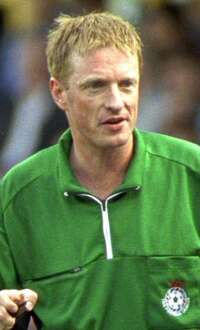 Third Place - Grant Hegley
Needless to say referee Grant Hegley is in the reckoning this week and has found himself in 3
rd
place after his performance at Gillingham last week.
Hegley to be honest got little right. We can complain about the red cards he gave to Dean West and Gareth Taylor, West's looks more ridiculous every time I see it, but all the bad decisions didn't go against us.
I still find it incredible that he failed to send off Graham Branch who twice after receiving yellow cards turned on the assistant with strong shows of dissent. Both were yellow card offences but Branchy got away with it. And the penalty he awarded us was farcical as Papadopoulos went down far too easily.
To put it bluntly Hegley turned in a totally incompetent performance, he wanted to be the star of the show and made sure he was. He is the sort of referee that winds up managers, players and supporters alike yet is the sort of referee who somehow makes progress towards the Premiership.
It is the first time I have seen Hegley and I sincerely hope it is the last time I see him, certainly for some considerable time.
That was it for most of the nominations this week although Sourness as usual was in the running, this week for his latest rantings. Does he really think he is hard done to?
But who will take the award from Gerrard next week, you have until midnight next Thursday to send in your NOMINATIONS and all will be revealed next Friday.
The winners so far:

Week 1 – Roy Keane (Manchester United)
Week 2 – Jeff Winter (Referee)
Week 3 – Football League's Football Disciplinary Commission
Week 4 – Alex Ferguson (Manchester United manager)
Week 5 – Luton Town supporters
Week 6 – Barry Knight (Referee)
Week 7 – Burnley FC Showboaters
Week 8 – Tony Livesey (Editor Sunday Sport)
Week 9 – The Directors and Owners of Franchise FC
Week 10 – David Sheepshanks (Ipswich Town Chairman)
Week 11 – David Davies (Football Association)
Week 12 – George Boeteng (Middlesbrough)
Week 13 – Andy Hall (Referee)
Week 14 – Craig Hignett (Coventry City Loan Player)
Week 15 – Garry Flitcroft (Blackburn Rovers)
Week 16 – Craig Bellamy & Alan Shearer (Newcastle United)
Week 17 – Peter Kenyon (Manchester United Chief Executive)
Week 18 – Lee Bowyer (Leeds United)
Week 19 – Steven Gerrard (Liverpool)