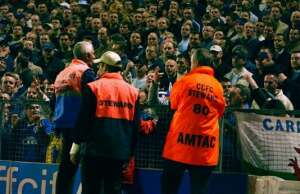 Cardiff fans inside the ground before the trouble
The goings on at Ninian Park sorted that problem out as just about every nomination coming in during the last 24 hours was for the Cardiff fans. I'm not so sure we can even call them fans but because of a play off semi-final defeat they were at it again trying to attack the departing, and we believe happy, Stoke fans.
A spokesman for the FAW today said it was very unlikely that they would take any action because the problems were outside the stadium. So it looks as though the FAW are washing their hands of the whole thing.
If they are not prepared to take any action then our FA and the Football League must act and act quickly. It is surely about time that Cardiff City were removed from the Football League, their country has its own league and I think it is about time they went and played in it. The FA and the league should now seriously consider taking all the big matches such as the FA Cup and play off finals away from Cardiff and back into England.
This has to stop and it has to stop now. These are not isolated incidents and the last time we were there the Accrington Clarets coach had a shot fired at it. Thanks Stoke for ensuring we don't have to go there again next season. Now please FA and FL take some damn action against them.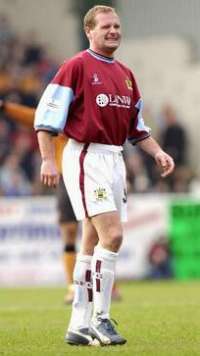 Runner up Gazza (or was it his agent?)
In second place and looking every bit the winner for most of the week is Paul Gascoigne. Gazza's short time at Burnley was hardly a success and it was clear long before the Coventry game that whatever was to happen he wouldn't be a Burnley player next season. Stan said last week that he thought he had probably played his last game for us, most fans were saying that they hoped so.
Then this week his agent, following interest from Portsmouth, issued a statement that upset many of you. The statement read, "Paul's time at Burnley is finished, but if a decent First Division club want to speak to him – and I would put Portsmouth in that bracket – then Paul will come and speak to them."
I'm not sure how that should be interpreted but many of you are and all believe that Gascoigne's agent Ian Elliott is suggesting that Burnley are not a decent club. One thing for certain is that Elliott is probably struggling to find opportunities now for his client and there is no doubt that his performances for the Clarets will not have helped.
Gazza himself said that he had offers from Premiership clubs at the time of his arrival, I just wonder where they are now. Just in case he did think that we weren't decent then you have decided that his client is worthy of second place.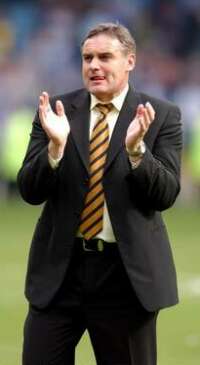 Third place - Wolves boss David Jones
And to third and the manager of Wolverhampton Wanderers David Jones. The Molineux boss wasn't happy with the performance of referee Roger Furnandiz following their play off semi final first leg defeat against Norwich at Carrow Road. He actually described Furnandiz, the Doncaster based official, as being like an old tugboat.
There is no doubt that this particular referee, now set to retire, is clearly not physically fit enough to referee and is carrying too much weight and that was clearly evident when he last refereed Burnley and that was last season in the home 0-0 draw against Birmingham.
Jones though sat and watched Furnandiz make a dreadful mistake at the Turf last season that led to Wolves winner against us, he allowed a player to take a free kick and then play it again himself. Jones also had nothing to say about him a fortnight earlier when he was in charge of their 1-0 win against Wimbledon, in fact at the time he praised his performance. The tug boat had certainly not arrived within the last two weeks.
Just a month ago Jones laughed at Barry Knight's decision to disallow Burnley's goal against them, admitted the decision was wrong but said he was pleased he had got it wrong. He can't have it both ways and if he wants to criticise when the bad decisions go against them then he should do it when it wins them points.
A worthy first three for our last Tw*t of the Week this season. Thanks to the many of you that send us your nominations each week, without them there would be no winners of this prestigious award.
We will be back though in time for the beginning of the 2002/03 season and will hopefully hear from you all again then.
This season's winners were:
Week 1 – Glenn Roeder (West Ham United manager)
Week 2 – Chris Morgan (Oldham Athletic chairman)
Week 3 – Neil Warnock (Sheffield United manager)
Week 4 – Bryan Richardson (Coventry City chairman)
Week 5 – Doug Ellis (Aston Villa chairman)
Week 6 – Christian Negouai (Manchester City)
Week 7 – Geoffrey Richmond (Bradford City chairman)
Week 8 – Mark Lawrenson (BBC Claptrapper)
Week 9 – Canvey Island FC (Greedy non league outfit)
Week 10 – John Brandwood (Referee)
Week 11 – Lucien Mettomo (Manchester City)
Week 12 – Sam Hammam (Cardiff City chairman)
Week 13 – Danny Tiatto (Manchester City)
Week 14 – Jeff Bonser (Walsall owner)
Week 15 – Jamie Carragher (Liverpool)
Week 16 – Jason Roberts (West Bromwich Albion)
Week 17 – John Brandwood (Referee)
Week 18 – Graeme Souness (Blackburn Rovers manager)
Week 19 – Jack Straw (Foreign Secretary)
Week 20 – Andy Cole (Blackburn Rovers)
Week 21 – Carlton Palmer (Unprofessionals manager)
Week 22 – Neil Warnock (Sheffield United manager)
Week 23 – Carlton and Granada (Television companies)
Week 24 – Barry Knight (Referee)
Week 25 – Pedro Duscher (Deportivo la Coruna)
Week 26 – Paul Scally (Gillingham chairman)
Week 27 – Michael Knighton (Carlisle United chairman)
Week 28 – Cardiff City supporters