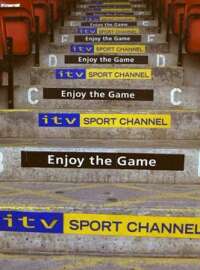 Tw*t of the Week - Carlton and Granada owners of ITV Digital
There have been some mixed feelings on the subject and the vote has been split. We can though tell you that this week's Tw*t of the Week is jointly won by the television companies Carlton and Granada.
They are behind the less than wonderful ITV Digital that spent some £315 million to win the rights to show Nationwide League football for three years. They did this without realising the consequences of it not being a great success.
There has been a less than impressive take up of their premium sports channel ITV Sport and to be honest unless you are a committed Nationwide fan (presumably a supporter of one of the clubs) it is of no surprise. It is a channel very short of programmes. Worse still was the fact that for many football fans who had already committed to a satellite dish the channel wasn't available.
Yes they had selling points. They have the Premiership pay-per-view games but there again so do Sky and they had the Champions League. Most people have just accepted they can't get the big Champions League games at times.
It has been a disaster from them from the start and with viewing figures on occasions lower than the actual attendance at games.
Carlton and Granada are worthy winners for doing everything in their power to avoid paying the Football League the monies due for years two and three. They have put ITV Digital into administration leaving many clubs on the brink.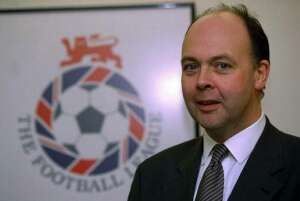 Second place Football League and their Chief Exec David Burns
Not far behind in second place this week is the very football body who did the deal with ITV Digital in the first place, the Football League, and its members. They went for the highest bidder despite the fact that it was a platform that most fans would not be able to access. They went for it despite the inconvenience to supporters who might have to start travelling up and down the country for Thursday evening games and the downright ridiculous 6:15 p.m. kick offs on a Sunday.
When Burnley supporters expressed their disappointment at the opening day of the season fixture moving to the Sunday Songs of Praise slot they were told in no uncertain terms by the club, via its web site, to stop complaining and accept that it was good because the club were making a lot of money.
Thankfully the chairman, manager and players did come out publicly and criticise the stupid times, just a pity the commercial side of the club couldn't have done so.
It was obvious within no time that the whole thing was never going to work as very few bothered to sign up and viewing figures were a joke but the clubs still pressed forward with this Mickey Mouse company regardless. Only this week our own club has been doing its best to get our supporters to sign up with advertising on the official web site and in the season ticket literature. Surely the League wasn't naïve enough to ever believe this was going to work?
If they had shown any consideration for the fans they would have signed a deal with ITV proper (who certainly are not going to go bust), or with the BBC. They took the gamble and it has failed.
Some clubs are in trouble because they have spent the anticipated money that they should have realised long ago they were unlikely to get.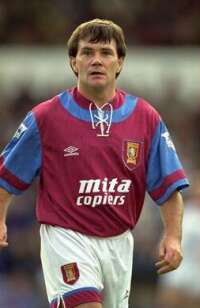 Ray Houghton - ridiculous claptrapping wins him third place
It is still television for third place but in a different context. We are back to the claptrappers and to the topic that dominated last week, the abandonment in the game between Sheffield United and West Brom. The game was being discussed on last Friday's Matchday Programme on ITV Sport when former Liverpool and Republic of Ireland midfielder Ray Houghton decided to have his say.
Incredibly Houghton did not blame Santos or even Suffo for the problems, neither did he blame Sheffield United boss Neil Warnock. Surely he couldn't have blamed West Brom could he? Although not the most innocent of clubs they did look to be the innocent party on this occasion.
No Ray Houghton blamed referee Eddie Wolstenholme for, and to use Houghton's own words, losing the plot. Forgive me but I can't think what else Mr. Wolstenholme could have done. He had no option but to issue the three red cards but Houghton blames him for not making sure that the game finished. What was he supposed to do, drag the injured players back onto the field and make them stay?
As claptrapping goes Houghton's words are amongst the most ridiculous I have ever known, even Mark Lawrenson is unlikely to come up with anything like this.
Again thanks to everyone for the nominations this week and we can now add TV companies to the varying list of winners. Next week? Who knows? Just tell us who you think by sending us your NOMINATIONS by midnight next Thursday.
The winners so far:
Week 1 – Glenn Roeder (West Ham United manager)
Week 2 – Chris Morgan (Oldham Athletic chairman)
Week 3 – Neil Warnock (Sheffield United manager)
Week 4 – Bryan Richardson (Coventry City chairman)
Week 5 – Doug Ellis (Aston Villa chairman)
Week 6 – Christian Negouai (Manchester City)
Week 7 – Geoffrey Richmond (Bradford City chairman)
Week 8 – Mark Lawrenson (BBC Claptrapper)
Week 9 – Canvey Island FC (Greedy non league outfit)
Week 10 – John Brandwood (Referee)
Week 11 – Lucien Mettomo (Manchester City)
Week 12 – Sam Hammam (Cardiff City chairman)
Week 13 – Danny Tiatto (Manchester City)
Week 14 – Jeff Bonser (Walsall owner)
Week 15 – Jamie Carragher (Liverpool)
Week 16 – Jason Roberts (West Bromwich Albion)
Week 17 – John Brandwood (Referee)
Week 18 – Graeme Souness (Blackburn Rovers manager)
Week 19 – Jack Straw (Foreign Secretary)
Week 20 – Andy Cole (Blackburn Rovers)
Week 21 – Carlton Palmer (Unprofessionals manager)
Week 22 – Neil Warnock (Sheffield United manager)
Week 23 – Carlton and Granada (Television companies)