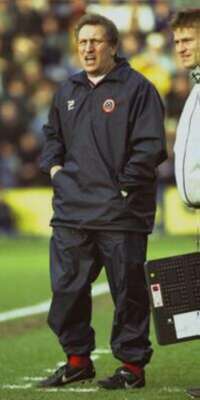 Tw*t of the Week for a second time - Neil Warnock
As it happens he has won it with a landslide and becomes the second person to pick up the coveted award for a second time. It is of course Sheffield United. The South Yorkshire club have picked up the bulk of the nominations this week following their home game last Saturday against West Brom.
I don't think we need to go into too many details as to how they had three players sent off, had used all three subs (two of whom were sent off within seconds) and then took off a couple of players with injuries.
"Brown has a groin injury and he should have come off at half time", said Warnock. He does have a groin injury but if it was so bad why did Warnock make his second and third substitutions with an hour gone and still leave him on the field?
He can dare to claim he didn't encourage his players to walk off, he can dare to claim that he wasn't involved but St. Megson of West Brom knows full well that he was right behind it all. Megson, no angel himself, should have named him and pressed for the severest penalty possible and then maybe Sheffield United might just have taken the appropriate action and sacked him.
Their refusal to take any action against him has helped the club to win second place this week. Admittedly they have taken action against George Santos and Patrick Suffo but they have done nothing about the disgraceful scenes that followed and have made no public apology to West Brom, their injured players or the referee who had to cope with the whole nightmare.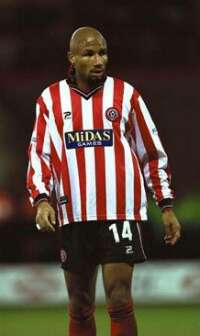 George Santos - started all the problems with one premeditated challenge
They conceded the points to West Brom but did they seriously ever think they were going to get the game replayed? So Warnock did and quite clearly the likes of Brown and Curle did as they looked to get themselves sent off.
I hope the Football Association show some guts for once and take some very strong action against them.
Third place this week goes to a journalist, Oliver Kay from The Times. Kay was covering our game against Bradford City for this broadsheet and gave us some clues to his thoughts with a report title of 'Jaded Gascoigne fails to captivate his new audience'.
Mr. Kay made no attempt whatsoever to report on the game and used as much column space as he could in a nasty attempt at slagging off the new Clarets' signing. It is clear that Mr. Kay is either completely stupid or he wasn't at Turf Moor last night because he would have known that Gazza, despite not putting in a world class performance, had a very good debut for us.

3rd Oliver Kay - dreadful report on the Bradford game
When people refer to the gutter press newspapers such as The Times don't come readily to mind. With reporting of the kind we have seen from Kay they are allowing themselves to become a newspaper as low as any other.
Warnock then becomes the second person to win the award for a second time but what will he get up to on Saturday? Or should I say try to, Stan won't let him get away with it. Whether it is Warnock or someone else don't forget to send us your NOMINATIONS by midnight next Thursday.
The winners so far:
Week 1 – Glenn Roeder (West Ham United manager)
Week 2 – Chris Morgan (Oldham Athletic chairman)
Week 3 – Neil Warnock (Sheffield United manager)
Week 4 – Bryan Richardson (Coventry City chairman)
Week 5 – Doug Ellis (Aston Villa chairman)
Week 6 – Christian Negouai (Manchester City)
Week 7 – Geoffrey Richmond (Bradford City chairman)
Week 8 – Mark Lawrenson (BBC Claptrapper)
Week 9 – Canvey Island FC (Greedy non league outfit)
Week 10 – John Brandwood (Referee)
Week 11 – Lucien Mettomo (Manchester City)
Week 12 – Sam Hammam (Cardiff City chairman)
Week 13 – Danny Tiatto (Manchester City)
Week 14 – Jeff Bonser (Walsall owner)
Week 15 – Jamie Carragher (Liverpool)
Week 16 – Jason Roberts (West Bromwich Albion)
Week 17 – John Brandwood (Referee)
Week 18 – Graeme Souness (Blackburn Rovers manager)
Week 19 – Jack Straw (Foreign Secretary)
Week 20 – Andy Cole (Blackburn Rovers)
Week 21 – Carlton Palmer (Unprofessionals manager)
Week 22 – Neil Warnock (Sheffield United manager)